Ben jij gisteren ook begonnen aan Tournée Minérale? Ik zit ondertussen bijna aan het eind van een maand zonder alcohol en kamp met een thee-indigestie en nee, ik wil ook geen Finley, Bionade of huisgemaakte limonade meer. Maar ik hou dapper nog enkele dagen vol om volgende week vrijdag wellicht helemaal tipsy te worden van één Aperol Spritz in de Dolomieten. Om het helemaal gezond te houden, combineerde ik mijn jaarlijkse (mag je dat al zeggen als het nog maar de tweede keer is?) detoxmaand met deze 30 dagen yoga challenge. Ik klauterde uit mijn bed op ongoddelijke uren voor een half uur downward dogs, zonnegroeten en happy baby poses en met mij duizenden yogi's van over de hele wereld. Yoga is hip, op Instagram wemelt het de vegan foodporn en we lijken allemaal wel op yogaretraite naar Bali te willen (ja, zo'n Eat, pray, love avontuur staat ook op mijn bucket list). Op een slow reading avond in Barboek (met een thee, jawel) besloot ik me verder te verdiepen in deze hang naar oosterse spiritualiteit en haalde ik Go East van de Deens-Nederlandse journaliste en filosofe Stine Jensen uit de rekken.
Toen Stine enkele jaren geleden na een pijnlijke relatiebreuk in een crisis belandde, besloot ze om zich – in haar zoektocht naar geluk – onder te dompelen in de kundaliniyoga. In Go East doet ze verslag van dit avontuur en gaat ze op onderzoek uit: vanwaar komt die "veroostersing" van onze samenleving toch? Jensen is een Westerse filosofe, zo eentje die altijd omringd is door een stapel boeken of afleiding zoekt in een film of theatervoorstelling, een jonge vrouw ten midden van verhalen… Een euh – we zullen het zelf maar zeggen – boekenmeisje als het ware. Voor haar intensieve yogaopleiding moet ze de verhalen thuis laten en leren 'gewoon te zijn'. Ze moet ook iedere dag om kwart voor vier opstaan, en bij uitzondering zelfs om drie uur, om vervolgens te dag te starten met een koude douche van vijftien minuten, onder het motto "Als je iets vijftien minuten kan doen, kan je het voortaan met gemak twee of drie minuten, elke dag." En alsof het allemaal niet gek genoeg is, krijgt ze de opdracht een week met een tulband rond te lopen en 40 dagen lang meer dan 100 (dodelijk vermoeiende) 'kikkers' te doen.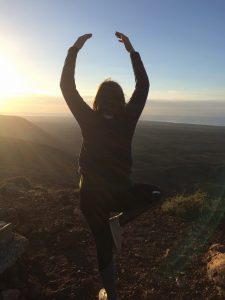 Of het geholpen heeft? Is Stine gelukkiger geworden van dagelijks te mediteren? Ja, na deze yogakuur voelt Stine zich opgeknapt, bewuster en minder moe. Meer nog, de yoga heeft van haar een ander mens gemaakt. Ze heeft haar woede leren omzetten in een kracht, voor een mopperaar werd ze bijzonder neutraal (denk '30 dagen zonder klagen' tot de zoveelste macht) en hoewel ze de verlichte staat nog niet heeft bereikt, voelt ze de energie stromen in haar lichaam.
En ja, Stine heeft ook antwoord  gevonden op de vraag waar die hang naar het oosten vandaan komt. De belangrijkste oorzaken? Oosterse spiritualiteit compenseert het gebrek aan aandacht en concentratie in de digitale wereld en het stilt ons verlangen naar een gemeenschapsgevoel in individualistische tijden. Verder geeft yoga tegengewicht aan de overrationalisering en past de oosterse sport helemaal binnen de gezondheidshype. En tot slot is spiritualiteit – volgens Stine – de toplaag in de piramide van Maslow voor landen waarin in alle basisbehoeftes is voorzien.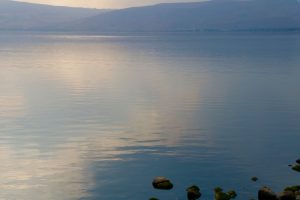 Go East is een filosofisch boek, eentje dat zich uitstekend leent tot slow reading. Na elk hoofdstuk was er wel een interessante denker om te Googelen of een gespreksonderwerp om een thee bij te drinken. Hoewel sommige tafelgenoten zich wellicht eerder in hun thee verslokken toen ik kwam aandraven met het idee uit Go East dat een goeroe niet altijd slecht hoeft te zijn. Toch is Go East dankzij de journalistieke ondertoon en wetenschappelijk gestoffeerde thema's ook een boek dat de sceptici zal kunnen bekoren. Misschien eens cadeau doen aan de sarcastische collega die yogalessen onlangs met winderigheid associeerde, of is dat een algemeen heersende opvatting sinds Hilde Devoghel onze columnwedstrijd won?
Het lezen van Go East stimuleert om met een open geest te leven en buiten je comfort zone te treden. Wie weet wat ik de komende maand iedere dag ga doen? Wellicht niet experimenteren met ayahuasca drugs (Stine snotterde uren in de armen van haar begeleider) of mijn neus spoelen met een neti pot. En anders volg ik de raad van Stines mentor wel: "Mijn advies is om niet alles met iedereen te delen. Hou bepaalde dingen in het begin voor jezelf. Niet iedereen zal begrijpen dat je iedere ochtend onder een koude douche gaat staan." Maar stukjes over hoe je een onwaarschijnlijke transformatie kan ondergaan, inspireren me altijd. Vragen als: loop ik binnenkort de ten miles, schrijf ik ooit nog eens een boek of woon ik over enkele jaren eens een tijdje in een ander land, zijn bij deze weer beantwoord.
PS. Kundaliniyoga met Goedele Leyssen