Barboék – sterke boeken, straffe koffie
Vlaams-Brabantse leesbeesten en fans van de betere boekhandel weten het al.
Sinds 7 juni heeft Leuven weer een 2-in-1 kwaliteitsboekhandel met koffiebar. Barboék (met accent, want de klemtoon ligt op de boeken) wordt gerund door hardcore liefhebbers van het geschreven woord.
Lies Van den Berghe werkte jaren als freelance eindredactrice en journaliste (o.a. voor Van Halewyck en Psychologies magazine); haar partner Mark Rummens baatte ooit stripboekhandel Gobelijn uit en vertaalt uit het Duits. Toen de twee begin april 2015 hoorden dat De Dry Coppen (tot voor kort de beste boekhandel van Leuven…) z'n deuren zou sluiten, aarzelden ze geen moment. Ze kochten het handelsfonds van De Dry Coppen over, huurden een pand even verderop in de Schrijnmakersstraat (nummer 17), werkten zich uit de naad om het interieur rond te krijgen en openden precies een maand geleden de deuren van hun eigen boekenbar: Barboék.
Knack omschrijft de zaak als 'de nieuwste parel aan de kroon van de onafhankelijke boekenzaken'. Het Laatste Nieuws is blij met een 'gezellig boekencafé in de stad' en stadsblog Leven in Leuven heeft het over een zaak 'doordrongen van de liefde voor boeken'. Met zo'n goede pers en een prima, zelfgekozen baseline ("sterk in boeken, straf in koffie") intrigeerde Barboék mij meteen. Vandaar mijn voornemen: er zo snel mogelijk eens langsgaan.
Vorige week, na een haastig rondje solden shoppen en een gezellige lunch met een ex-collega, was het zo ver.  Op de legendarisch hete donderdag 2 juli (temperaturen van 38°) waaide ik lichtjes oververhit binnen bij Barboék. Ik was meteen weg van de ruimte, het licht, de rustige sfeer en het literaire aanbod dat ik er trof. Maar goed, het is hoogzomer. Laat ik jullie en mezelf niet vermoeien met een zondvloed aan superlatieven of een te uitgesponnen lofzang op Barboék.
Met een paar foto's en twee top-drietjes snappen jullie de boodschap ook wel. Allen naar Barboék! Nu!
Met laptop of notitieboekje, gezonde literaire honger en eerlijke, fysieke dorst (de zaak moet draaien, dat spreekt…) en liefst wat meer dan een half uurtje tijd. Je zult het je niet beklagen.
3 redenen om minstens een uur neer te ploffen in Barboék
(1) Er zijn van die plekken waar een goede vibe hangt en waar het gewoon fijn is om te zijn. (Waar de beleving in orde is, heet dat in boekenvakjargon…) Plaatsen met zitruimte, ademruimte, denkruimte. Een patio. Kasten vol boeken. Oude spiegels, piano's en zetels. Barboék is zo'n plaats. Geen beter adres om een boek te scoren, lezen of schrijven.
(2) Barboék biedt bezoekers niet alleen boeken, drankjes en gezelligheid, maar ook een assortiment aan tijdschriften en kranten. Daaronder Das Magazin, sinds 2011 het hipste literaire tijdschrift op de Nederlandstalige markt.
(3) Er is niets leuker (en verstandiger…) dan meteen beginnen lezen in een boek dat je koopt. Zo belandt het bij thuiskomst op je nachtkastje (want je zit al aan pagina 100 – als je Katrien heet) en niet aan je To Be Read schandpaal (herinneren jullie je dat leuke filmpje van Katleen nog?)
3 boeken waar mijn oog aan bleef kleven in Barboék
(1) De blonde neger en andere portretten van Joseph Roth (vertaald door Els Snick), Bas Lubberhuizen: Joseph Roth (1894-1939) was een getalenteerd drankorgel, een zwervende snelschrijver en een berooide emigrant die (meestal op de pof) vasthield aan een riante levensstijl. Ik houd van zijn romans (Radetzkymars en Job) en denk dat deze bundel korte journalistieke stukken me ook zou liggen.
(2) Manja, de vriendschap van vijf kinderen van Anna Gmeyner (vertaald door Jantsje Post), Cossee: Schrijfster Isabelle Rossaert prees dit boek op het recente Schwobfest in Brussel als volgt aan: 'Het boek verscheen in 1938. Het beschrijft de voorgeschiedenis van het Derde Rijk. De oorlog is nog niet eens uitgebroken, maar alles staat er al in.' Intrigerend, toch?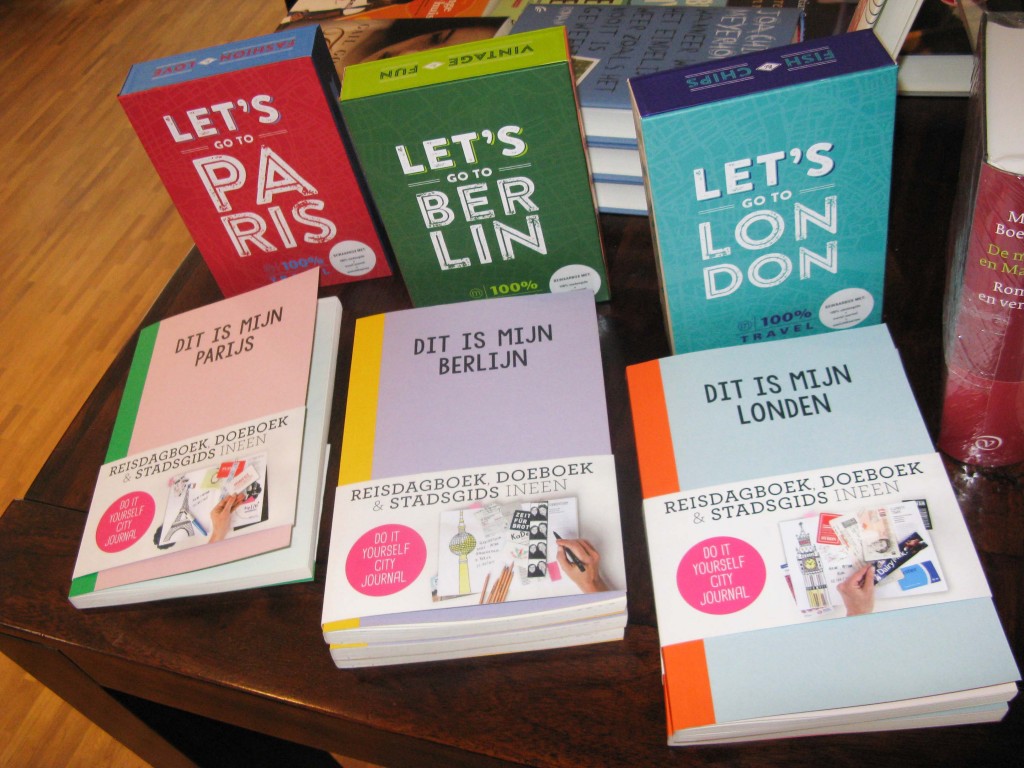 (3) Dit is mijn Parijs/Berlijn/Londen – Reisdagboek, doeboek en stadsgids in één, Mo'Media: Do It Yourself city journals. Leuk concept. Geen verdere uitleg nodig.