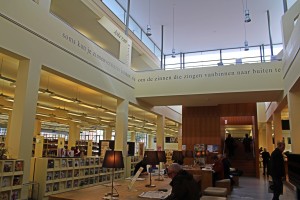 'Wat is de rol van openbare bibliotheken als steeds meer mensen hun boeken online informatie zoeken en vinden? Kunnen onafhankelijke boekhandels overleven als steeds meer mensen hun boeken online kopen?'
Germaniste Lieselotte De Snijder stelde zich die vraag tijdens haar master cultuurmanagement. Ze begon zich te verdiepen in de beleveniseconomie en schreef twee jaar geleden samen met de Leuvense hoofdbibliothecaris Danie De Sadeleer en managementdocent Bruno Verbergt Wauw hier leest men boeken. Nu bibliotheken met uitsterven zouden zijn bedreigd, diepte ik het boekje weer op.
In deze inspiratiegids doet het trio aanbevelingen aan bibliotheken en boekhandels om zich staande te houden in de beleveniseconomie. Deze illustreren ze met succesvolle voorbeelden en interessante projecten. De aanbevelingen rond co-creatie en soorten van belevenissen zijn voornamelijk leesvoer voor bibliothecarissen, boekhandelaars en beleidsmensen. Voor de boekenliefhebbers zitten er in het boek heel wat boeiende tips verborgen. Ik pikte er de leukste uit en actualiseerde ze.
Sinds 2012 kiest Bibliotheekblad ieder jaar de beste Vlaamse bibliotheek. Afgelopen jaar won de bibliotheek van Herzele de verkiezing. Op hun Facebookpagina lees ik over kinder verwendagen, hoog bezoek van minister Sven Gatz en studiemogelijkheden. Beleving alom me dunkt! De bib van Sint-Niklaas won in 2014 dan weer de titel van Meest Auteursvriendelijke Bibliotheek.
Dit inspirerende citaat komt uit The library book van Seth Godin: 'Meer dan ooit hebben we bibliothecarissen nodig. Wat we niet nodig hebben, zijn ambtenaren die dood papier bewaken.'
Op bibliotheek.be kan je opzoeken in welke bibliotheken je een bepaalde titel kan vinden. Zo ligt De oude man en de zee van Ernest Hemingway in 65 bibliotheken en moet ik 29 kilometer rijden tot bij de dichtstbijzijnde. Hiermee doen de Vlaamse bibliotheken het alvast beter dan de gecensureerde Noord-Koreaanse versie. Tom Waes zocht afgelopen week in Reizen Waes immers tevergeefs naar Hemingway in de grootste bibliotheek van Noord-Korea.
De voormalige Selexyz-bibliotheken hebben een goede reputatie als het op beleving aankomt. De Donner in Rotterdam heeft zijn eigen theaterzaal en de Dominicanen – de mooiste boekhandel ter wereld volgens The Guardian – is ondergebracht in een kerk in Maastricht.
Wist je dat er in de kelder van boekhandel De Groene Waterman in Antwerpen regelmatig Stand Up Comedy Shows plaatsvinden? Zij hebben ook een leesgroep rond Ulysses (in vier delen!) en op hun site vind je leestips van het personeel en vrijwilligers. Theoria in Kortrijk had vorige week nog Willem Vermandere te gast en net als de Zondvloed hebben zij ook een boekenpoes.
Het New Yorkse Library Hotel is ingericht volgens de Dewey Decimale Classificatie, het indelingssysteem dat bibliotheken gebruiken. Gasten kunnen er kiezen voor het Guilty pleasure package. 
The package includes "Books by the Foot" by Strand Bookstore which is one foot worth of books hand selected by our Honorary Librarian. Choose recent bestsellers or tell us your reading habits and we'll have them ready for your arrival. Plus visit the beautiful Morgan Library & Museum and finish your stay with two cocktails at Bookmarks Lounge, our rooftop bar serving literary inspired cocktails.
De boekenmeisjes gaan binnenkort naar Amsterdam. Misschien moeten we dan maar eens gaan eten in de

Openbare Bibliotheek van Amsterdam

. Op de zevende verdieping is er daar een restaurant met een prachtig zich op de stad.
Ik heb er natuurlijk zelf ook eens nagedacht over de toekomst van bibliotheken, zeker nu ze niet langer een gemeentelijke verplichting zijn. En stiekem heb ik al een eigen co-creatie idee: Airbib. In navolging van de social travel site Airbnb, de social library, bij mensen thuis. Als dat het sociale contact rond boeken niet zou verhogen dan weet ik het niet. Mark Zuckerberg, u mag me contacteren via de comment field.
Wauw hier leest men boeken, Bruno Verbergt, Lieselotte De Snijder, Danie De Sadeleer, Lannoo Campus, 135p