Of, zoals ik heel veel mama's van jonge dansers weet zuchten: paasvakantie volgeboekt?
Inderdaad, de kinders dienen weer geëntertaind te worden. Twee keer een week. En dan hoort u de boekenmeisjes al roepen: lees samen een boek! Maar omdat u heus niet twee weken lang Jip en Jannke wil voorlezen, lijsten wij enkele boek-gerelateerde kinderactiviteiten op.
Even een museumpje pakken? Voor de boekminnende ouders en kinderen is er het literair museum in Hasselt. Nog tot 18 april kan je daar terecht voor de tentoonstelling van Charlotte Dematons tekeningen. Die van het grote sinterklaasboek, als het illustratie-belletje niet meteen gaat rinkelen…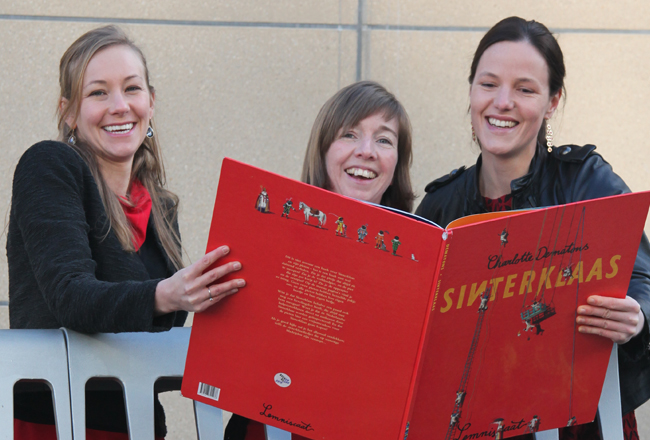 Je kan je ook op de website van Roald Dahl storten, die als virtueel museum kan tellen. Ontdek er bijvoorbeeld alle personages uit Dahl's vindingrijke boeken.
Regenweer? Knutselen maar. Hier een ideetje om aan de slag te gaan met oude boeken.
En voor de vogeltjes die binnenkort een ei leggen kan je alvast een huisje voorzien. Wel even waterproof vernissen, zou ik zeggen…
Voor mooie verhalen, spannende zoektochten, muzikale vertellingen en veel meer kan je terecht in de Clavis conceptwinkel. Zij plannen elke maand heel wat activiteiten rond nieuwe uitgaven.
In Antwerpen is er weer een fijne editie van Lees lekker, met verhalen rond het thema pesten en vriendschap.
Het kindermuseum duikt in de strip Het plezante circus Suske en Wiske en laat kinderen het circus ontdekken met tal van doe-activiteiten.
Oh ja, je kan ook nog even gewoon een boek lezen. Wacht is het anti-verveelboek boordevol spelletjes, verhalen en knotsgekke activiteiten dat net verscheen bij uitgeverij Lannoo. (Mieke Dobbels, Vicky Lommatzsch en Sabien Clement)

May the force be with you en het goede weer met ons, want op 11 april speel ik de rol van mijn leven. Bridezilla groet u.