De Canadees-Indische Rupi Kaur is een dichteres met popster allures. Haar debuutbundel milk and honey domineerde 77 weken lang de New York Times Bestseller List en op haar Instagram account heeft de jonge schrijfster 2,5 miljoen volgers. Hiermee behoort Kaur tot de generatie instapoets, dichters die hun werk delen op sociale media en hiermee viral gaan. Dat Kaur eerst geen uitgever vond en haar bundel in eigen beheer moest uitgeven, doet het klinken als een sprookje.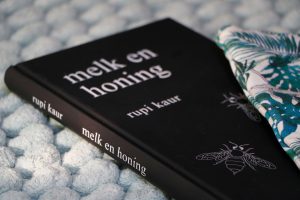 Kaur schrijft therapeutisch, lezers herkennen zichzelf in haar kwetsbare teksten over liefdesverdriet, machtsmisbruik en vrouwelijkheid. De stijl van haar korte gedichten is bijzonder eenvoudig: gekapte zinnen zonder franje, geen hoofdletters, geen andere leestekens dan een punt. Hiermee toont ze respect voor de van hoofdletters vergeven taal van haar geboorteland.
Niet iedereen neemt haar werk dan ook serieus, en online kan je heel wat parodieën vinden op haar 'simplistische' schrijfstijl.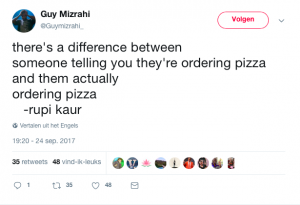 Zelf volg ik Rupi Kaur al een hele tijd op sociale media, in het Engels. Toen de Nederlandse bundel melk en honing uitkwam, was ik meteen benieuwd hoe haar teksten het in vertaling zouden doen. Het moet een hele uitdaging zijn geweest, maar Anke ten Doesschate heeft dat bijzonder goed gedaan. Oordeel zelf:
je was dan wel niet
mijn eerste liefde
maar jij was de liefde
die alle andere liefdes
in het niet deed vallen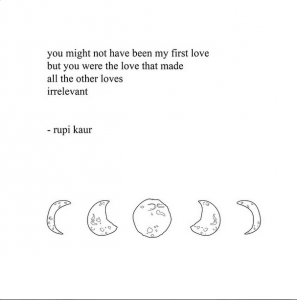 melk en honing is pure zelfzorg. Het is een bundel die je leest met thee en een warm bad, of die je cadeau doet aan de jonge vrouwen om je heen, om hun zelfvertrouwen en eigenliefde te boosten. melk en honing is ook een cultureel verhaal dat zich richt tegen de white male supremacy en zo universeel herkenbaar dat het een prominente plaats verdient in de #metoo literatuur.
En omdat jullie het verdienen, verwent Uitgeverij Orlando jullie met vijf gratis weggeefexemplaren van deze bundel! Hoe kan je die winnen? Reageer hier of op onze Facebookpagina met een zelfzorg leestip: een boek dat je heeft getroost of net een enorme boost heeft gegeven. Op dinsdag 1 mei verloten wij vijf exemplaren onder de deelnemers.
En wij, wij verwennen je met twee van haar gedichten:
ik ben niet weggegaan omdat
ik niet meer van je hield
ik ben gegaan omdat hoe langer
ik bleef des te minder
ik nog van mezelf hield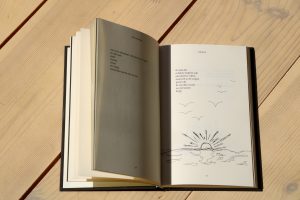 ik wil jou niet
om de leegtes in mij te vullen
ik wil die leegte zelf opvullen
ik wil zo compleet zijn
dat ik een hele stad kan verlichten
en dan
wil ik jou
want wij samen
zouden hem in vuur en vlam zetten
PS. Hou je van dit soort poëzie, lees dan zeker ook Am I there yet? van illustratrice Mari Andrew.