Komende week ga ik zeven dagen naar Parijs en ik kijk er zo erg naar uit. Tussen twee schoolreizen die ik begeleid, ben ik immers zo'n 2,5 dag vrij en ik heb me voorgenomen om in die gestolen tijd alleen maar 'nieuwe' dingen te doen, want eerlijk, op de highlights ben ik al lang uitgekeken.
Om in de sfeer te komen las ik Slapende herinneringen van Nobelprijswinnaar Patrick Modiano (Querido). In deze dromerige novelle keert de schrijver terug naar het Parijs van de jaren 60 en de vrouwen die hij er ontmoette tijdens zijn omzwervingen. Hoewel elk van deze dames uit zijn leven verdween, duiken ze allemaal ook ooit weer op:
"Ze verzekerde me dat je heel gemakkelijk van mensen af kunt komen. Ik deelde dat optimisme niet."
In Slapende herinneringen neemt Modiano de lezer mee naar de straten, parken en cafés van de Lichtstad, op vroege en late uren, om als in een kringetje weer terug bij 'start' te belanden. De topografie van Parijs speelt misschien wel de hoofdrol in dit kleinood. Waarom dan niet met deze novelle in de hand in Modiano's voetstappen van bankje naar bistro wandelen?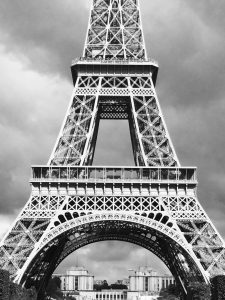 Verder neem ik de time to momo en The 500 Hidden Secrets of Paris mee. Je zal zeggen, als je Parijs zo goed kent, waarom dan zo'n 'beknopte' reisgids als de time to momo? Ik moet inderdaad niet op een plannetje uitzoeken hoe ik van Centre Pompidou naar de Place des Vosges wandel én tegelijk passeer langs de Rue des Rosiers voor een falafel en een pitstop maak in mijn favoriete boekencafé, maar ik ben wel altijd op zoek naar trendy nieuwe plekjes. En ik vond er een paar literaire:
Le Club des Cinq: een bistro in het 17e arr., geïnspireerd door De vijf van Enid Blyton en een interieur vol plaatjes van stripfiguren. Ha, en ik moet ook heel erg lachen met hun menukaart, die is opgedeeld in categorieën als: 'Papa se décarcasse' en 'Maman limites les dégâts'.
Librairie des Abbesses: doorgaans kopen de boekenmeisjes de Shakespeare & Company leeg maar voor Franse boeken zou je in deze boekenwinkel in Montmartre moeten zijn. Ook in de buurt: Halle Saint-Pierre waar je een bezoek aan de kunstboekhandel combineert met een tentoonstelling.
En enkele leesplekjes: de Place Gustave Toudouze vol kleurrijke terrasjes, bankjes en bomen die voor schaduw zorgen, de Jardin Anne Frank net achter het Centre Pompidou waar een stek van een door Anne Frank beschreven kastanjeboom werd geplant en als het regent, trek ik me de hele middag terug in een vintage fauteuil in Le Loir dans le Théière.
The 500 Hidden Secrets testte ik al in Kopenhagen, in die van Parijs duidde ik alvast deze (literaire) tips aan.
Café A: een café in een voormalig klooster (in de kapel worden soms nog concerten gespeeld!) met een tuin en ligzetels. Check, voor mij graag zo'n mangosmoothie met chocolade please!
Les jardins de Bagatelle: dit park in het Bois de Boulogne zou één van de tien mooiste parken ter wereld zijn.
Bibliothèque Sainte-Geneviève: wauw deze lichte leesruimte wil ik echt wel zien. Vlakbij het Pantheon en gratis te bezoeken. En 500 Hidden Secrets lijst nog 4 bibliotheken op!
La Chambre Claire: een boekenwinkel voor fotografen met eyecandy van Doisneau en Cartier-Bresson.
Wat zijn jouw favoriete leesplekjes in Parijs?
PS. Eveline en ik deelden al eerder boekentips voor Parijs.
PPS. Vorig jaar haalde ik leuke Parijsweetjes uit dit boekje.