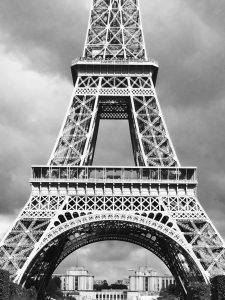 Afgelopen week leidde ik in vier dagen twee scholen rond in Parijs. Ik zou het kunnen hebben over de rugzakcontroles in elke winkel op de Champs-Elysées, over die avond dat ik mijn tas moest openen op de Place de la République waar al wekenlang sociale protesten van de Franse indignados plaatsvinden onder de noemer #NuitsDebout of over die keer dat ik eindigde op een bankje in de kou omdat ik met mijn trolley Le Petit Palais niet binnen mocht. Ik zou kunnen schrijven over de hordes militairen op de Place des Vosges, over de anders zo lange wachtrijen aan het Louvre die wel verdwenen leken te zijn of het 'wat doen in geval van een terroristische aanslag' bordje op het Musée d'Orsay. Ik zou ook kunnen schrijven over hoeveel keer de tieners me aanspraken met: "zijn we nu in de buurt van de Bataclan, mevrouw? Ik wil dat echt graag zien," of die keer dat een – voor het overige niet zo geïnteresseerde puber – me aan het Palais de Justice vroeg: "is Salah hier nu?"
Voor mij was Parijs nog steeds a moveable feast, voor de leerlingen was het er 'kei leuk' en de Parijzenaars die waren massaal en terrasse. Zelf had ik wegens een nakende interview deadline ook nog Lize Spit mee die "uit" moest tegen het einde van de reis en dus vergezelde ik de Parijzenaars terwijl de tieners de Abercrombie&Fitch onveilig maakten, hun portret lieten schilderen op de Place du Tertre of de 700 treden van de Eiffeltoren beklommen.
Maar ook al had ik Lize Spit mee, ik kon het niet laten om enkele boekenwinkels binnen te wandelen. Tijdens een plensbui aan het Canal Saint Martin vluchtte ik zo Artazart binnen, een design- en kunstboekenwinkel met een selectie als een snoepwinkel.
Het was overigens zalig lezen in de groene zeteltjes rond de vijvers van de Tuilerieën, in Tea by thé aan Le Palais Royal en in L'institut de Bonté, een 'boerderij' met biologische sappen en artisanaal gebak aan het Canal Saint Martin. Mijn favoriet ontdekte ik toevallig tijdens mijn laatste uur in de Lichtstad: La belle Hortense, een literaire bar in het hart van Le Marais. In deze wijnkelder vind je een selecte keuze aan boeken, is het sfeervol aperitieven aan de toog en kan je in het achterste gedeelte rustig lezen en terwijl een hapje eten. Je kan er zelfs wijn kopen… en dat alles tot 2u 's nachts. In welke andere boekenwinkel kan je om 23u binnenwandelen, een boek uit de rekken nemen en een glas bordeaux drinken?! De sfeer is er uitgelaten en dat heeft zeker en vast met de barman en de aanstekelijke playlist te maken. Ik laat me vertellen dat hij een danser is en dat zie je. Zelfs op zondagmiddag om 15u doet hij de bediening en dansant. Als ik een uur later op de tonen van Kate Bush's Babooshka weer buitenstap, is het alsof ik ontwaak uit een droom. Paris est toujours une fête!
En Lize Spit? Die is uit!
PS Evelines adresjes in Parijs