"De kleine zeemeermin, dat is de Manneke Pis van Kopenhagen. Een grote teleurstelling," ik hoor het de boekenknecht nog zo zeggen. Het standbeeld van de meermin voelt dan ook als een verplicht nummertje op mijn Kopenhagen to do-lijstje. Zeker met al 20 km stappen achter de kiezen. Maar, surprise surprise, het is de omweg helemaal waard. Niet alleen omdat Ariel zo charmant is. Vlakbij de meermin ligt Tolboden, een beachbar aan het water met heerlijke vibes, barbecue, brunch en een harbour grill met inktvis, kreeft, ceviche… en rosé mmm.
Kopenhagen is niet alleen een literaire stad omwille van Kierkegaard, Blixen en Andersen, haar parken nodigen uit tot lezen. Zelf heb ik het prachtige Een soort van liefde van Alicja Gescinka mee. Lezen doe ik in de kasteeltuin Kongens Have, aan de vijvers van het glooiende Ørstedsparken en op Islands Brygge waar je kan zwemmen in een havenzwembad.
Aan de overkant van dit openluchtzwembad ligt de Koninklijke Bibliotheek van Denemarken oftewel de Black diamond, een architecturaal hoogstandje en een zeer geslaagde combinatie van oud en nieuw. Een luchtbrug verbindt de historische bibliotheek met het moderne gedeelte met haar reflecterende gevel in zwart graniet. De tuin van de bibliotheek is dan weer een echte oase van rust.
"Just living is not enough," said the butterfly, "one must have sunshine, freedom, and a little flower," schreef Hans Christian Andersen. Check, HC! Maar met al die zon passeren wij maar heel vluchtig en veel te kort bij Paludan, café en boekenwinkel in één.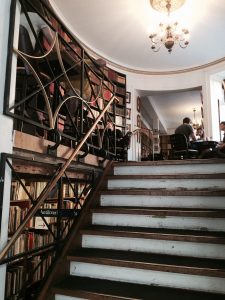 Zoveel redenen om terug te keren…
PS: Kopenhagen veroverde niet alleen mijn literaire hart. Binnenkort lees je meer over mijn favoriete cocktailbar, een tochtje over the bridge en Scandinavisch design.
Beeldmateriaal © Katrien Elen en Sofie Van Loock