Notities over een vakantie die nog bezig is, een novelle die onuitgelezen bleef en de 'romantic read' die me onverwacht meesleepte…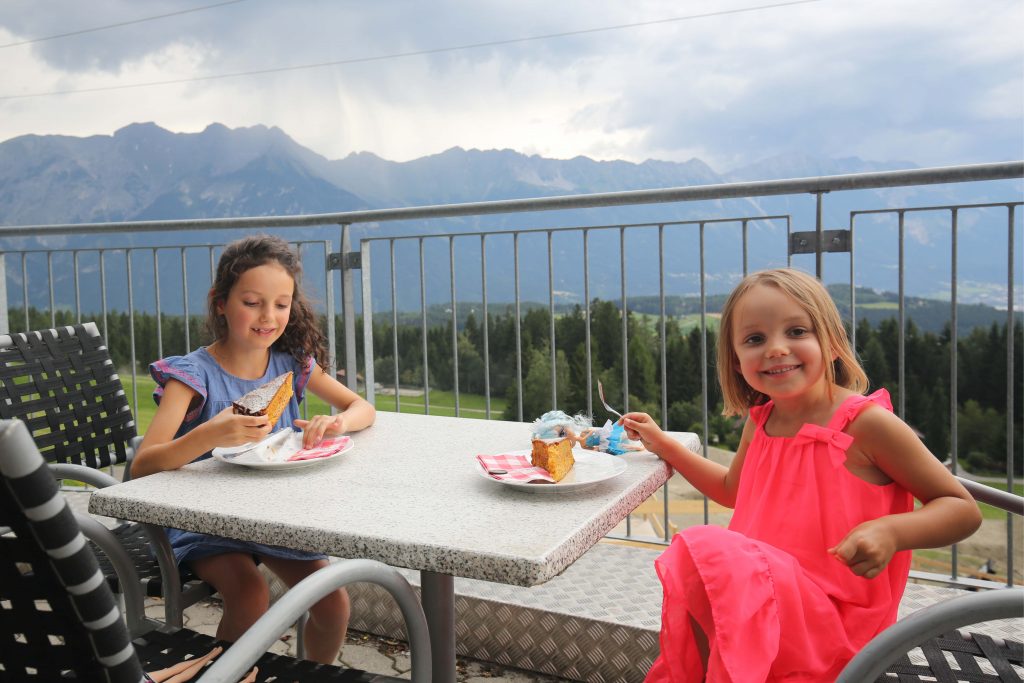 Juli loopt ten einde. De zomer en de schoolvakantie zijn halfweg en onze Roadtrip met het Gezin 2017 (de derde editie alweer…) is onherroepelijk voorbij. Tijd voor een blogpostje dat alle kanten op zwerft.
Dit jaar namen Joris en ik onze dochters van 7, 4 en bijna 2 mee op een rondreis van drie weken langs Tübingen, Trento, Siena, Bologna, Obermieming (Oostenrijk) en het Duitse Beieren. Kwestie van de meisjes zo vroeg mogelijk kennis te laten maken met fenomenen als de Duitse Biergarten, het Toscaanse landschap, de kunst van het Italiaanse Trecento, de impact van een mooi berglandschap en – niet te vergeten – familiaal gelummel en het leven onderweg.
Ik heb mij er intussen bij neergelegd dat ik weinig tot geen tijd heb om te lezen wanneer we met de kinderen op pad zijn. Overdag houden ons 'tettergat' en onze 'gibberkont' (hierboven op de foto – plak de beschrijving bij een kind naar keuze – the glue will hold) ons bezig, met of zonder hulp van hun peuterzus. Waardoor wij 's avonds ook wel eens rustig willen praten als volwassenen, een glas wijn drinken en tevreden staren (al naargelang de locatie) naar de rozenstruiken rond ons huurhuis/de treinen die voorbij denderen in het dal beneden/het verlichte hotelzwembad/de bliksem boven de berg wat verder weg…
Vaststelling: toen Joris en ik als koppel reisden, zaten in onze bagage verstekelingen als William Faulkner, Nina Berberova en Somerset Maugham. Tegenwoordig nemen we knuffels in de vorm van groenten en fruit op sleeptouw
(met dank aan de Delhaize Vitamini-actie – zijn er nog getroffen ouders?)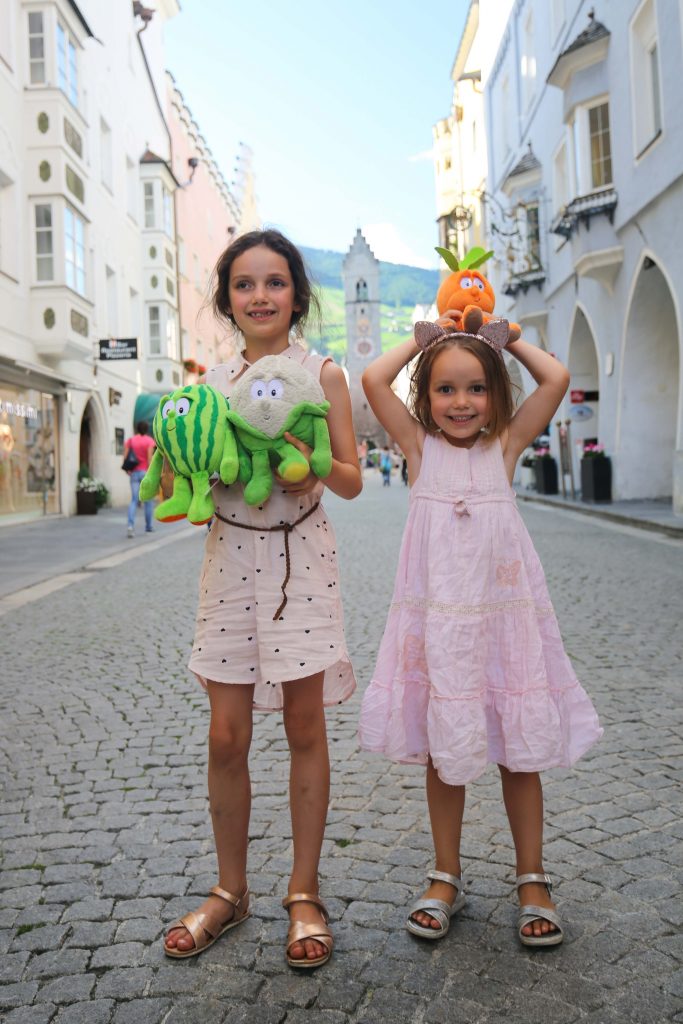 Hoewel ik op onze roadtrips dus niet meer toekom aan lezen of schrijven, is er des te meer gelegenheid (en publiek) om te vertellen. Ik weet nu al dat ik over tien jaar heimwee ga hebben naar de tijd dat Astrid, Johanna en Karolien alles wat we onderweg meemaken en zien, ervaren/accepteren als episch, fantastisch en avontuurlijk. Deels omdat Joris en ik dat ervan maken ("Morgen, Johanna, gaan wij naar het kasteel van…. Doornroosje" – dat is dan Neuschwanstein) en deels omdat de kinderen nog jong genoeg zijn om enthousiast/geïnteresseerd te zijn in quasi alles ("Kan je nog eens vertellen van die mensen die de Mount Everest op wilden en geen zuurstof kregen?" (Astrid) of – nadat ik heb gezegd: "Kom hier en doe uw jas aan, we zitten in een wolkbreuk" – "Zitten wij echt in een wolkbreuk, mama? Wow! (pauze) Wat is een wolkbreuk?" (Johanna)).
Mentale nota aan mezelf: de volgende keer dat we ergens worteltaart bestellen, moet ik niet  beginnen over die mop van het konijn, de bakker en de worteltaart. Of toch niet als ik geen zin heb om ze daarna nog éénenveertig keer te vertellen.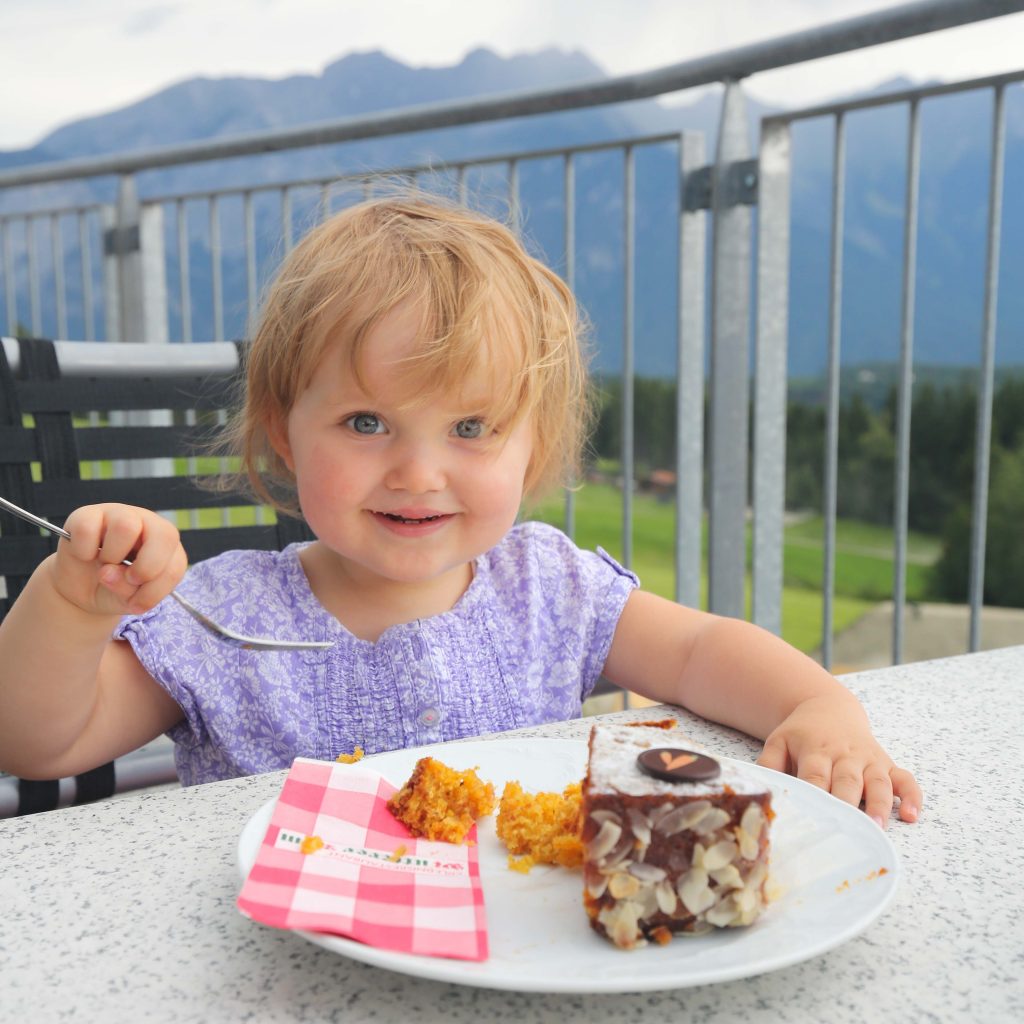 Maar goed, het was dus een zomer van kinderhumor, vol vereenvoudigde en aangedikte verhalen en verzinsels die nooit het papier zullen halen. De novelle Het Uur van de Ster van Clarice Lispector (De Arbeiderspers) en haar kronieken in de reeks Privé-domein die ik had meegenomen om te lezen, bleven in mijn koffer. Hopelijk kom ik er in augustus toe om ze te lezen. Benieuwd wat mij aantrekt in het werk van deze Braziliaanse schrijfster (overleden in 1977)? Euhm, ongeveer elk element in het artikel dat The New Yorker over haar schreef en dan vooral deze paragraaf (over hoe je Lispectors nalatenschap van 85 verhalen kunt zien):
"This is a record of woman's entire life, written over the course of a woman's entire life. As such, it seems to be the first such total record written in fiction, in any language. This sweeping claim requires qualifications. A wife and a mother; a bourgeois, Western, heterosexual woman's life. A woman who was not interrupted: a woman who did not start writing late, or stop for marriage or children, or succumb to drugs or suicide. A woman who, like so many male writers, began in her teens and carried on to the end. A woman who, in demographic respects, was exactly like most of her readers."
Lukt het me of lukt het me niet om Lispector deze zomer te lezen? Ik houd jullie op de hoogte.
Ik heb er alvast een goed oog in. Want soms, ja soms, gebeurt het dat ik opeens een middag voor mezelf heb. En als ik dan op het juiste boek stoot, lees ik het binnen de 48 uur uit. Meestal ten koste van mijn slaap. Spijt heb ik achteraf nooit. Net voor onze vakantie was het van dat. Astrid speelde bij een vriendinnetje, Johanna was op een verjaardagsfeest, Karolien had zich onverwacht ingeschreven voor een marathonsessie middagdutten en ik…zat op de zetel en kon een boek lezen. De eerste roman in mijn vizier was het recensie-exemplaar van N.I. Monteny's debuut Weg van jou (uitgeverij Van Halewyck) dat op onze salontafel rondslingerde. Ik herinnerde me een begeleidende brief waarin werd gesproken over een ervaren Vlaamse journaliste die onder pseudoniem een meeslepend verhaal uitbracht in de traditie van Jill Mansell. Onder het motto: "Waarom zijn er zo weinig 'romantic reads' van eigen bodem? Daar moet ik iets aan doen!" (Of zoiets…)
Nieuwgierig, maar een beetje sceptisch begon ik te lezen. Twee uur en een half boek later wist ik dat ik verkocht was. Weg van jou is een roman in de lichte traditie, maar dan wel van de bovenste plank. Vink de vakjes maar af: vlotte verteltoon, goede spanningsboog, herkenbare personages geportretteerd op een ongewoon opwindend moment in hun leven – figuurlijk en letterlijk dan, want
Monteny is niet bang om seks te beschrijven. En waarom zou ze? Haar roman is de vleesgeworden 'entertaining summer read'.
Twee liefdesgeschiedenissen vormen de kern van Weg van Jou.  De alleenstaande moeder met bindingsangst Helena ontmoet een nieuwe liefde op het moment dat haar schoonzus Anouk, moeder van twee dochters, een affaire begint. Heel onderhoudend allemaal, zelfs al is de verhaallijn rond Anouk nogal voorspelbaar. Om de plot meer body te geven, is er ook nog de kwestie van een jeugdhuis dat dreigt gesloten te worden. Helena springt op de bres en wordt daardoor heel even Wereldberoemd in Vlaanderen. Monteny beschrijft Helena's passage in een tv-show humoristisch en levensecht – waarschijnlijk omdat de schrijfster zelf ervaring heeft met het mediacircus. Nathalie Le Blanc, de Vlaamse journaliste achter de schuilnaam N.I. Monteney, schreef eerder een non-fictie boek, Solo, rond het fenomeen alleen wonen – waarvoor ze veel aandacht kreeg. Haar debuutroman verdient een even warm onthaal.
PS: Betrapt! Geef mij een paar dagen vakantie, en ik begin aan de balans.
PPS: N.I. Monteny is niet de eerste schrijfster in wiens boek ik begin met het idee 'een hoofdstukje' te zullen lezen…waarna ik de hele roman er in sneltempo doorjaag.