In de voetsporen van Roald Dahl
Jarenlang sierde het de top van mijn bucket list. Het Roald Dahl museum in Great Missenden, net boven Londen. Te weinig tijd, te lang in Waterstones blijven hangen, familieleden die de Dahl-gekte niet helemaal volgen, andere prioriteiten als Topshop en cupcakes kopen bij The Hummingbird Bakery. Inderdaad, ik schaam mij. Hoewel, een beetje maar.
Nu is het menens. De driedaagse citytrip naar Londen draait volledig rond Roald Dahl met de dagtrip naar Great Missenden als (literaire) hoogtepunt.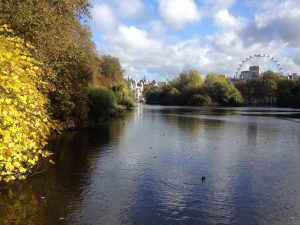 Londen zelf laat Dahl-fans niet in de steek. Het One Aldwych Hotel op de Strand serveert een Charlie and the Chocolate Factory High Tea. Gouden chocolade eieren, heerlijke scones, verraderlijk romige chocolademelk en chocomousse waar het lepeltje zo in rechtop blijft staan. In naam van de literatuur proppen wij ons al te graag vol met te veel gebakjes.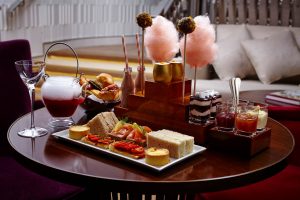 Gasten worden getest: kunnen wij raden welke smaak de suikerspin vandaag heeft? Het is even analyseren, wikken en wegen maar onze voorzichtige gok op rabarber wordt al snel goed bevonden. Het One Aldwych adverteert de High Tea als de ideale uitvalsbasis om de gelijknamige musical mee te pikken, maar jammer genoeg stopte deze begin januari. Echter, er zijn alternatieven. Zo kan u zich misschien  tevreden stellen met Matilda in het Cambridge Theatre?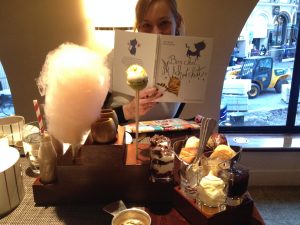 De trein naar Great Missenden voert je vanuit de drukte van de hoofdstad naar de groene heuvels van het Engelse platteland. We stappen uit in een schattig stationnetje bij het dorp. Small Missenden, flitst het door mijn hoofd. Het museum bevindt zich in de straat net naast het station. Het museum loopt vol Britse schoolkinderen. Hun oerbritse uniformen doen ons hopen op een roedel kinders die tucht, orde en stilte in het woordenboek hebben opgezocht, maar nee. Rennen, gillen en over de grond rollen. Dit begint verdacht te lijken op de start van mijn woensdagnamiddagen dansles geven.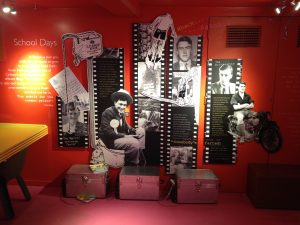 Het interactieve museum is ingedeeld in drie delen: Boy blikt terug op Dahls kindertijd, Solo op zijn carrière als piloot, klerk en schrijver. Het Storytelling Center wil grote en kleine kinderen aanmoedigen om hun inner writer los te laten. Dat loslaten van schrijftalent is blijkbaar geen simpel proces en gaat gepaard met veel geschreeuw, het potlood van je klasgenoot afpakken, drie keer tegen een Belgische blogster aanknallen en vooral niet luisteren naar de gids. Deze gaan later ongetwijfeld topthrillers schrijven.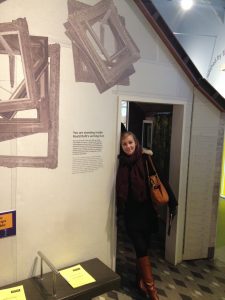 Het hoogtepunt van de tentoonstelling is de nagebouwde schrijfhut van Roald Dahl. De originele hut staat nog in zijn achtertuin, maar de inhoud werd (zonder grap) stofdeeltje per stofdeeltje gecatalogeerd, gedesinfecteerd en verhuisd naar het museum.
Je ziet er de aluminium bol die hij als klerk rolde van chocoladewikkels, brieven van fans, de slaapzak waar hij z'n voeten in warmde en zijn speciaal aangepaste schrijfstoel. Met een zelf uitgesneden gat in de rugleuning, want Dahl bleef last hebben van rugpijn omwille van zijn oorlogsverwondingen.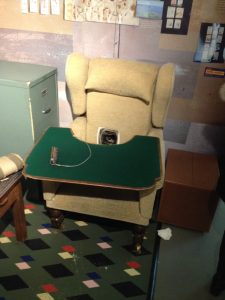 Im het Storytelling Center lukt het ons om een roodharig schoolkind met mijn strenge `juf Eveline` blik uit de replica van de stoel te kijken en zelf even plaats te nemen. Comfortabel is anders, zo'n gat in de leuning, maar het voelt heel bijzonder aan, zo bijna op de schoot bij Roald.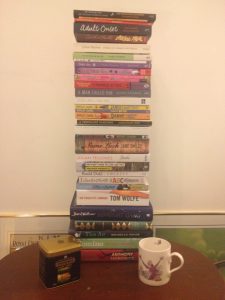 Terug in Londen is er tijd voor een zeer productieve pitstop in Waterstones Picadilly. En Waterstones Trafalgar. En Hatchards in Saint Pancras. De bucketlist is weer aangevuld met een stapel leesvoer.