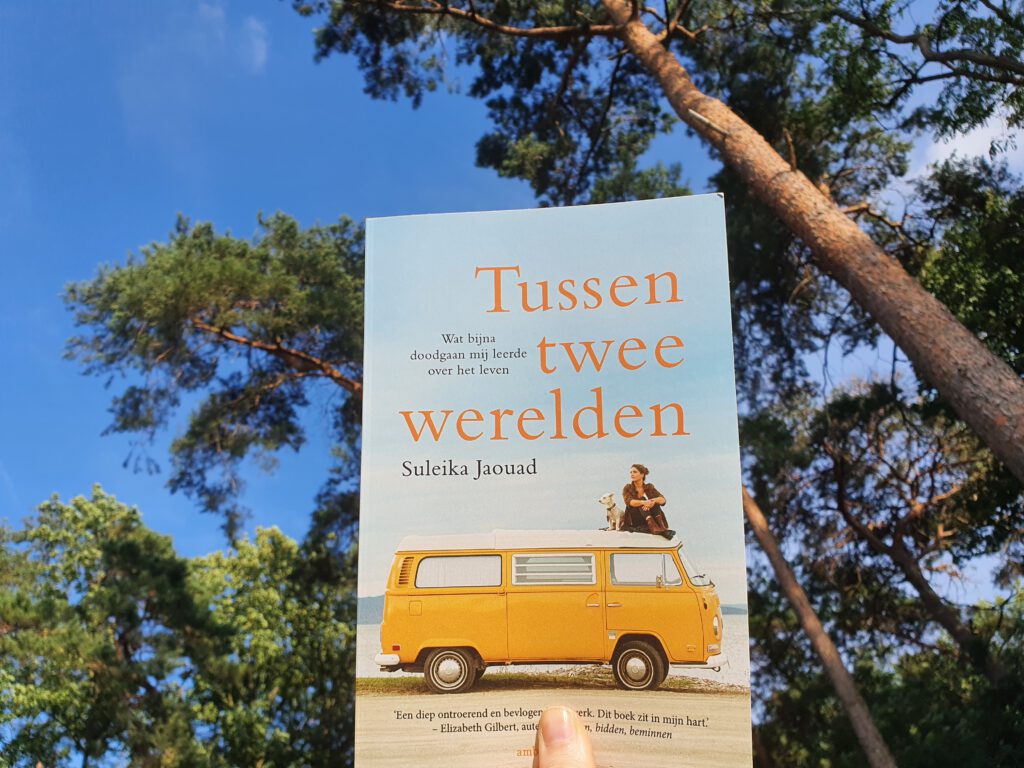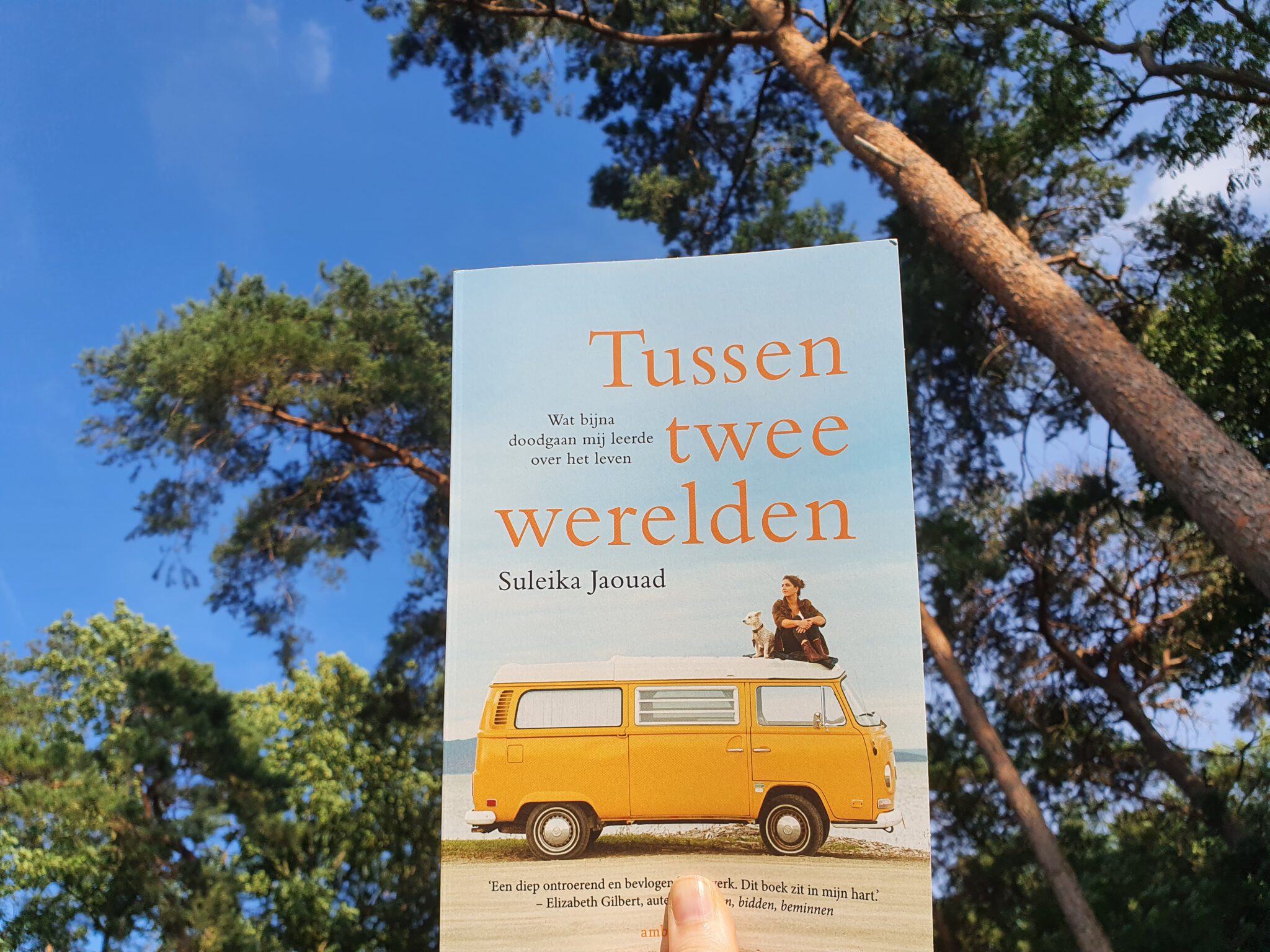 In 2022 kiest This Is How We Read iedere maand een Boek van de Maand. In juli hebben we het in onze 'gespreksrecensie' over 'Tussen twee werelden' van Suleika Jaouad!
Katrien (vooraf): Wat maakt dat een boek over een jonge Amerikaanse vrouw die leukemie krijgt op je leesstapel belandt? Dat Suleika Jaouad verslag mocht uitbrengen van haar ziekbed in The New York Times strekte tot haar aanbeveling. Dat ze voor die serie columns een Emmy Award kreeg nog meer. Maar mij intrigeerde vooral het feit dat Jaouad na vijftienhonderd dagen ziek zijn een roadtrip maakte, dwars door Amerika om de lezers van haar column te ontmoeten.
Barbara (vooraf): De ondertitel "Wat bijna doodgaan me leerde over het leven" trok mij finaal over de streep.
Ik ben een sucker voor het al-lezend-meepikken-van-grote-levenslessen, verzameld in het donkerste uur.
Maakt niet uit of die wijsheid nu komt van een rouwende moeder, zus van een vermiste reiziger, survivor van genitale verminking of… een hevig zieke jonge vrouw.
Katrien (jeuk): Een niet aflatende jeuk en een hardnekkige vermoeidheid, met die symptomen dient de kanker zich bijna een jaar voor de diagnose aan bij de 21-jarige Jaouad. Hoewel ze bang is dat haar moeheid anders is dan die van haar leeftijdsgenoten, toch popelt ze om na haar afstuderen aan het echte leven te beginnen. Dat doet ze in Parijs: "Als Manhattan de plek is waar mensen aan een bliksemcarrière beginnen, dan is Parijs de stad die ze kiezen als ze hun fantasieën over een ander leven willen waarmaken." Maar behalve dat haar vriendje Will haar halsoverkop achterna vliegt vanuit New York, worden er maar weinig dromen vervuld in de Lichtstad. Suleika's job in een advocatenkantoor is hels en al snel belandt ze met alarmerend slechte bloedwaarden in het ziekenhuis. Voor ze het weet, staat ze terug in de VS. Pas daar dringt het tot iedereen door hoe ziek ze is:
"Het is raar om thuis te komen. Alles ruikt nog hetzelfde, ziet er hetzelfde uit, voelt hetzelfde, maar jijzelf bent anders: het contrast tussen wie je was toen je vertrok en wie je nu bent wordt versterkt tegen de achtergrond van je vroegere thuis."
Jaouad trekt er haar tijd voor uit om de lezer mee op sleeptouw te nemen, dat merk je meteen in die eerste hoofdstukken. Maar al ligt het "eerst dit, dan dat" gehalte van Tussen twee werelden aan de hoge kant en wikkelt de plot zich eerder traag af, Suleika neemt me wel van bij het begin voor haar in.
Barbara (bad girl, good heart): Suleika Jaouad is een bad girl. In gezonde tijden gaat ze naar drie feestjes per nacht, waar ze kijkt hoe mensen "lijnen cocaïne zo dik als slakken" snuiven. Tijdens een minder weekendje in Amsterdam overtuigt ze Will toch nog om samen paddenstoelen te proberen. Dit meisje leeft on the wild side, tot kanker haar in een ander kamp dwingt. Net als Katrien voel ik snel sympathie voor Suleika. Deels door haar stoere verhalen, maar veel meer door enkele ziekenhuisscènes, die zowel haar kwetsbaarheid als haar mentale kracht etaleren: 'Ik herinner me een meisje dat Joanie heette,' zei de verpleegkundige met het geblondeerde haar die te veel praatte. 'Het was een lief meisje, zo'n beetje van jouw leeftijd. (…) Toen ze doodging was ik echt heel verdrietig. Als ik naar jou kijk word ik ook heel verdrietig, dan moet ik aan Joanie denken. (…)'
Door mijn ziekte was ik goed geworden in het bepalen van wat ik wel en niet zei. Er waren zinnen die ik voor mezelf hield – 'hou alsjeblief je mond dicht, je ziet toch hoe bang we zijn?' – en zinnen die ik hardop uitsprak: 'Joanie heeft geluk gehad dat jij haar verpleegkundige was.'
Dat vind ik een heel mooie scène, die in enkele zinnen veel zegt over Jaouads persoonlijkheid en gemoedstoestand. Naarmate het boek vordert, denk ik vaker: ze had dit soort scènes op de voorgrond moeten zetten en strenger moeten knippen in de dagelijkse vertelstroom. 'Tussen twee werelden' gaat terug op het dagboek dat Jaouad bijhield tijdens haar ziekte en neemt daar teveel dagdagelijkse details uit over om op elke pagina te boeien.
Katrien (memoires): Terwijl haar vrienden uitzwermen, huizen kopen en jobs beginnen en stopzetten, staat het leven van Jaouad stil in het ziekenhuis. Ze lijkt gedoemd tot "legpuzzels, kleurboeken voor 'volwassenen' en bordspelletjes", activiteiten die niet echt bij haar passen. Vanuit een verlangen meer achter te laten op de wereld dan genomen te hebben, en geïnspireerd door zieke kunstenaars als Frida Kahlo begint ze te schrijven: "Nu begreep ik waarom zoveel schrijvers en kunstenaars die onder een ziekte te lijden hadden hun toevlucht namen tot het schrijven van memoires. Het bood een gevoel van controle, een manier om de omstandigheden naar je hand te zetten, in je eigen woorden." En zo gebeurt het dat Suleika's blogberichten worden opgepikt door The New York Times, de rest is geschiedenis.
Barbara (doorslikken): Kanker hebben is (understatement) geen pretje en Suleika worstelt zich door de ene chemoreeks na de andere, plus een beenmergtransplantatie, plus passages in zorgverblijven, darminfecties en andere horror. Het 'bijna doodgaan' uit de ondertitel is geen overdrijving. In een ziekterelaas van bijna 200 pagina's is het uitbraken van de bekleding van haar slokdarm ("Ik liet mijn hoofd voorovervallen, mijn mond vulde zich met bloed en ik braakte een afzichtelijke homp vlees uit in de plastic emmer die naast mijn bed stond") nog niet 1/3 pagina waard.
Eén ervaring die mij als lezer al hoogst traumatiserend lijkt, gaat in het helse universum van Suleika Jaouad mee door met de stroom – zo lijkt het.
Alle respect voor wat de schrijfster heeft doorstaan. En het herbeleven van elke stap in het inferno werkte voor haar wellicht therapeutisch. Maar als lezer kan ik niet anders dan denken: en wát precies leerde die afzichtelijke homp in de emmer jou? Aan het einde van deel I besef ik dat ik aan dit boek ben begonnen onder valse voorwendsels. De ondertitel 'wat bijna doodgaan mij leerde over het leven' wekt de indruk dat we de doorwrochte conclusies van Jaouads ziekteproces gaan lezen. Terwijl we vooral de extended version van de feiten krijgen. Een versie die ook verteld mag worden, maar waarvoor ik niet had getekend.
Katrien (Will): Hoe dichter het einde van de behandeling komt, hoe slechter het loopt tussen Suleika en Will. Jaouad beseft dat ze te veel heeft gevraagd. In retrospect zou ze veel waakzamer zijn geweest bij het beschermen van hun liefde: "Ik zou hebben geweigerd Will elke nacht naast mijn ziekenhuisbed te laten slapen en ik zou veel meer op mijn ouders hebben geleund. Ik zou veel meer mijn best hebben gedaan mijn woede te kanaliseren die, zonder uitlaatklep, in me was opgeborreld en waardoor de druk was opgebouwd."
Het klinkt als een wijze les die ik maar beter in mijn oren knoop. Je hebt niet alleen een dorp nodig om een kind op te voeden, maar ook om een zieke bij te staan.
Katrien (roadtrip): Hoewel ik initieel erg had uitgekeken naar het roadtrip luik van het verhaal – die coverfoto deed het 'em wel voor mij – toch heb ik het moeilijker om mijn aandacht bij het tweede deel van het boek te houden. Van een verhaal in een kleine bubbel beland je als lezer plots bij het ene na het andere nevenpersonage op de koffie. Ze kunnen me maar matig boeien na 200 pagina's lang in de intimiteit van Suleika's gezin te hebben vertoefd. Gelukkig doen Suleika's inzichten over de dunne scheidingslijn tussen ziek en gezond dat wel nog:
"Die avond bedenk ik hoe poreus de grens tussen de zieke en de gezonde mens is… Naarmate we langer leven, zullen de meeste mensen heen en weer trekken tussen die gebieden en een groot deel van ons leven zullen wel er ergens tussenin doorbrengen. Dat zijn de voorwaarden waaronder bestaan."
Barbara (doorzettingsvermogen): Druk WhatsApp verkeer tussen Katrien en mij halverwege juli. Voor het eerst hebben we allebei het gevoel dat we een Boek van de Maand hebben gekozen dat de belofte uit de aanbiedingsbrochures niet kan waarmaken. Wat doen we? Een andere titel uitzoeken voor juli? Want dat is de filosofie van de blog, eigenlijk: boeken aanraden die goed zijn. Of gaan we gewoon eerlijk aangeven: we zijn hier met hoge verwachtingen in beginnen lezen maar dit boek doet het 'm niet voor ons? We kiezen de laatste optie. Ik besluit zelfs om deel 2 niet meer te lezen.
Het leven is te kort om mindere boeken uit te lezen op wilskracht. Ik zal mijn doorzettingsvermogen sparen voor de donkere uren van het leven (want die zijn er). Bij het lezen van een boek put ik liever niet uit dat reservoir.
PS: Win, win, win! De actie loopt nog altijd. Laat een reactie achter en meng je in het gesprek. Zo maak je eind december 2022 kans op een excellent boekenpakket: onze 12 boeken van de maand in één indrukwekkende stapel. Tot dusver uitverkoren: Het voorval van Annie Ernaux (onze stand-in voor januari), Wachten op het Westen van Nausicaa Marbe (februari), Kerozine van Adeline Dieudonné (maart), Veranderen: methode van Edouard Louis (april), Hoe je van je dochter moet houden van Hila Blum (mei) en Boos Meisje van Marja Pruis (juni).
PPS: Als adem lucht wordt is een kankerboek dat wij liever gelezen hebben.