Ons 'Boek van de Maand Juni' is een essaybundel, Boos Meisje van Marja Pruis. Over vrouwen en frictie – daar praten Barbara en Katrien graag over mee.
Barbara (vooraf): Wie This Is How We Read een beetje volgt, weet dat wij hier onze eigen vorm van feminisme belijden. Denkt een romanpersonage: "Ik wilde niet de indruk wekken dat ik iemand was die nee zegt" dan schreeuwen wij bij het lezen: 'Maar waarom niet?!' Schrijft een journaliste: "I liked the idea of being the kind of woman who'd go to the Gobi desert pregnant" dan knikken wij instemmend (en janken op volle kracht mee, wanneer het gruwelijk misloopt ter plaatse). Wij betuigen onze steun aan bazige vrouwen en voorvechtsters van legale abortussen (helaas een actueel thema). Willen onze dochters belerende boekjes horen, dan pareren wij met een kakaworstje.
Lang verhaal kort: steek een essaybundel met de titel "Boos Meisje: over vrouwen en frictie" in onze brievenbus, en ja hoor: wij gaan die bespreken.
Katrien (vooraf): Als literair journalisten gaan schrijven over boze vrouwen dan verwacht je dat ze vroeg of laat zullen komen aandraven met de 'mad woman in the attic', de gemuilkorfde vrouw wiens woede verward wordt met gekte. Het zijn die vrouwen waarmee ik royaal mijn boekenplanken vul – zoals pas nog deze. Ik verheug me dus op een literair feest van herkenning als ik Boos Meisje opensla tijdens een wel erg vroege vlucht van Tirana naar Brussel. Hoog boven de Alpen stel ik al meteen vast dat dit feestje niet zal doorgaan.
De boze vrouwen van Pruis zijn niet "mad".
Barbara (iets met generaties): Ik begin met een blik op de inhoudstafel. 'Boos Meisje' valt uiteen in drie delen. Marja Pruis schrijft (1) essays vanuit persoonlijke ervaringen, (2) portretten van feministische iconen en (3) een soort columnachtige stukjes over het leven als schrijvende vrouw. Ze begint met een schets van een 'boos meisje' uit haar omgeving, een vrouw van bijna dertig, en concludeert: "Ze loopt met me mee, het boze meisje, maar ik ben het niet. Mijn haren zijn te zacht, en ze krullen van nature. Ik sta te weifelen bij het stoplicht. Ik wil nog steeds een sticker van de juf. In gedachten speel ik basgitaar, in werkelijkheid ben ik groupie. Boze meisjes, mijn planken staan er vol mee, mijn muren zijn met ze behangen, hun ogen prikken in mijn rug als ik me glimlachend een weg baan." Ik besef onmiddellijk dat ik als lezer in een interessante middenpositie zweef. Op mijn 42ste hoor ik niet bij de #MeToo generatie en ben ik anders, inschikkelijker dan het exemplarische Boze Meisje dat Marja Pruis (°1959) beschrijft. Tegelijk ben ik duidelijk meer in het reine met mijn 'schurende' kant dan de schrijfster. Ik hoef geen sticker van de juf meer. (Welke juf? Waarom?) Ik denk dat het iets generationeels is.
Ik ga een boek lezen waarin een slimme vrouw van 62 onderzoekt hoe ze zich verhoudt tegenover niet-pleasende meisjes van onder de 30. Ik sta even ver van de schrijfster als van het beschreven type. Of moet ik zeggen: even dicht bij?
Kom maar op met die feministische ideeën. Ik voel bij voorbaat verwantschap met de hele girl posse rond dit boek.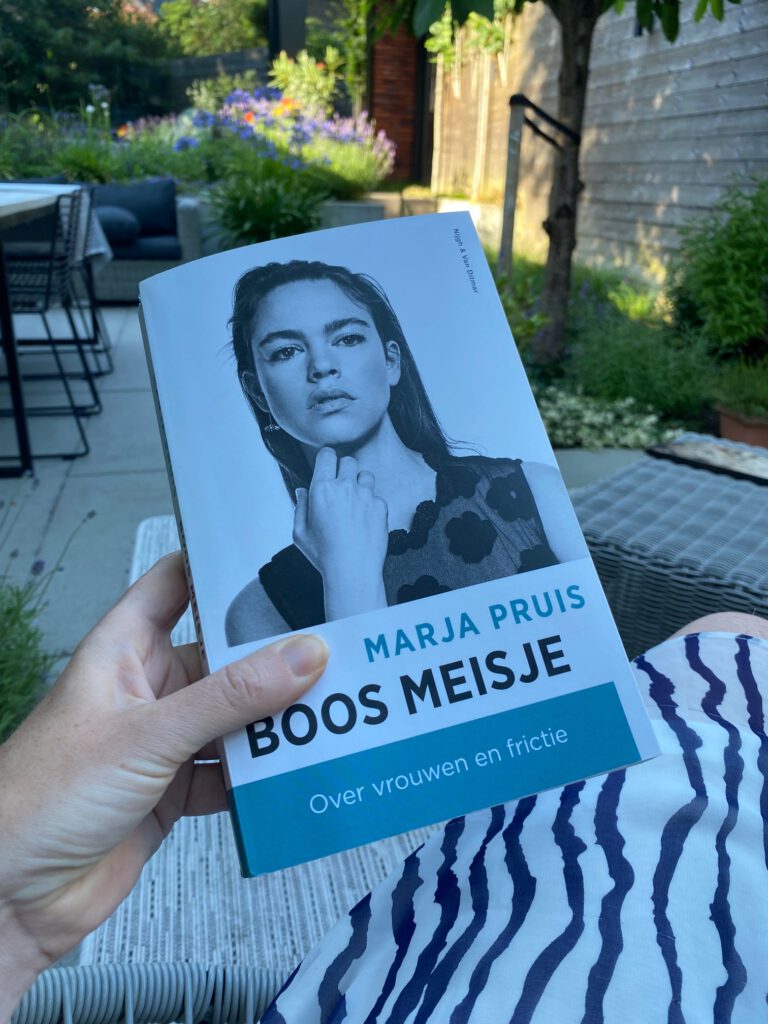 Katrien (een snob?): In mijn hoofd begint er al snel toch een feestje.
Deze essaybundel en de actualiteit, dat is vuurwerk.
Aan de ene kant Marja Pruis die Elena Ferrantes lijstje met haar veertig favoriete boeken, geschreven door vrouwen, op de korrel neemt. "Hoe oneindig veel sterker was het geweest om een lijst met veertig favoriete boeken samen te stellen waarvan er 'toevallig' achtendertig door vrouwen geschreven blijken, en dan nog eentje door Édouard Louis en eentje door James Baldwin." Aan de andere kant Siska Schoeters die op de krantenpagina's haar boosheid uitschreeuwt over de grootverdieners bij de VRT – allemaal mannen. Aan de ene kant Marja Pruis over #MeToo: "Ik besef pas hoeveel #MeToo heeft veranderd, als ik nu zeker denk te weten dat dit nooit meer op deze manier gaat gebeuren." Aan de andere kant Ronit Palache die het liet gebeuren.
De snedigste passages in het eerste deel zijn die waarin Pruis op groepsreis gaat naar Brazilië. Schaamteloos arrogant is ze, vol dédain voor haar medereizigers en hun manier van reizen – "getuigt het van meer wansmaak om een helikoptervlucht te maken dan om een museum te bezoeken?" – , om tot de conclusie te komen dat "de waarlijk strevende klasse in de praktijk geen cultureel kapitaal blijkt nodig te hebben om een beter mens te kunnen zijn." Een (h)eerlijk stukje onversneden snobisme.
Barbara (hoe je spreekt is hoe je leeft): Mijn favoriete stuk uit het eerste deel is 'De dingen die je wel en niet kunt zeggen'. Dat gaat over de relatie tussen taal en denken en verkent de vraag of taal bevolkingsgroepen (vrouwen, LGBTQ+ers…) kan discrimineren. Pruis studeerde linguïstiek in de 80s (toen ik nog de jongste lezer van de lokale bibliotheek was) en praat me bij over de Sapir-Whorf-hypothese ("die een verband veronderstelt tussen de taal die iemand spreekt en de manier waarop diegene de werkelijkheid waarneemt") en de oneliner van Robin Lakoff ("Language uses us as much as we use language"). Voor mij is Marja Pruis in dit essay op haar best. Ze brengt me dingen in herinnering – zoals het stokpaardje van Simone de Beauvoir: "taal is een instrument van het patriarchaat". Ze leert me iets bij en zet me aan het denken: "Het is een romantisch beeld, de taalgebruiker als minnaar én gevangene van zijn taal. Vooral omdat het impliceert dat er lonkende vertes zijn waar hij nog geen weet van heeft.
Alsof er altijd nog delen van je bewustzijn liggen te slapen tot ze door een andere taal, vreemde woorden, worden wakker gekust."
En ze doet me lachen: "Ik gebruikte pas het woord 'multiculti' in gesprek met een theatermaakster, wat me op een reprimande kwam te staan. Een beetje lacherig, maar toch. Als je iets goed kunt zeggen, kun je het ook fout doen. Toen ik de faux pas met multiculti aan een collega bekende, zei die ook nog eens uit de grond van zijn hart dat dat ook écht niet meer kon. Hij legde het nog eens heel uitgebreid aan me uit en ging ermee door nadat ik al drie keer gezegd had het te snappen." Haha, mansplaining alert.
Na Marja's essay weet ik trouwens (bijgeleerd) dat er ook zoiets als 'manterrupting' bestaat. En wormzinnen, maar ik moet afronden.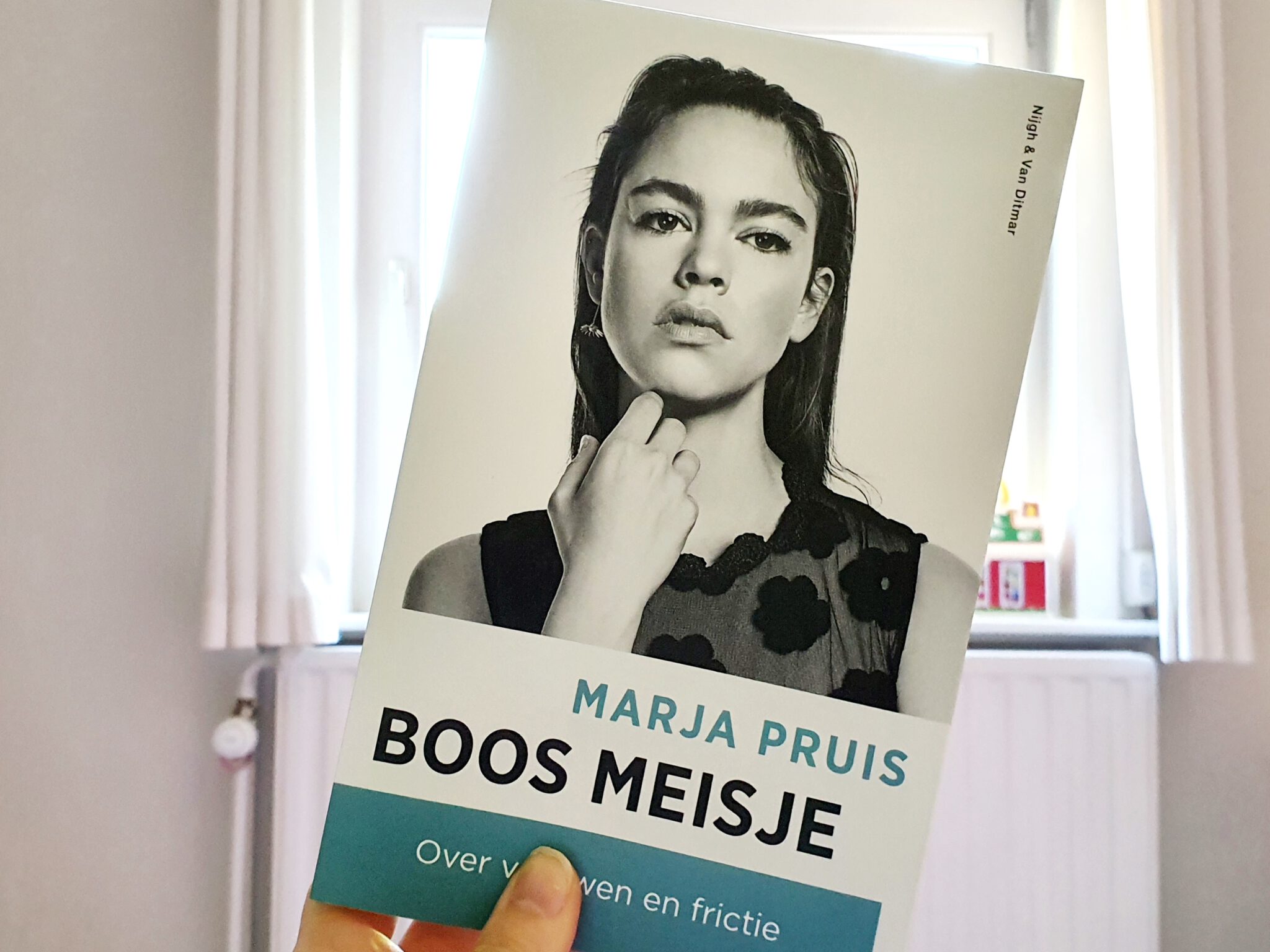 Barbara (Zet Janet maar op mijn lijst): Tijd voor de feministische iconen, deel 2 van de bundel. Pruillip: geen persoonlijke topfavorieten (zoals Waris Dirie, "om een bubbel succesvol te doorprikken zit je er best middenin" en Chris Kraus "Je kunt het in één zin over de vrouwelijke kut en het existentialisme van Kierkegaard hebben, maar mensen worden er boos van.") Alarmbel: twee essays over Nederlandse politica die in Vlaanderen niet zo bekend zijn. En stevige oogrol: nee echt, Rachel Cusk dan wel? Die verongelijkte zeurbal…
Met frisse tegenzin begin ik aan de zes profielen.
Gelukkig wordt mijn inspanning (zoals in de voorspellingen van mijn moeder) beloond. Want eerste verrassing: de essays over Neelie Kroes en Sigrid Kaag zijn zonder meer boeiend, of je hen nu kent uit het vaderlandse 19u journaal of niet. In de tekst over Neelie Kroes bewijst Pruis heel pittig hoe je één leven op twee manieren kunt vertellen. En Sigrid Kaag heeft zo haar eigen visie op
het eeuwige dilemma van de vrouw-in-een-mannenwereld: hoeveel neem je over van je mannelijke peers en hoeveel vrouwelijke accenten lepel je hen op?
Tweede vaststelling – en grote geruststelling – het is heel normaal om Rachel Cusk te disliken, die vrouw stuurt er bewust op aan! Ik herinner me dat ik net zwanger was van Astrid en ouderschapslectuur verslond. 'In het land van moeders' van Rachel Cusk zwierde ik halverwege aan de kant, deeply distressed en niet van plan het boek ooit uit te lezen. Wat een rotplek, dat moederland. Marja Pruis legt me geduldig uit waar mijn wrevel tegen Cusk vandaan komt: "Het is wennen aan een schrijfster die ogenschijnlijk openhartig is over haar eigen leven, nabij geworstel tot in detail beschrijft, maar dat op een abstracte manier doet, koud, neerbuigend soms, gemeen zelfs, maar vooral zo heel nadrukkelijk niet behaagziek."
Helemaal mooi is dat Pruis me ook nog op het spoor zet van vrouwen die me wél aanspreken, met Janet Malcolm als uitschieter. Maar misschien moet ik Katrien ook nog eens iets laten zeggen?!
Katrien (je vergeet Vivian): In haar appreciatie van de (essays over de) vrouwelijke iconen volg ik Barbara ten volle. In Cusks Coventry haakte ik in een niet zo ver verleden ook af, maar na de essays over Neelie Kroes en Sigrid Kaag zou ik zomaar de Nederlandse politiek willen volgen. De portretten laten zien wat een uitstekende journalist Pruis is. Hoe ze me inneemt voor twee politici die we hier in Vlaanderen amper kennen is ronduit indrukwekkend.
En net omdat ik zo onder de indruk ben, verbaast Pruis me in het essay over Vivian Gornick (wel een klein beetje een heldin van me). Daarin bekent ze dat ze het stiekem niet erg vond dat haar interview met Gornick in New York bijna niet kon doorgaan: "dat voor iemand die zo snel geïntimideerd is als ik zo'n afspraak die buiten schuld om niet doorgaat een uitkomst is."
'O, heeft Marja Pruis dat ook', kon ik alleen maar denken – die seconde voor je iemand spannend gaat interviewen dat je hoopt: laat mijn interviewee ziek zijn.
Een gedachte die gelukkig meestal snel verdwijnt. Zoals – gelukkig – ook bij Pruis en Gornick: "Ik dacht: ze is twee jaar jongen dan Susan Sontag, drie jaar jonger dan Sylvia Plath. Schrijfsters uit een heroïsch verleden, een andere tijd. Maar Vivian Gornick zat hier tegenover me en vertelde me onverminderd zin te hebben in seks. Niet meteen, maar bijna wel."
Katrien (toch wel vriendelijk): Stel dat ik één goed idee meeneem uit dit boek. Het welke zou dat zijn? Ik weet dat Pruis zal gruwen van deze reductionistische hapsnap lezing van haar bundel. Maar kom, ik deel het toch. Ik vond het op de voorlaatste pagina, het klinkt bijna te fluffy om van diezelfde vrouw te komen die zich in Brazilië distantieerde van het gepeupel. Ze becommentarieert er de redenering van Simone de Beauvoir dat vrouwen vaster zitten aan mannen dan aan elkaar. "Maar misschien is dat het hele punt. Vrouwen zitten vast – aan anderen. Is dat niet juist alles wat je nodig hebt? Stel jezelf een alternatief voor. Een weg uit het hele rampenpakket waarin we ons tot aan de nek bevinden, met een uitgeputte aarde en bewoners die elkaar naar het leven staan." Vriendelijk, toch?
PS: Win, win, win! De actie loopt nog altijd. Laat een reactie achter en meng je in het gesprek. Zo maak je eind december 2022 kans op een excellent boekenpakket: onze 12 boeken van de maand in één indrukwekkende stapel. Tot dusver uitverkoren: Het voorval van Annie Ernaux (onze stand-in voor januari), Wachten op het Westen van Nausicaa Marbe (februari), Kerozine van Adeline Dieudonné (maart), Veranderen: methode van Edouard Louis (april), Hoe je van je dochter moet houden van Hila Blum (mei) en nu Marja Pruis.