Steken wij op deze blog vaak genoeg de loftrompet over de Vlaamse bibliotheken? Ik vrees van niet… Katrien besprak ooit "Wauw, hier leest men boeken" – een inspiratiegids voor bibliotheken met de ambitie een 'belevenisplek' te worden. Eveline gaf aandacht aan de boekentiplijst 'Verborgen Parels' – een initiatief van het netwerk van bibliotheken. Maar gewoon een blogpostje uit de losse pols, over het plezier van naar de bib gaan? Daar zijn we in de ruim drie jaar dat we online zijn nog niet aan toegekomen. Shame on us! Dat bedacht ik vanmiddag rond 15u, terwijl ik met mijn twee oudste dochters de bibliotheek van Keerbergen onveilig maakte. En kijk, amper vijf uur later zit ik al aan mijn pc om het goed te maken. Want my God, mag het nog eens gezegd worden?
Hoe fantastisch is de bibliotheek ?!
Lang geleden, in 1982, werd ik in onze plaatselijke bibliotheek ingeschreven als hun jongste lezertje ooit. Ik was amper twee jaar en al in het bezit van een bibliotheekkaart. Coole kleuters – het moet in onze genen zitten. Late kudos aan mijn ouders trouwens, om me al zo vroeg het literaire pad te wijzen, maar ik dwaal af.  Ik bleef een trouwe klant van de Keerbergse bib tot ik in Leuven ging studeren. Vanaf dat moment begon ik boeken te kopen en te verzamelen. De laatste tien jaar krijg ik als recensent (en je hoort mij niet klagen) de meeste boeken gewoon gratis… Om maar te zeggen:
mijn drive om een nieuwe bibliotheekkaart aan te vragen, was een tijdlang nogal laag.
Maar, oh maar… intussen heeft mijn oudste dochter haar communie gedaan en leest ze AVI9 – in mensentaal 'alles wat los en vast zit en wel aan een zeer respectabel tempo'. Eerst dacht ik nog: nu zal die boekencollectie op haar kamertje, die ik al sinds haar geboorte zo zorgvuldig aanleg, ein-de-lijk van pas komen? Ha, tarara.
Was will das Weib? Zelfs al is ze een meisje van amper acht? Zelf kiezen wat ze leest, natuurlijk.
En dat kan Astrid nu, sinds een maand of twee. Dankzij haar bibliotheekkaart.
Ze leest de boeken van Thea Stilton door Elisabeth Dami, De Waanzinnige Boomhut van 13 (tot 91) Verdiepingen door Andy Griffiths, de Horrid Henry reeks van Francesca Simon en Dagboeken van een Muts door Rachel Renée Russell. Ik wandel naast haar door de bibliotheekgangen en probeer mijn oude geliefden in haar armen te duwen.
"Wat denk je van deze, schat?" (denk hier een hoopvol gezicht bij + een hand die 'Grieselstate' van Anthony Horowitz omhooghoudt) Nope, not interested.
"Deze misschien?" (Een Ed Franck) "Of die!" (Ottfried Preussler en z'n 'Meester van de Zwarte Molen') Euh, thanks, but no thanks. Na een titel of achttien (want pushy ben ik nooit…) heb ik de boodschap begrepen. Ik druip met Johanna af naar de afdeling prentenboeken, en laat Astrid haar ding doen. Gelukkig heb ik (voorlopig) nog een kind dat het wel waardeert dat ik boeken uit het rek haal en hun titels enthousiast voorlees. Johanna kiest al gauw 'Kabouter Korsakov' en we nestelen ons op één van de gekleurde kussens in het gezellige leeshoekje van de bib – oh ja, er is een hoop veranderd en verbeterd in de Vlaamse bibliotheek sinds de jaren 1980.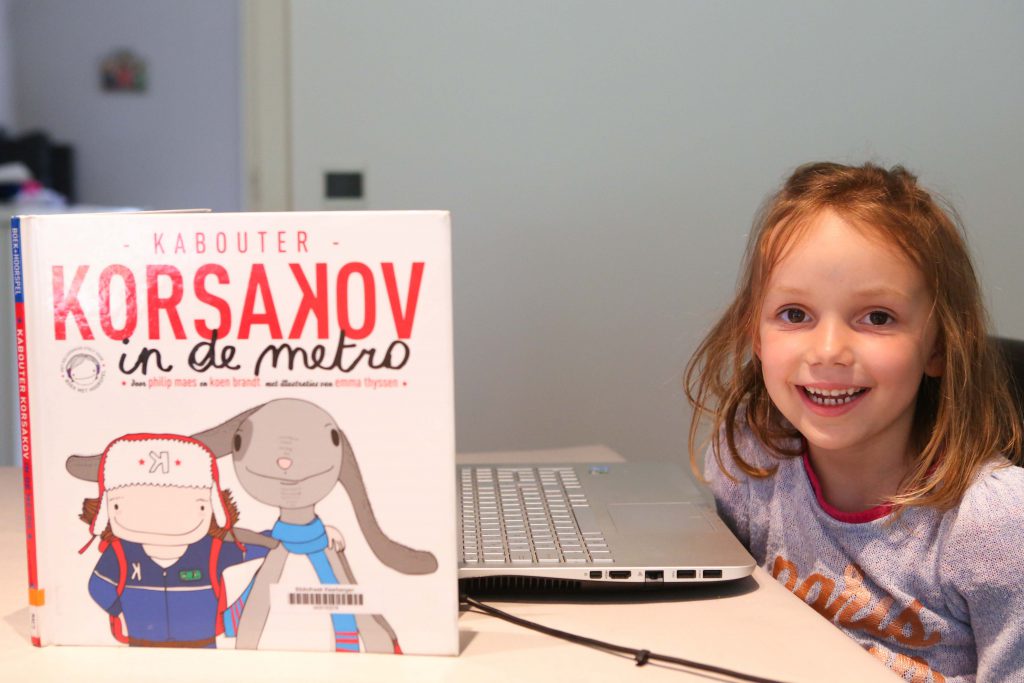 Terwijl ik met Johanna alvast begin te lezen, werp ik af en toe een blik op Astrid. Zo opgetogen als ze door de rekken huppelt… Zo gedecideerd als ze titels terug kan zetten – nee, toch niet… Zo peinzend als ze een eerste bladzijde beoordeelt… En vooral: zo onversneden blij als ze is wanneer ze eindelijk dat boek vindt dat helemaal haar ding is (een Dance Academy strip door Crip & Béka)… Dat is het #bibeffect in volle actie, en dat is nog exact zoals ik het mij uit de eighties herinner… Gelukkig.
PS: Ik heb mij al eerder geout als het type moeder dat zich bij elk kinderuitje durft afvragen, 'what's in it for me'? In het geval van een bibliotheekbezoek is dat duidelijk. Tada!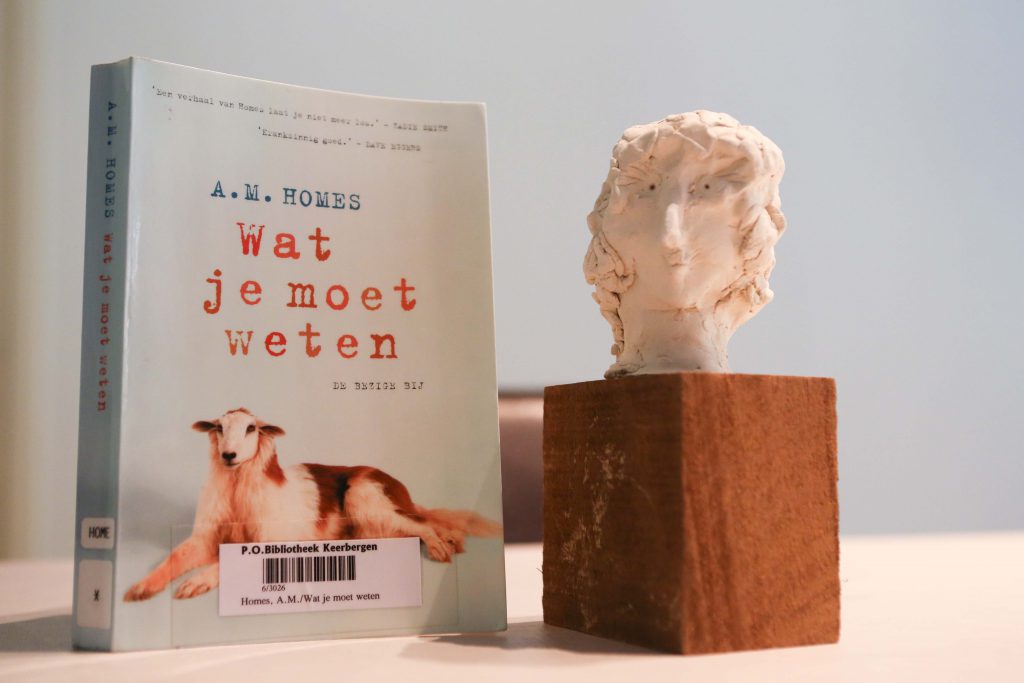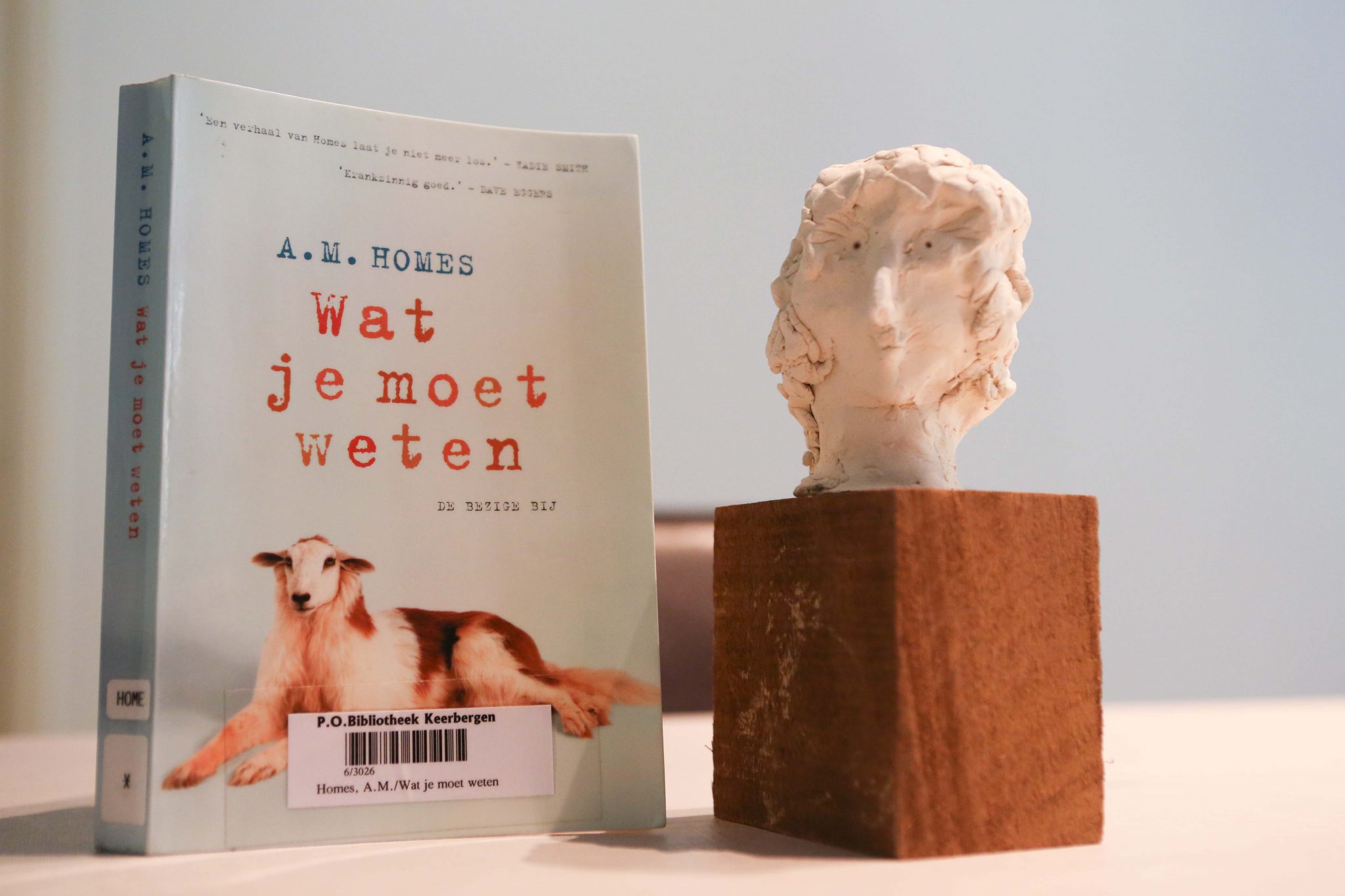 PPS: Ik stond echt versteld aan de balie. De bibliotheekkaart van de kinderen was gratis, die van mij kostte 2,5 euro… Op zo'n moment ben je toch gewoon dankbaar en trots dat we in een maatschappij leven waarin zoiets kan ?! Na 2018 bepalen gemeentebesturen echter zelf of ze in hun bib blijven investeren. Wil je hen een signaal geven dat dit zinvol is? Teken dan de petitie #bibvooriedereen op www.bibvooriedereen.be
PPPS: De foto van Johanna & Korsakov werd thuis gemaakt, niet in de bib.