"Dat is de wereld waarin ik wil leven: een wereld waarin vrienden me leestips doorgeven via WhatsApp – naast de Netflixtip…. Dat is ook hetgeen ik zelf het liefste doe, die dingen doorgeven." Aan het woord is Wim Opbrouck in de heerlijke boekenpodcast Drie Boeken van Wim Oosterlinck. Herkenbaar, vind ik – zeker na een jaar waarin we met This Is How We Read 365 leestips klaarzetten die u in 2022 hopelijk zullen inspireren.
Maar just in case 365 leestips niet genoeg zouden zijn, deel ik hier het beste wat ik in 2021 las. En omdat daar van Wim Opbrouck gerust ook een Netflixtip mag tussenstaan, voeg ik die ook maar meteen toe.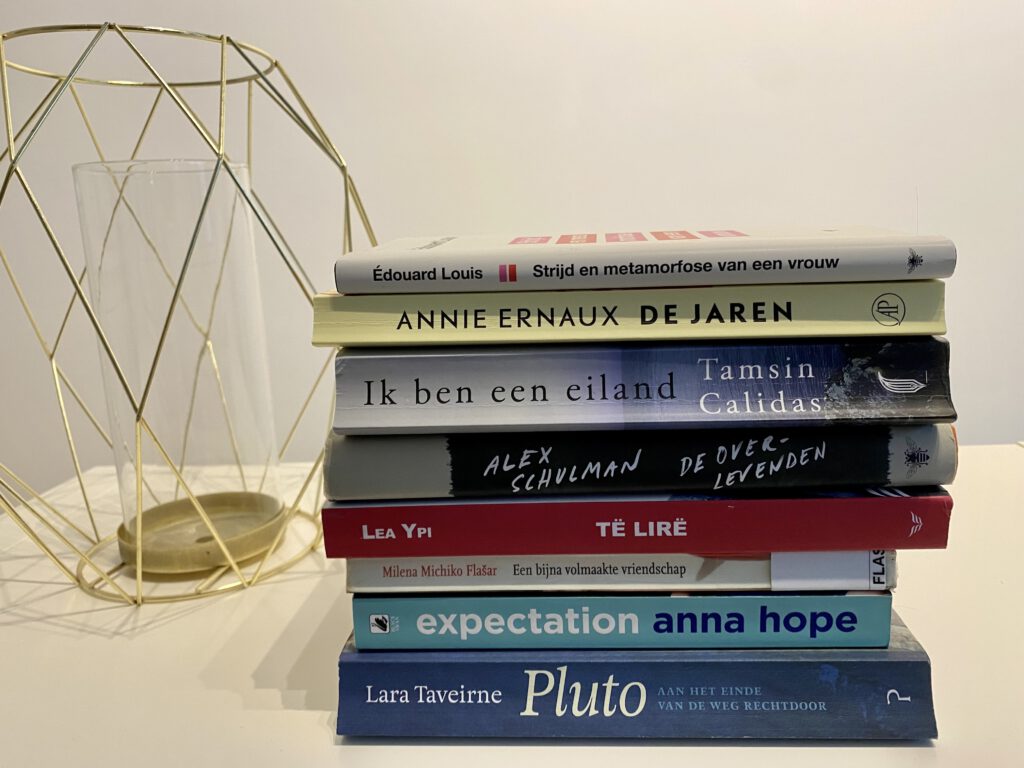 Het beste wat ik het afgelopen jaar las
De jaren van Annie Ernaux: oftewel het kalenderblaadje van 12 mei
Strijd en metamorfose van een vrouw van Éduard Louis: een boekencrush die Barbara en ik met elkaar delen
Ik ben een eiland van Tamsin Calidas: mijn interview met Tamsin in De Standaard
More than a woman van Caitlin Moran: ook van dit boek was Barbara fan
Vrij van Lea Ypi: nee, ik ben niet bevooroordeeld door de Albanese roots van mijn vriend. Vrij is gewoon een must read, vindt ook The Guardian.
De overlevenden van Alex Schulman: alles wat ze zeggen over de hype is waar
Verwachting van Anna Hope: veel beter dan Sally Rooney
Een bijna volmaakte vriendschap van Milena Michiko Flasar: hiermee nam ik afscheid van mijn leesclub in Boutersem
Pluto van Lara Taveirne: mijn mini-review lees je op Instagram
Het beste wat ik het afgelopen jaar zag
SERIES
Fleabag
Pretend it's a city
Clarkson's Farm
The Chair
Borgen
FILMS
Quo Vadis Aida
The Father
Nomadland
Minari
THEATER
Vrede, liefde en vrijheid van Het Nieuwstedelijk
PS. Welke boeken las jij het liefst in 2021? En welke films, series en theaterstukken blijven jou bij?
PPS. Mijn lijstjes van de voorbije jaren: 2016, 2017, 2018, 2020