Verborgen parels, een verwendag en een stadsdichter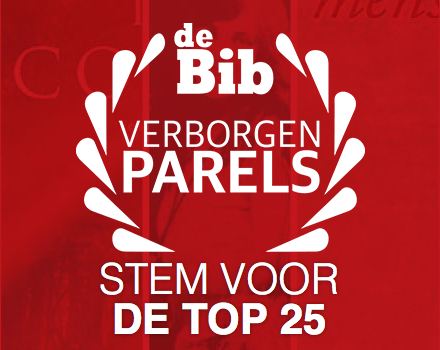 Verborgen Parels is een initiatief van het netwerk van bibliotheken. 600 medewerkers stemden voor hun Nederlandstalige favorieten die, volgens hen, onterecht onder de radar bleven.
Tussen 1 en 18 oktober kunnen ook wij, de ongefortuneerden die niet in een bibliotheek werken, stemmen op onze favorieten. Eind oktober verwennen de bibliotheken alle geïnteresseerde lezers met een tijdelijke leesapp met de best ofs.
Op de lijst Arthur Japin met De overgave, Tommy Wieringa's Joe Speedboot, Problemski Hotel van Dimitri Verhulst en Woesten van Kris Van Steenberge. Nu ja, onder de radar zit deze laatste niet echt, maar toch. Een perfect lijstje om nog wat schatten te ontdekken.
Els Beerten bijvoorbeeld, of Louis Van Dievel en Johanna Spaey. Eerlijkheid gebiedt mij te bekennen dat deze mij iets minder (lees: niet) bekend zijn. Een mens kan maar bijleren, nietwaar?
De winnaar: Woesten, Kris Van Steenberge (714)
2. De buitenkant van meneer Jules, Diane Broeckhoven (661)
3. Het huis van de moskee, Kader Abdolah (641)
4. Suikerspin, Erik Vlaminck (616)
5. Wit is altijd schoon, Leo Pleysier (599)
6. Joe Speedboot, Tommy Wieringa (558)
7. De overgave, Arthur Japin (532)
8. Problemski Hotel, Dimitri Verhulst (459)
9. Over het kanaal, Annelies Beck (436)
10. Vlucht, Johanna Spaey (434)
11. Eén mens is genoeg, Els Beerten (415)
12. Contrapunt, Anna Enquist (405)
13. De bewaker, Peter Terrin (313)
14. Taal zonder mij, Kristien Hemmerechts (307)
15. Het onverwachte antwoord, Patricia De Martelaere (289)
16. Meester Mitraillette, Jan Vantoortelboom (288)
17. De Pruimelaarstraat, Louis Van Dievel (286)
18. De stiefmoeder, Renate Dorrestein (278)
19. Paddenkoppenland, Luc De Vos (271)
20. Hard hart, Ish Ait Hamou (270)
21. Iris was haar naam, Toni Coppers (260)
22. De weldoener, P.F. Thomése (250)
23. Birk, Jaap Robben (249) 24. Wij, Elvis Peeters (249)
25. Loerhoek, Bernard Dewulf (239)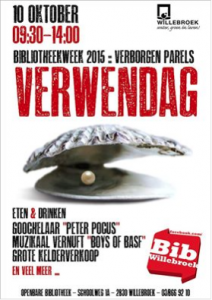 De Bib van Willebroek hield deze zaterdag z'n verwendag. Denk hierbij aan een geweldige kelderverkoop, koffiekoeken, een boekendokter, voordrachten, literaire animatie voor kinderen, een enorme pan paella en drankjes. Dit jaar mocht uw boekenmeisje er ook gaan voorlezen uit de verborgen parels.
Bibmedewerker, dichter en auteur Jurgen Nakielski selecteerde enkele fragmenten en ik hield een poll in de boekenblog-werkmap rond literaire roddels die ik nog zou kunnen gebruiken om de lezing wat pikanter te maken:

HARD HART – Ish Ait Hamou – Manteau
Zo staat Ish Ait Hamou te pronken in de lijst. Iedereen welbekend als choreograaf en danser, maar voor uw boekenmeisje vooral een zeer sympathiek figuur met een interessant verhaal. Ik mocht Ish namelijk interviewen over zijn zeven favoriete boeken en botste op een wel heel bijzondere leesgeschiedenis.
Ish wilde als tiener vooral rapper worden: vanuit zijn eerste songteksten evolueerde hij naar een uitgebreider concept, een verhaal en later een boek. Hij schrijft in het Engels, de taal waar hij het meest mee kan spelen, en laat het achteraf vertalen.
Zelf houdt hij enorm van Amerikaanse klassiekers:
"Ik bracht mijn voorlaatste schooljaar door in de V.S.. Voor de les Engels lazen we enkele klassiekers waar we dan een presentatie over gaven. Ik had op dat moment absoluut niks met boeken en er ging een wereld voor mij open. "
Weer in België kon ik tijdens de les Engels niet veel meer aanvangen. Als alternatief mocht ik een boek lezen: De biografie van Malcolm X, die een belangrijke rol in de hip hop cultuur speelt. Hoe een man op het slechte pad zijn leven kan omgooien, het heeft me enorm aangegrepen.
In Hard hart laat Tom Macleigh het saaie provinciestadje en de depressieve thuissfeer achter om te gaan studeren in Boston. Hij ontmoet er Rachella en de twee groeien naar elkaar toe.
DE BUITENKANT VAN MENEER JULES – Diane van Broekhoven – The house of books
Drie volwassen kinderen, woonde dertig jaar in Nederland en had in 2O13 drieëndertig boeken op de teller staan. Onze boekhouding moet kloppen, ziet u.
Je brak in 2001 internationaal door met je novelle De buitenkant van meneer Jules. Daarvan zijn zo'n kwart miljoen exemplaren verkocht. Ben jij nu 'binnen'?
Laat ons zeggen dat het boek me op de literaire wereldkaart heeft gezet. Ik was al twintig jaar bezig en opeens hoorde ik er als schrijver bij. Dat is fijn maar ik blijf er wel nuchter bij. Meneer Jules verscheen in zestien talen. Blijkbaar was het uitgangspunt – dat je een geliefde die sterft nog een dagje voor jezelf wilt houden – universeel.
In De buitenkant van Meneer Jules staat Alice elke ochtend op als ze de koffie ruikt. Haar man zet die namelijk elke dag opnieuw voor haar. Maar op een ochtend treft ze naast het bakje troost het levenloze lichaam van haar man aan. Alice begint herinneringen op te halen.
HET ONVERWACHTE ANTWOORD – Patricia De Martelaere – Meulenhoff
Volgens Katrien hebben we Patricia De Martelaere gehad als professor Ethiek aan de KULeuven. Could be. Interessant vak, maar het zou kunnen dat ik af en toe een lesje overgeslagen heb, want eerlijk gezegd herinner ik me er blijkbaar niet zo veel van.
Volgens Katrien dus een bijzonder goede lesgever, ondertussen overleden aan een hersentumor. 51 werd ze. Ze schreef essays voor de duidelijkheid, romans mochten iets duisterder zijn.
Met Het onverwachte antwoord werd ze genomineerd voor de Libris Literatuurprijs, een roman waarover binnen de jury flink werd gediscussieerd:
G. heeft veel vrouwen in zijn leven. In elk hoofdstuk komt er één aan bod, wat voor de nodige verwarring zorgt. Bestaat G wel echt, zijn het allemaal verschillende vrouwen of is het er één? Elk hoofdstuk gaat over verlangen, seks, denken aan seks, obsessie en stiekeme ontmoetingen.
Op de vraag wie G is dienen velen graag van repliek: Professor Brems, gerespecteerd docent Nederlands letterkunde? De twee hadden jarenlang een affaire, maar braken toen Brems zijn huwelijk wilde redden. Allemaal goed en wel, zij het dat de heer Brems per se de tienjarige wilde uithangen. Hij schrapte De Martelaere uit zijn nieuwe geschiedenis over naoorlogse literatuur. Blijkbaar wilde hij zijn breed uitgesmeerde escapades in 'Het onverwachte antwoord' niet nog meer in de spotlights zetten. Ter verdediging: Brems diende Knack van antwoord met de uitleg dat er nog wel meer goede Nederlandstalige auteurs waren die zijn selectie niet haalden. Man of vrouw, denken wij dan? Kan tellen ook, je ex-minnares uit het literatuurhistorisch geheugen willen schrappen.
DE BEWAKER – Peter Terrin – De bezige bij
Peter Terrin wil niet op de foto met een pintje. Nochtans is hij in het poepchique Amstelhotel de enige Belg op de shortlist van de Libris Literatuurprijs en kan hij ons land niet beter vertegenwoordigen dan met een frisse Stella in de hand. Maar goed, als literair journalist doen wij niet moeilijk tegen iets te stijfdeftige auteurs.
Wij boekenmeisjes hebben zo onze truuken. Na het vijfgangendiner (enkel voor genomineerden en de jury, wij gaan in galajurk een hamburger en frietjes steken) en de uitreiking van de prijs aan Adriaan Van Dis zoeken wij Peters vrouw op. Terwijl zij er vrolijk op losroddelt (dat hij zijn trouwkostuum maar heeft aangetrokken, hoe chagrijnig hij wordt als het schrijven niet lukt en nog veel meer waarvan we beloofd hebben het 'nooitoftenimmer' door te vertellen). Peter lurkt ondertussen op de achtergrond. Met bezorgde blik. 'Niet alles vertellen, hé Lut', probeert hij nog, maar wij nemen er een glas wijn bij en borrelen vrolijk verder…
De bewaker: Harry en Michel bewaken in een parkeergarage de ingang van een bijzonder gebouw. Enkel de allerrijksten kunnen er wonen. Als opeens de ene na de andere bewoner het gebouw verlaat, weten de twee niet wat er buiten aan de hand is. Het einde der tijden, een burgeroorlog of een kernramp? Plichtsgetrouw blijven ze hun post bewaken.
WOESTEN, Kris Van Steenberge – Uitgeverij Vrijdag
Geen sappige roddels over de Kris, maar pas op, binnenkort opent de boekenbeurs weer zijn deuren en gaan twee van uw drie boekenmeisjes op oorlogspad. Of interviews afnemen, in gewone werktaal…
Eén van de boeken van 2O14. Van Steenberghe won er de debuutprijs mee en de jury complimenteerde hem voor deze 'instant klassieker'.
Eind negentiende eeuw. Elisabeth bevalt van een tweeling. De eerste zoon, Valentijn, is een prachtkind. Zijn broer is zo misvormd dat hij een sluier moet dragen. Zijn naam? Naamloos. Maar dan doet de eerste wereldoorlog zijn intrede.
U hoort het, weer een hele lijst om ons verlanglijstje te spijzen. En omdat we ook altijd klaar zijn voor poëzietips van een specialist ter zake, ging ik voor ik de kelderverkoop in dook nog even langs bij boekendokter en Gents stadsdichter David Troch. Via een toegankelijk en kleinschalig project als een spreekuur wil hij poëzie tot bij z'n lezer brengen.
Als stadsdichter mocht hij al een aftrap geven (lees: een gedicht voordragen) voor een tribune van 18.OOO voetbalfans, werkte hij samen met Mexicaans kunstenares Monica Ruiz voor het Lichtfestival en schrapt, pent, kriebelt en filosofeert gedichten bij elkaar.
Zijn aanpak als boekendokter? Vragen wat mijn relatie is met poëzie. Op het antwoord dat ik echt niet zo'n held ben en het braaf hou bij Herman De Coninck en Judith Herzberg knikt hij nadenkend. Hij schrijft Maud Vanhauwaert, Miriam Van Hee en Hester Knibbe voor.
Zijn spreekuur is steeds ludiek, soms zelfs out of the box. Hij durft patiënten al eens enkele dichtbundels geblinddoekt in handen duwen en lukraak een gedicht kiezen. Poëzie kan volgens David op alle mogelijke manieren toegankelijk zijn: via literaire avonden, stom toeval, nieuwsbrieven of een dosis gezonde nieuwsgierigheid.
Meer stadsdichters aan het werk zien? David Troch organiseert deze week het symposium 'Stadsdichters langs Schelde en Rijn'. Weer mooie vooruitzichten na een fijn weekend, zou ik zo zeggen.