Hallo boekenmeisje,

Ik hoop dat je geniet van dit dunne bundeltje. Ik heb mezelf er helemaal ingestopt. Lees mij tot het einde.

Jurgen.
Wachten op Neerslag zit op een mooie dag op in mijn brievenbus. Willebroeks dichter Jurgen Nakielski bracht zijn eerste dichtbundel uit in oktober 2013 en heeft de opvolger al klaarstaan. Tijd voor een literaire babbel over wachten, schrijven op bierkaartjes en een slang die Shakespeare heet… met de de brug van Willebroek op de achtergrond.
Je studeerde orthopedagogie, maar zodra je je diploma op zak had, ging je een totaal andere richting uit.
Ik volgde de richting omdat ik graag iets wilde betekenen voor jongeren in moeilijkheden. Ik kon echter nergens een job vinden en zag in de vacatures een jobopening bij de bib staan. Ik had het gevoelen dat één van mijn jongensdromen uitkwam.
Als kind wilde ik namelijk of boeken schrijven, of sekteleider worden.
Schreef je als kind al? Of was je dan vooral bezig met toekomstige discipelen te verzamelen?
Het duurde even voor ik de klik maakte dat ik kon schrijven zonder dat als huiswerk te hebben opgekregen. Ik kon nooit wachten om aan een opstel of gedicht te beginnen. Als tiener hield ik schriftjes bij: een schriftje met zelfgeschreven liedteksten, ééntje met inspirerende quotes,… Veel halflege notitieblokjes dus. Gedichten lagen me toen al het meest.
Eigenlijk is Wachten op neerslag niet je eerste bundel.
Ik gaf al enkele bundels uit in eigen beheer, maar deze heb ik later laten schrappen. Het zijn teksten die ik als prille tiener en twintiger schreef waar ik nu minder tevreden over ben.
Je debuteerde op Jim TV. Leg uit.
Begin jaren 2000 postte ik stukjes van een verhaal op het forum van Jim TV. Ik werd gevolgd door een schare fans die telkens vroeg om een vervolg op het verhaal. Sommige van die eerste lezers klampen mij nu soms nog aan bij lezingen. 'Weet je nog, toen op Jim tv?'
Je noemt jezelf 'een wachter'.
Ik heb geen geduld, maar ik ben wel iemand die de neiging heeft om de dingen op zich af te laten komen, in plaats van erachteraan te gaan. In uitgeefland kan dat voor en tegen je werken, natuurlijk. Ik 'wacht' ook op gedichten. Als ze er plots zijn , moeten ze eruit, maakt niet uit of het midden in de nacht is of niet.
Menig kameraad heeft zich al aan mij geërgerd als ik op café plots weer bierkaartjes ga zitten volpennen.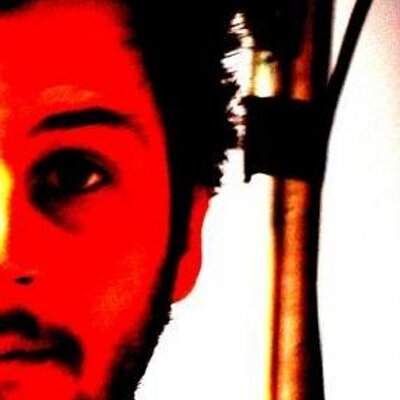 Je volgende bundel ligt klaar voor publicatie.
Goh eigenlijk is het niet echt een dichtbundel, maar een novelle met stukken tekst in dichtvorm en foto's. Het is een verhaal in 100 bladzijden rond tijd en nostalgie waarin ik een biografie schets.
Je hebt ook plannen voor een boek, vraagt dat een andere aanpak dan een dichtbundel?
Geen idee, ik heb nog nooit een boek geschreven, dus we zien wel. Het zou gaan over een zelfverklaard amateur-cryptozoloog, die op zoek gaat naar Bigfoot. Het fijne aan het kiezen van zo'n thema, is dat ik me 'moet' inlezen. Ik kijk dus constant films over mythische wezens en lees boeken over de jacht op Bigfoot. Heerlijk. Nu nog het boek schrijven, natuurlijk.
Je schrijft zelf ook recensies voor je werk in de bib en leest zo'n beetje lukraak wat je pad kruist. Heb je nog boekentips voor ons?
De oceaan aan het einde van het pad van Neil Gaiman is zo'n boek dat ik per ongeluk gelezen heb. Een oude man keert terug naar de plaats waar hij opgroeit om een begrafenis bij te wonen. Herinneringen die boven komen, vervormt hij en zet hij naar zijn hand. De recensie kan je er hier op nalezen. Verder heeft Skippy tussen de sterren van Paul Murray een diepe indruk nagelaten. Het boek gaat over veertienjarige jongens die op kostschool zitten. In Ierland. Het raakt op alle vlakken de juiste snaar en er zit vol humor, ontroering en nerds. Absoluut perfect.
En als waardige bib-medewerker ook een tip voor de jongsten?
Eén jeugdboek is me bijgebleven, Goliath van Aster Berkhof, een dierenboek. Heel het boek is één zalige vreugdevolle wereld waar de konijntjes met de bloemetjes spelen tot een bende monsterlijke gorilla's het bos op een gewelddadige en moordzuchtige manier innemen. Ik was zwaar onder de indruk. Nog steeds, eigenlijk.
Jurgen Nakleiksi woont in Boom met zijn vriendin en zonder slangen Shakespeare en Spike, die in het ouderlijke huis in Willebroek zijn blijven wonen. Dat klopt, op twee straten van uw slangen-vrezende boekenmeisje. Thank god voor afgesloten terraria.
Nog Meer Jurgen Lezen?
Jurgen kopen kan ook…
Ik ben een klootzak
En ik schrijf
taal,
in de meest praktische zin van het woord.
Ik leer het niet, noch studeer
regeltjes en beperkingen
normen van vormen
Ik denk misschien te weinig,
maar ik schrijf.
Jürgen Nakielski
°14/06/1982
Wachten op neerslag, Jurgen Nakielski, de leeswinkel
Jurgen twittert
Jurgen op Facebook