Zijn er This Is How We Read lezers die in een klein, zwart boekje bijhouden hoe vaak Eveline, Katrien, Kurt en ik onze beurt om te posten missen? Ik hoop van niet. Maar moest het toch zo zijn: staak dan onmiddellijk dat geturf! Ten eerste is het zonneklaar wie de laatste tijd het vaakst verstek gaf. Mea culpa. En ten tweede… Dat hoef ik toch niet te zeggen? Rode kruisjes achter namen zetten, is iets voor Sinterklaas. Laat hem zijn job en get a life.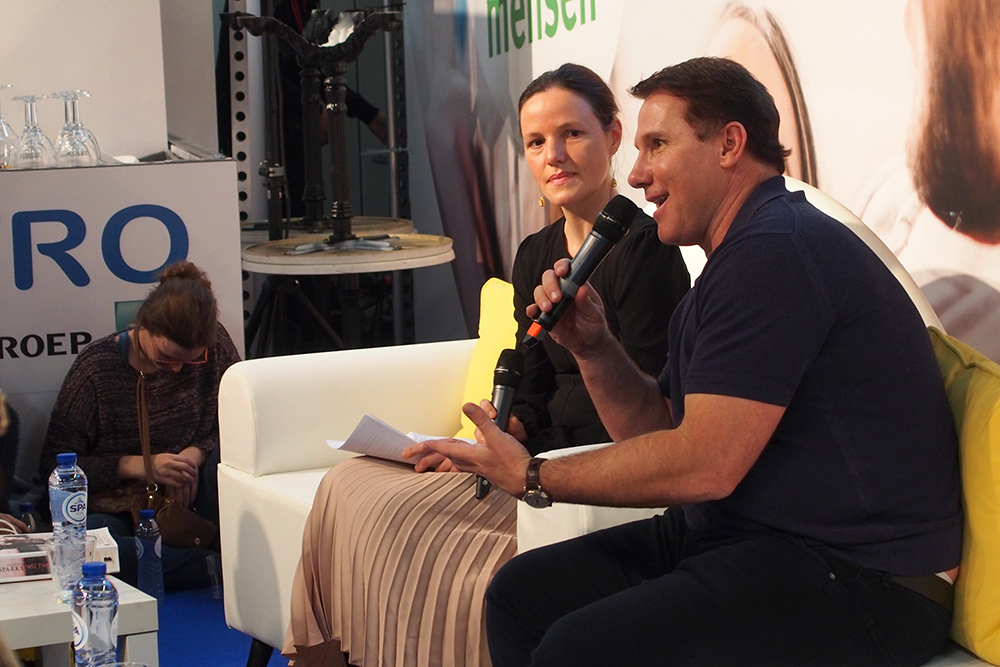 Als ik de afgelopen weken in een kleine blogdip zat, dan heeft dat niets te maken met een verminderd animo voor boeken. Integendeel. Juist omdat de literatuur zo goed haar weg vond naar mijn werk- en gezinsleven, raakte ik het spoor richting deze boekenblog even bijster. Prozaïsch gesteld: oktober en november waren druk. Druk met allerlei boekendingen. Precies waar deze blog over gaat. Ik ga vandaag dus de persoonlijke toer op. Vier recente boekbelevenissen.
VOOR EEN VOLLE (?) ZAAL
Op de jongste Boekenbeurs in Antwerp Expo ging ik voor publiek in gesprek met verschillende auteurs. Dat vraagt altijd veel voorbereiding en is op het moment zelf heel intensief – je wil toch inspelen op wat de auteurs zeggen, zodat het gesprek een natuurlijke flow krijgt…
Na afloop van een goed gesprek ben ik doorgaans heel moe én helemaal opgeladen.
'Hier moet ik een blogpost over schrijven!', denk ik dan enthousiast. Terug thuis is het niet altijd gemakkelijk om die belofte te houden. Dan moet het volgende gesprek immers alweer voorbereid – het tempo van de beurs is genadeloos. Al zou je hier binnenkort toch meer moeten lezen over mijn ontmoetingen met Kristien Dieltiens, de Vlaamse jeugdschrijfster die met 'Kortgeknipt' debuteerde voor volwassenen, en Jenna Blum, de Amerikaanse bestseller auteur die mij een geheim verklapte.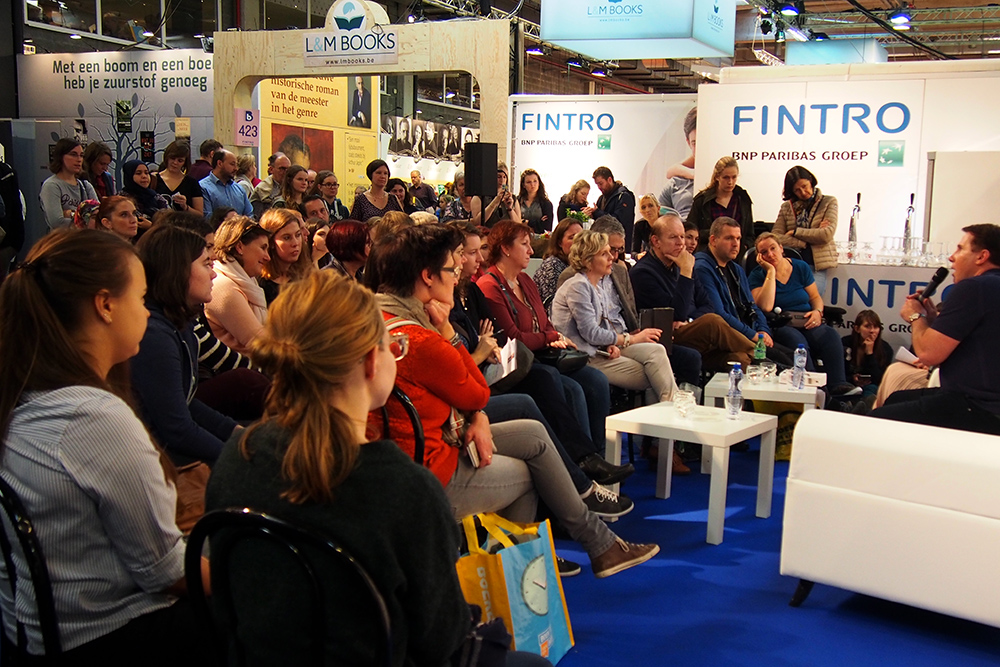 Wat ik heel leuk vond dit jaar, was de vaststelling dat je niet alles zelf moet doen! Over mijn gesprek met Nicholas 'The Notebook' Sparks hoef ik niet te bloggen, want Marcia van Boekvinder deed dat al geweldig goed (en met mooie foto's). Allemaal eens kijken op haar blog dus! (De foto's bij dit stukje zijn ook van Marcia's hand. Bedankt!) Wat soms een beetje stak, deze editie, was het gevoel dat de beurs uit haar voegen begint te barsten. Er is elke dag een groot aanbod auteursinterviews op de verschillende podia en standen, waardoor sommige events onvermijdelijk minder publiek trekken. Het interview met Sparks of het panelgesprek rond stress dat ik modereerde, kon op veel aandacht rekenen. Minder oren en ogen waren getuige van de babbels met sommige andere, nochtans zeer gedreven en begaafde literaire auteurs. Hoe zou dat anders kunnen? Suggesties welkom in de reacties…
HOE LEEST EEN SCHRIJVER?
Eergisteren trotseerde ik de sneeuw om in het Leuvense Wisper-lokaal de laatste sessie te geven van de lesreeks 'Hoe Leest een Schrijver?' Ik had deze herfst een behoorlijk getalenteerd groepje onder mijn hoede. Ze wisselden vlotjes van perspectief en speelden met vertraging en versnelling in het verteltempo alsof ze nooit anders gedaan hadden. Een ontvankelijke groep stuwt de lat voor de docent ook naar omhoog – of zo ervaar ik dat toch.
Ik verkeerde de jongste weken dus in een verhoogde staat van alertheid voor alles wat met schrijftechniek te maken had.
Zo was ik eind november een gezellig weekendje in Nederland met the husband. We bezochten niet alleen het Belgenmonument in Amersfoort of de door Tripadvisor aanbevolen restaurantjes en borrelplaatsen. Nee, we doken ook de lokale boekhandel in, waar ik mij 'Onder de motorkap van het schrijven' van Renate Dorrestein aanschafte. Ik vond daarin twee interessante nieuwe inzichten over compositie, die ik met de 'Hoe Leest een Schrijver?'-groep besprak. "Boeiend! Moet ik over bloggen!", zou ik willen roepen. Maar met dat soort aankondigingen ben ik dus spaarzaam tegenwoordig…
Sowieso is het fijn dat de Wisper-cursussen me in contact brengen met andere boekenmensen.
Ik ben benieuwd naar het debuut van Ellen Verstrepen, die dit jaar kwam lezen als een schrijver en vroeger al eens haar columnistenpen bij mij aanscherpte. Bekijk zeker eens de trailer van Ellens boek:
https://www.facebook.com/UitgeverijHoutekiet/videos/844495082378995/
Ik was ook gevleid dat ex-cursist Ward Mertens mij de eer gaf om de nieuwe rubriek op zijn (overigens erg fijne) boekenblog af te trappen. In 'Lezer gevonden' legt hij één keer per maand een gepassioneerde lezer op de rooster. This is how I grill.
ROLA, HET VRESELIJKE ELFJE
IJdelheid schept verplichtingen. Toen Astrids school begin 2017 op zoek ging naar een schooldichter, vond ik het evident dat ik me kandidaat zou stellen. Maar nu de school mij het mooie diploma heeft gegeven, spreekt het voor zich dat men ook af en toe beroep doet op mijn diensten. En voor moest u het gemist hebben: we schrijven december, feestmaand, eindejaar. Seizoen van kerstmarkten op speelplaatsen. Van bestellingen bij de bakker, de slager-traiteur en… de schooldichter.
Gelukkig kan ik beroep doen op een getalenteerde illustratrice om mijn kerstrijmpjes wat extra cachet te geven.
Hierbij onze beste wensen, en de eerste co-productie van Astrid (illustratie) en haar mama:
ROLA
Wie dooft er geniepig de kaarsjes?
Wie gooit er de Kerstster kapot?
Wie pootjelapt Rudolf het Rendier?
Wie roept er: 'De Kerstman is zot!'
Wie opent er andermans pakjes?
Wie spuwt in de roomsoep met kreeft?
't Is Rola, het vreselijke elfje
Dat de pest aan de kerstdagen heeft…
Hoe is het zover kunnen komen?
Wat is er met Rola gebeurd?
Hoe is toch de roodgroene kerstsfeer
Voor haar tot iets diepzwart verkleurd?
Weet jij het? Of kan jij het raden?
Nog beter: weet jij wat gedaan?
Snel dan! Steek het smeulende vuurtje                                                                                                                                       
In Rola's koud hartje weer aan.            
DE GEKKE PROFESSOR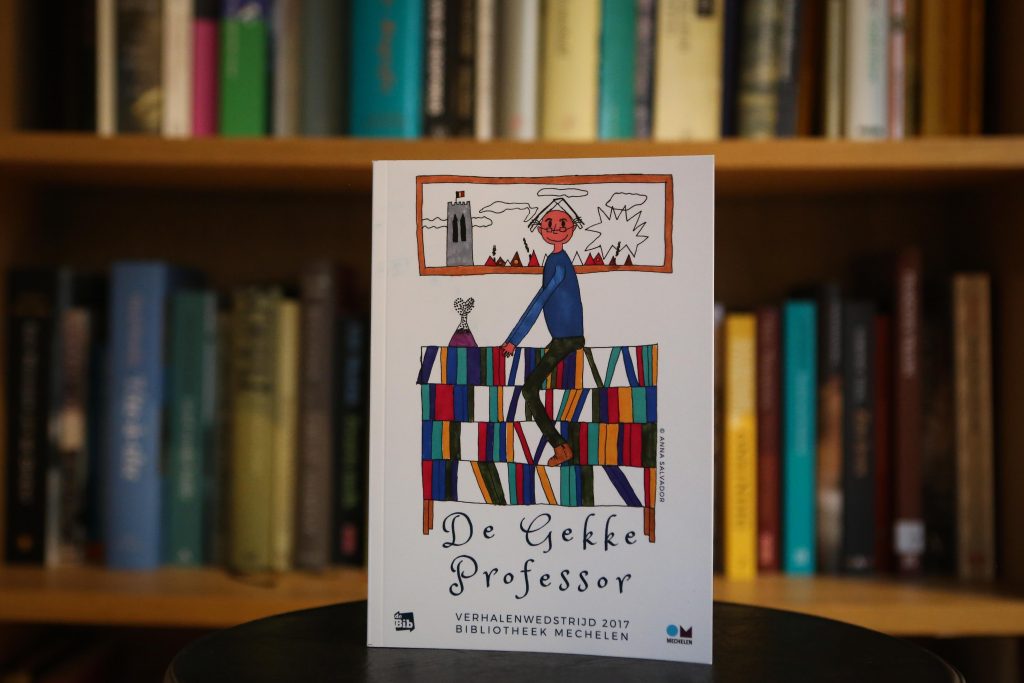 En nu we het toch over Astrid hebben… De jeugdbibliotheek van Mechelen organiseerde deze herfst een schrijfwedstrijd voor de jeugd. Astrid was één van de 19 deelnemers. De opdracht luidde: 'Schrijf een verhaal over een gekke professor die inbreekt in de bib.'  Een fragmentje uit Astrids verhaal:
Drie weken later breekt hij weer in. Hij gaat via de schoorsteen. Yes, hij heeft de formule te pakken. Snel, wegwezen. Hij is weer thuis, nu gaat het echte werk beginnen. Hij brouwt een toverdrank. Hij gaat weer naar het huis van de andere professor. Hij giet het brouwsel in zijn melk. In water zou hij het brouwsel zien, dan dronk hij het niet op…
Een kleine gifmengster, die oudste dochter van mij. Alle deelnemende verhalen werden in een mooi boekje gebundeld, compleet met auteursfotootjes. De schrijvers van de winnende verhalen (Pieternel Maes, Timo Van Ballaer, Judith Biesemans Degroote) kregen zelfs een kroontje naast hun naam. Een heel fijn initiatief van de Mechelse bib, deze wedstrijd. Hopelijk komt er in 2018 een vervolg!