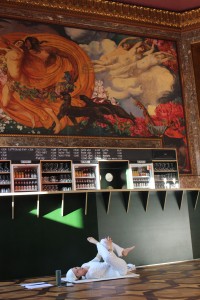 Op zaterdag en zondag start ik de dag altijd met een uurtje yoga. Sinds yoga me twee jaar geleden volledig bevrijdde van een – volgens kinesisten – chronische whiplash, besef ik dat er meer is tussen hemel en aarde dan de traditionele geneeskunde en gezondheidsinzichten. Nu het zou ook kunnen dat de fatale stempel 'chronisch' me instant deed genezen, want een onnozel ski-ongeluk mocht mijn leven niet bepalen.  Ik was dan ook onmiddellijk enthousiast toen ik hoorde dat voormalig beauty-journaliste Goedele Leyssen een Kundalini workshop kwam geven in Leuven tijdens de 24 uur van de non-fictie. Omdat positiviteit het maandthema is op deze blog, deel ik mijn ervaring graag met jullie.
Goedele Leyssen liep als journaliste voor Feeling mee in de ratrace. Tijdens een retraite in een Indische ashram ontdekte ze de Kundalini yoga. Voor het eerst ervaarde ze innerlijke rust. Ze verdiepte zich in de yogaleer, nam ontslag en gooide haar levensstijl helemaal om. Ondertussen organiseert ze yogaworkshops, -seminaries en -reizen. Vorig jaar verscheen Boost, een handboek voor een gezonder, energieker, mooier en meer ontspannen leven boordevol lifestyle- en voedingstips en meditatie-, ademhalings- en yogaoefeningen.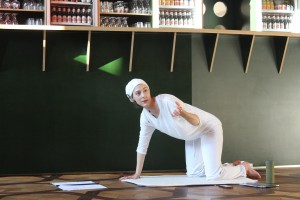 De workshop met Goedele zou oorspronkelijk buiten in de stad plaatsvinden. De vrieskou besliste er anders over en gelukkig konden we terecht in de prachtige foyer van de Leuvense stadsschouwburg. Een yogamatje en comfortabele kledij waren aanbevolen, maar sommige dames verschenen onvoorbereid aan de start, in jeans en met een badhanddoek. Gelukkig telt bij yoga niet het resultaat maar het pad dat je bewandelt.
Ik kom als één van de eersten aan in de foyer, en daar zit Goedele, helemaal ontspannen als een witte engel (wit is de dresscode van de Kundalini yoga). Als ze ons begroet valt meteen haar zachte en zangerige stem op. Na een korte introductie over Kundalini yoga – de moeder van alle yogavormen – , zingen (of chanten voor de yogi) we samen een mantra. Heel melodieus en de klanken doen ons lichaam vibreren. Sommigen worden er wat lacherig van. Ik ben ondertussen wel gewoon om de yogales te openen en eindigen met 'ooomm' en ben helemaal in the moment. We stretchen onze schouders, rug en heupen – regio's waar spanning zich traditioneel opstapelt – met klassieke poses als de Cat cow en Butterfly pose en detoxen onze nieren met een torso twist. Als alles weer wat soepeler aanvoelt ('Je bent zo oud als de staat van je rug', zegt Goedele) komt er een kort cardiostukje uit de Kundalini yoga. In India beweert men dat – als je deze work-out elke dag 62 minuten doet – je niet zou verouderen. Tussendoor leert Goedele ons hoe we onze intuïtie kunnen stimuleren (rol je ogen naar boven en concentreer je op het punt tussen je wenkbrauwen) en waarom je je hele lichaam kan doen tintelen door je oren te masseren. We eindigen het yogagedeelte met een cat stretch en bodyscan waarbij we elk lichaamsdeel om de beurt helemaal laten ontspannen. We luisteren nog naar een mantra en als de zon binnenvalt lijkt het wel of iedereen helemaal gloeit. Ik spreek nog even met Goedele en opnieuw valt me op hoeveel positieve energie deze vrouw uitstraalt.
Ik geef jullie graag drie lifestyle tips uit haar boek mee die ik toepas.
Eet meer gember. Op een citytrip in Berlijn ontdekte ik de verse gemberthee (lees: schijfjes verse gember in warm water). Lekker, een tikkeltje spicy en goed voor de spijsvertering, voor je zenuwstelsel en een middel tegen de vermoeidheid.
Ontbijt met havermout, bessen en noten. Uit mijn kindertijd herinnerde ik me havermout als een vies papje. Niet geheel enthousiast probeerde ik het twee maand geleden opnieuw en nu ben ik verkocht. Ik varieer met blauwe bessen, diepvriesbessen, fancy goji bessen, walnoten en okkernoten. Havermout vult, geeft energie en is goed voor de suikerspiegel.
Doe aan yoga. Mijn favoriete poses uit Goedeles boek zijn de Cat stretch, Cat cow, neck rolls en de heup stretch.
En drie tips die ik graag zou leren toepassen.
Sta vroeger op. Goedele staat op om 4 (!) uur om de dag rustig in te zetten met yoga en meditatie en het natuurlijke ritme van de dag te volgen. Goedele is daarmee in het goede gezelschap van Michelle Obama, Deepak Chokra, Anna Wintour en Condoleezza Rice.
Adem ieder uur drie keer lang en diep. Stel hiervoor een alarm in op je gsm dat ieder uur afgaat. Met deze oefening leer je om je ademhaling te beheersen, wat op zijn beurt meer controle geeft over je gevoelens en gedrag.
Leer mediteren. Toen ik startte met yoga had ik schrik van het meditatieve gedeelte wegens te zweverig. Misschien moet ik dat vooroordeel maar opzij zetten en elke dag een meditatieoefening doen uit Goedeles boek.
Goedele Leyssen, Boost, Manteau