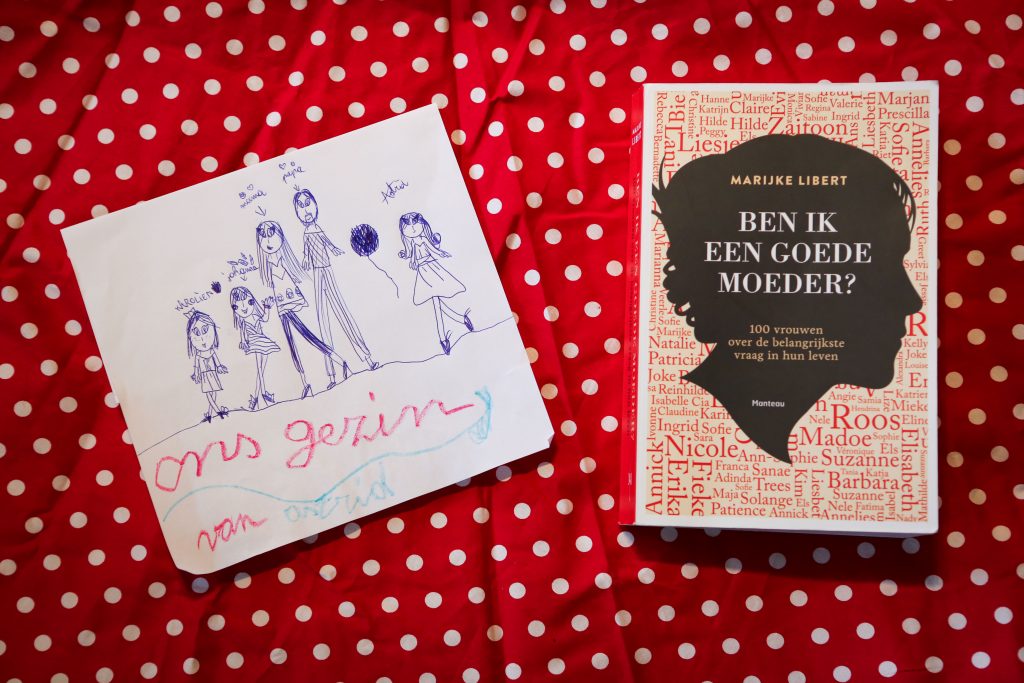 Marijke Libert vroeg aan 100 Vlaamse moeders om zichzelf punten te geven op tien. Zeven is een populair cijfer. Acht of meer voor de mama's die durven…
Ik kreeg het boek Ben ik een goede moeder? 100 vrouwen over de belangrijkste vraag in hun leven (Manteau) van een bevriende mama op een ijskoude vrijdag net voor de krokusvakantie. We kwamen allebei kijken naar de carnavalsstoet van de school, waarin Astrid meestapte als elfenfee en Johanna als Mega Mindy. We gaven onze dochters een duimpje vanaf de zijlijn en maakten de foto's voor later, zoals goede moeders dat op carnaval nu eenmaal doen. Klinkt dat alsof het een opoffering was? Welnee. Het was koud, maar het was ook gezellig. En ik durf mij als moeder best afvragen: 'What's in it for me?' Dus gingen we na de carnavalsstoet met een groepje mama's lunchen. Als je jezelf dan toch een halve werkdag vrijmaakt op zo'n kinderhoogdag…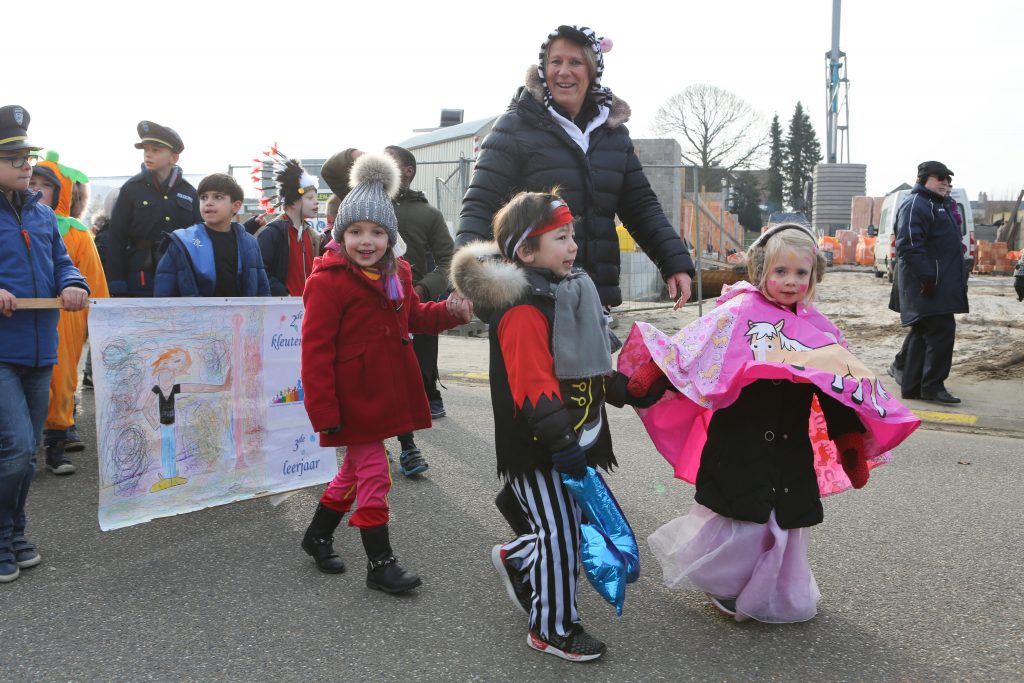 Na de lunch kreeg ik het boek van Marijke Libert (ex-redacteur bij De Morgen, met intussen 3 romans op haar naam) van een andere mama mee naar huis. Met de warme aanbeveling: "Lees het eens. Het is herkenbaar en geruststellend. Een beetje zoals gaan lunchen met andere mama's, maar dan van alle leeftijden en verschillende achtergronden." 's Avonds sloeg ik Ben ik een goede moeder? open en shopte eens tussen de getuigenissen.
Libert sprak ruim een uur met honderd mama's over heel Vlaanderen. Moeders met baby's en moeders van volwassen kinderen. Pleegmoeders met tien zieltjes onder hun vleugels en carrièrevrouwen met een enkel 'laatste kans'-kind.
Libert rangschikte de verhalen per tien, thematisch. Ik begon te lezen in hoofdstuk twee, getiteld 'Moeders van Moeders'. De vraag of je eigen moeder een ijkpunt of vergelijkpunt is bij het opvoeden, boeit mij. Maar na een tijdje begon ik heen en weer te bladeren door het boek.
Oh, dat is iemand van mijn leeftijd… Oh, dat is ook een moeder met drie dochters…
Om uiteindelijk het meest geraakt te worden door de verhalen die het verst van mijn eigen ervaring af staan. Zoals dat van Veerle (39): "Een dag na de geboorte zat ik in de rolstoel op de dienst neonatologie. Soms moest ik naar mijn kamer om te rusten, maar in bed voelde ik me schuldig omdat ik niet bij Pauline was. Tot vandaag komt dat schuldgevoel terug:
Ik kon maar vier dagen bij haar zijn, waarom hield ik haar niet vier dagen ononderbroken in mijn armen?"
Nog een vaststelling: ik koos al snel voor de verhalen van de moeders met pubers. Onze meisjes zijn 8, 4 en 2. Die babyjaren en dat besef 'Oh my God, ik ben iemands moeder…' – dat heb ik wel gehad. Blijkbaar ben ik nieuwsgieriger naar wat komt, dan naar hoe andere moeders de fasen die ik achter de rug heb, beleefden. Uiteindelijk zweeft het moederschap toch ergens halverwege tussen 'herkenbaar' en 'hoogst individueel'.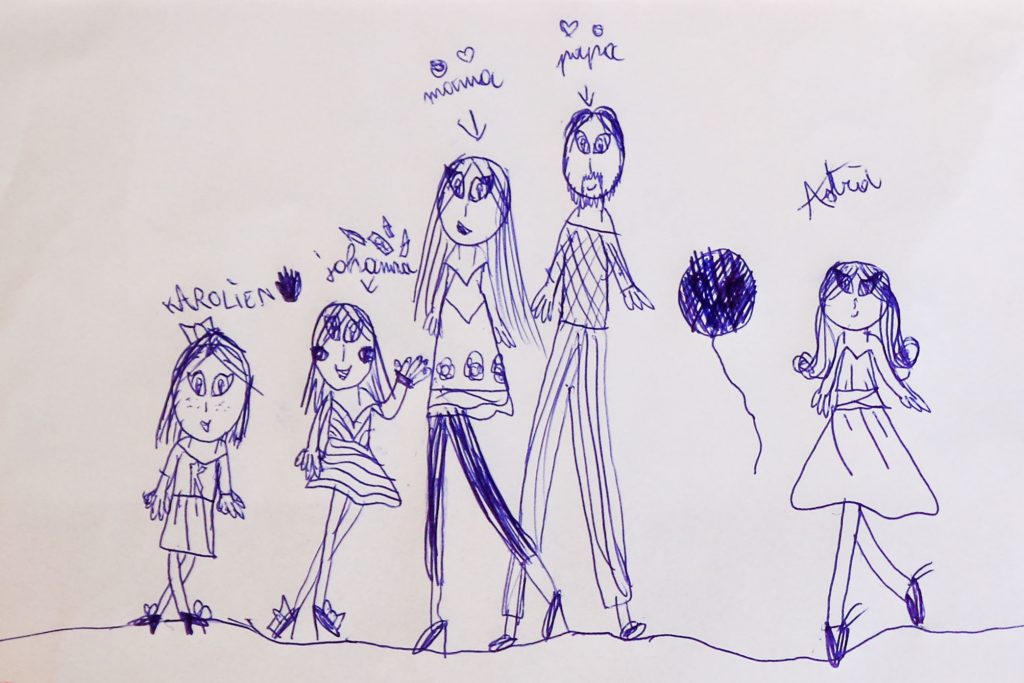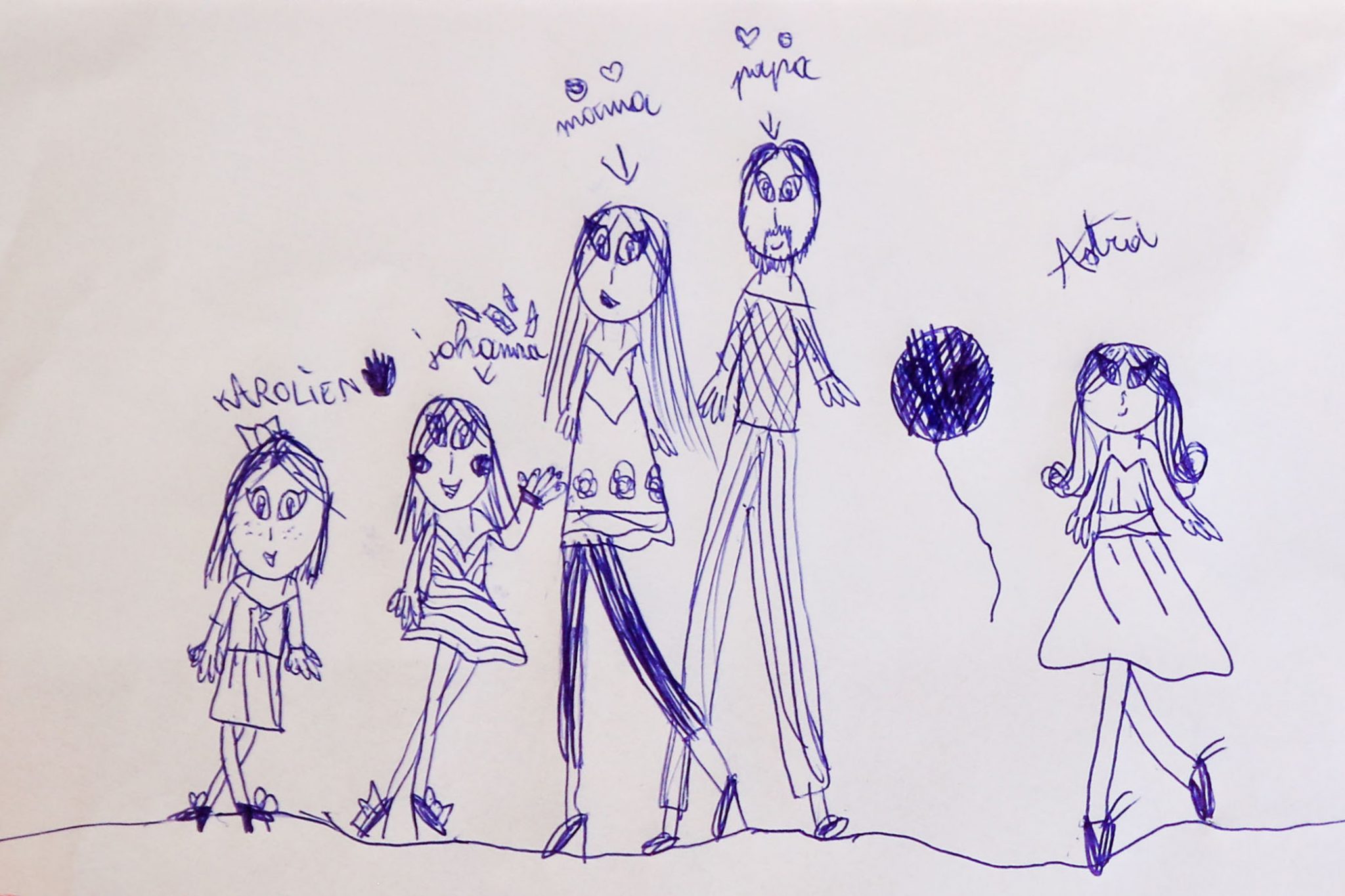 Food for thought vond ik de manier waarop elke getuigenis eindigde. Libert liet elke vrouw aangeven of ze zichzelf een goede dan wel een slechte moeder vond. Daar moest een score van 1 tot 10 op worden geplakt. Wat blijkt? Het gros van de moeders vindt dat ze het goed doet (hoera!). Dat met die punten, vindt iedereen vervelend (ja, dûh!). En de bescheiden Vlaamse mama durft zich – zwart op wit – zelden hoger quoteren dan zevenenhalf. Terwijl je haast in elk verhaal de totale betrokkenheid en de wil om het goed te doen, voelt. Tijd om carnavalshoedjes uit te delen en luidkeels te blèren: "Is dat dan geen negen waard?" Of haspel ik alle winterfeesten nu door elkaar?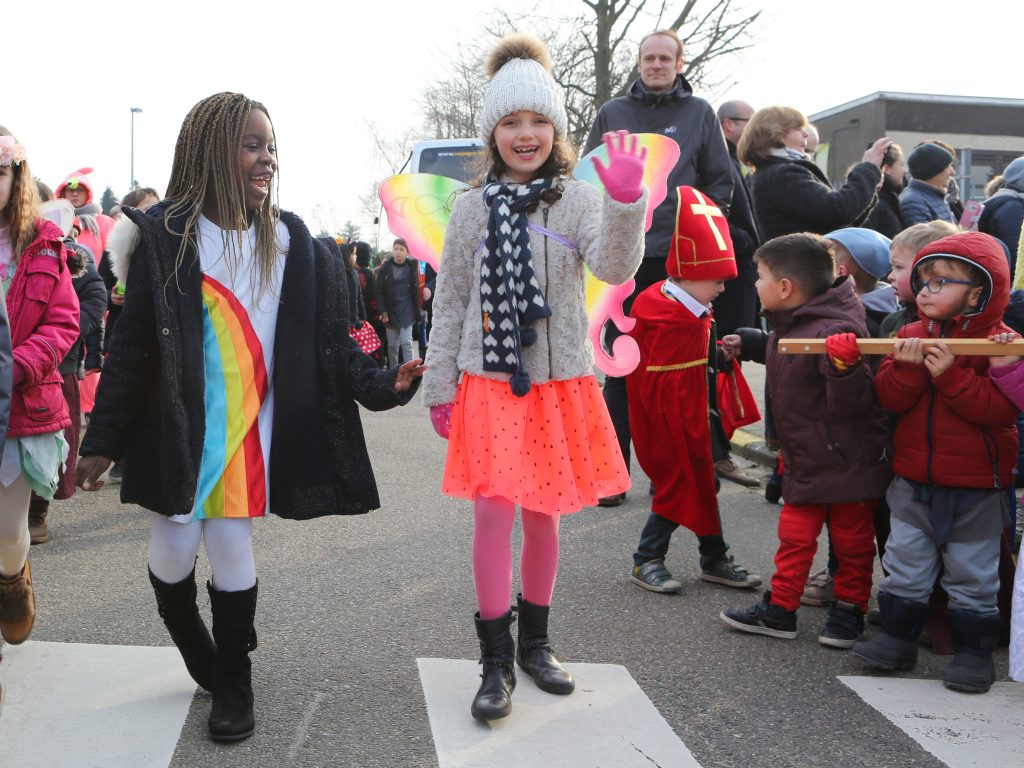 PS: Bescheidenheid als moeder is één ding. Bescheidenheid over (de talenten van) je kinderen is weer iets anders. Astrid illustreerde deze post met een tekening van ons gezin, waarvoor ze van mij zonder gêne een dikke tien krijgt. Meer tekeningen hier en hier.
PPS: Ben ik een goede nanny?
PPPS: Meer boeken over ouderschap