Interview met Kathy Mathys over Verdwaaltijd
Kunnen we ooit ontsnappen aan onszelf en de doden uit ons leven? De debuutroman van recensent en schrijfdocent Kathy Mathys gaat over obsessies, relaties en verdwalen en meandert doorheen Brussel en Californië naar een mysterieuze ontknoping. Met veel naturel raakt Mathys filosofische thema's aan in een eigentijdse setting. De gelaagde en raadselachtige polyfone roman doet verlangen naar desolate landschappen maar ik spreek met Kathy af op de Zavel, een buurt die uitvoerig aan bod komt in Verdwaaltijd. Tussen ons ligt een exemplaar van haar debuut met die mooie Beverly Hills cover van Carmen De Vos. Bij een jasmijnthee delen we de boeken die ons dit jaar hebben geraakt, Julian Barnes en Dani Shapiro, mijmeren we of kunnen verdwalen geen illusie is en hebben we het natuurlijk uitgebreid over Verdwaaltijd en haar leven als recensent.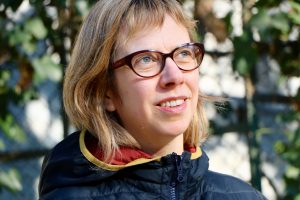 In Verdwaaltijd lopen vier verhaallijnen door elkaar. Hoe zijn die samengekomen?
Kathy Mathys: "In 2011 ben ik aan deze roman begonnen. Ik wilde al langer fictie schrijven maar toen ik de opleiding tot docent creatief schrijven volgde, kwam alles in een stroomversnelling. In die periode schreef ik over Emma, Marcia en Ben. Het verhaal speelde zich volledig af in Brussel en David was nog niet in zicht. Mijn non-fictieboek Smaak heeft het schrijfproces dan even stilgelegd. Toen ik het verhaal achteraf terug oppakte, vond ik het te verkennend. Inmiddels woonde ik in Breda en ervoer ik hoe anders ik bewoog in die stad. Ik kwam van Brussel waar je altijd nog kan verdwalen. Breda was veel behapbaarder. Terwijl ik nadacht over landschappen en hoe we ons verplaatsen in de stad, bedacht ik een nieuw personage: een Amerikaanse nature writer. Eenmaal ik David had, was het verhaal vertrokken. In diezelfde periode herlas ik ook The blue of distance van Rebecca Solnit over hoe het verre blauw aan de horizon ons aantrekt en verdwijnt als je er naartoe loopt. Die essays brachten me op het spoor van Kay, de eeuwige dwaalster.
Non-fictie triggert wel vaker fictie in mij.
De rest van het verhaal is op een heel naturelle manier tot stand gekomen. Ik wist niet hoe het zou aflopen. Tijdens het schrijven heb ik mijn intuïtie gevolgd en heb ik mijn ideeën vaak bijgesteld. Zo had ik heel lang een veel vrolijker einde in gedachten."
Je bent een bijzonder belezen schrijver en dat blijkt ook uit je roman. Hoe bewaarde je het evenwicht tussen toegankelijk schrijven en gelaagdheid?
KM: "Ik was daar tijdens het schrijven niet mee bezig. Er zijn nog meer auteurs met verschillende verhaallijnen en laagjes die een groot publiek bereiken. Stel dat lezers Virginia Woolf niet kennen, dan geeft dat niet. Zelf vind ik het heel fijn om iets bij te leren in een boek. Als ik iets tegenkom dat ik niet ken, ga ik het opzoeken. Maar je kan mijn boek gerust lezen zonder elke film die er in vernoemd staat te kennen. Ik vind Verdwaaltijd dan ook geen hermetisch boek."
Verdwaaltijd speelt zich zowel in Brussel als in de Californische Redwoods af. In Brussel heb je lang gewoond maar hoe ken je de Redwoods?
KM: "In 2010 was ik met mijn man op huwelijksreis in Californië. Het plan voor dit boek bestond nog niet maar ik heb daar wel veel dagboeknotities genomen. Tijdens die reis zijn we op bijna alle plekken uit het boek geweest zoals de woestijn, het Humboldt Redwood Forest maar daarin het dorpje Weott waar David woont.
Ik vond die wouden heel bijzonder. De hoge bomen met de dichte kruinen maken dat de plek los van de wereld staat, als een soort veilige cocon.
Ik ervoer het landschap als heel erg troostend en ik hoop dat lezers het spannend en aantrekkelijk zullen vinden om meegenomen te worden naar een onbekende wereld. Dat is de kracht van fictie: een verhaal kan je transporteren naar plekken waar je nooit zal komen. Ik hou dan ook van auteurs die een grote rol toekennen aan het landschap."
Moest je weggaan van Brussel om erover te kunnen schrijven?
KM: "Schrijvers zeggen me vaak in een interview dat ze dat moeten doen. Zelf ben ik niet meer naar Brussel gegaan voor research, ik had een databank aan herinneringen in mijn hoofd. Ik heb het Brussel gebruikt dat ik heb gekend. Het verhaal speelt zich daarom af in 2010. Het is het Brussel van voor de aanslagen. In het huis van Marcia in de Lebeaustraat heb ik trouwens zelf nog gewoond."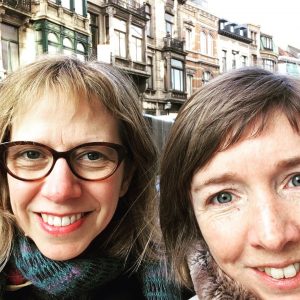 Verdwalen is een belangrijk thema uit je boek. Geef jij jezelf verdwaaltijd?
KM: "Ik hou ervan om zonder gps doorheen grote steden als Brussel of New York te wandelen. Op die manier in de ruimte bewegen, doet iets met je hoofd. Het maakt iets los.
Ik wandel bovendien elke dag. Ik denk dan na over een volgend stuk in mijn boek.
Wandelen zwengelt mijn creativiteit aan.
In Nederland volg ik wel altijd dezelfde route, ik verdwaal er niet. Ik ben geen roekeloze en destructieve dwaalster zoals Kay. Ik ben een veel banger persoon en heb de Amerikaanse wildernis het liefst via film en literatuur."
Het verhaal gaat niet alleen over fysiek verdwalen?
KM: "Nee het gaat ook over de liefde en verdwalen in het leven en in de kunst. De vraag 'Kan je het leven laten verwilderen zonder dat het zijn vorm verliest?' heeft mij doorheen het hele boek richting gegeven."
De personages in je boek zijn niet mild over autobiografische kunst. Ze willen liever niet in een verhaal worden verwerkt. Hoe ben jij hiermee omgegaan?
KM: "Ik heb weinig materiaal van mijn vrienden gebruikt, niemand zal zich kunnen herkennen. Wel heb ik inspiratie uit boeken gehaald en komt er heel veel uit mezelf. Marcia ligt het dichtst bij mij. Net als ik is ze eerder angstig en nerveus. We delen een liefde voor koken en houden van dezelfde films. Met Emma heb ik enerzijds gemeen dat we graag grip op het leven hebben. We hebben het er beiden moeilijk mee dat we niet over alles controle hebben. Mijn angsten komen vaak voort uit de gedachte aan dingen die zouden kunnen gebeuren. Misschien heeft het te maken met het feit dat ik ernstig ziek ben geweest. Anderzijds verlangen we beiden naar een soort van wildheid. Zij vindt die in een affaire, ik zoek het avontuur op in het schrijven. Dan kan ik de controle opgeven.
Net als veel schrijvers ben ik veel banger in het echte leven dan in mijn verhalen.
In David zit weinig van mij. Wel hebben we allebei een voorliefde voor geïsoleerde plekken. Het personage van David kwam heel makkelijk tot stand, ik moest als het ware gewoon maar opschrijven wat hij in mijn hoofd zei. Het was bijna een mystieke ervaring."
Zijn er al plannen voor een volgend boek?
KM: "Ja, in mijn volgende roman wil ik het hebben over de vorm van mensenlevens. Ik ben geboeid door autobiografieën en hoe wij naar ons leven kijken. Zijn de grote momenten in ons leven waarvan we denken dat ze essentieel zijn ook echte kantelmomenten?"
Wat vind jij als recensent het meest 'foute' en waardevolle dat er over je boek is geschreven?
KM: "Ik vind het overdreven dat één van de recensies de tientallen bijpersonages bekritiseert. Toegegeven, er zijn vier verhaallijnen, maar er bestaan zo veel romans met een pak meer personages. Het meest gelukkig ben ik met de recensies die zowel de ideeën als de plot van mijn boek naar voren schuiven. Voor mij zijn die twee aspecten even belangrijk."
Vind je het belangrijk wat er over je boek gezegd wordt?
KM: "Waarom denk je dat ik zo lang niet gepubliceerd heb? Ik had schrik voor wat die en die persoon ervan zouden vinden. Uiteindelijk was de drang om te schrijven groter dan de angst. Als ik nu negatieve recensies krijg, vind ik het vooral jammer voor het boek, want ik wil dat Verdwaaltijd lezers vind. En natuurlijk hoop ik ook op positieve recensies voor mijn zelfvertrouwen, want ik wil verder gaan met schrijven. Anderzijds vind ik ook dat slechte recensies weinig zin hebben bij een debuut.
Ik ga zelf nooit een debuut recenseren dat ik niet goed vind. Laat het dan maar zo, denk ik, je helpt de schrijver er niet mee."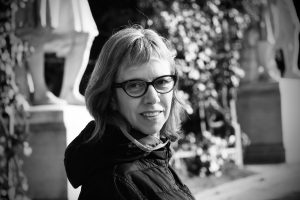 Wanneer ga je wel een negatieve recensie schrijven?
KM: "Als een grote naam als Paul Auster een boek uitgeeft, verwachten de lezers een recensie. En als het dan niet goed is, dan schrijf ik een slechte recensie. Of, zoals onlangs over het tweede boek van Catherine Lacey. Ik had haar eerste roman lovend gerecenseerd en in Amerika werd De antwoorden echt gehypet. Ik was dus wel benieuwd naar haar nieuwe boek, maar vond het een pak minder sterk.
In het schrijven van negatieve recensies vind ik eigenlijk geen plezier. Ik zie mezelf eerder als iemand die de lezer tips geeft voor goede boeken. Net als de meeste recensenten heb ik bovendien een hekel aan het sterrensysteem. Naar mijn gevoel kopen lezers alleen maar boeken met vier sterren of meer, terwijl er veel goede driesterrenboeken zijn. Ik denk dat kranten de lezer onderschatten met die sterren. Lezers zijn paginavreters, waarom zouden ze dan geen hele recensie kunnen lezen?"
Wat vind jij als recensent belangrijk in een goed boek?
KM: "Ik hou van meeslepend verhalen die me doen nadenken over de wereld en die daarenboven in een interessante taal zijn geschreven.
Als recensent moet je je echter bewust zijn van je eigen smaak en ook kunnen erkennen dat een boek goed geschreven is, al is het niet je ding.
Ik snap recensenten niet die gewaardeerde schrijvers telkens opnieuw negatief recenseren en daar plezier in vinden. Zo bespreek ik de boeken van Nell Zink liever niet meer want iets in haar stem irriteert me enorm."
Als recensent moet je veel lezen. Stoort dat niet als je zelf bezig bent met een boek?
KM: "Het voordeel is dat ik door veel te lezen een pak technische ideeën opdoe. Bovendien lees ik ook ter research. Boeken ontstaan bij mij niet alleen uit het leven, maar ook uit andere boeken. Maar sommige schrijfstemmen zijn inderdaad te dwingend. Daarom schrijf ik zelf het liefst 's ochtends met een blanke geest en lees ik later op de dag. Of ik ga een week op schrijfretraite."
Verdwaaltijd, Kathy Mathys, Uitgeverij Polis