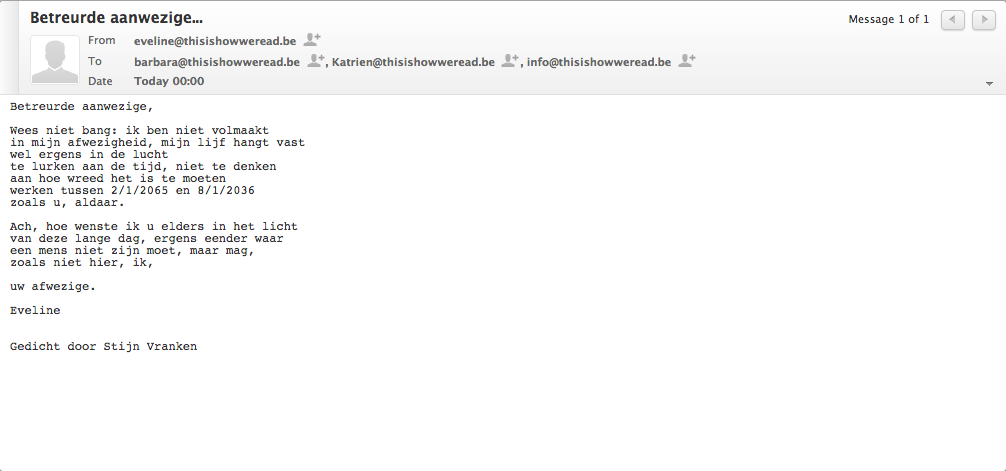 Vorige week stond een derde van de Belgen (en ook van de boekenmeisjes) op de latten en kreeg mijn mailbox een lawine aan 'out of office' berichten te verwerken.
Van de 'ik ben een weekje weg…' tot de meer standaard 'I'm out of office', ik heb ze allemaal zien passeren. Poëzieweek.com had het duidelijk al eerder in de gaten. Zij lanceerden voor de week van de poëzie (inderdaad, die week dat Katrien isomotegels ontdekte in de Brico) de Out of Office Poetry.
Laat je communicatie niet langer verzorgen door mediagiganten als hotmail, Gmail en WeetIkWelkeMail, maar leg het in de schrijfvaardige handen van enkele topdichters. David Troch, Maarten Inghels, Joke van Leeuwen, Stijn Vranken, Lies Van Gasse en Ester Naomi Perquin gingen aan de slag met de basisingrediënten: 'Ik ben er niet' en 'Richt u tot collega X'. Het resultaat is zes maal anders en verrast de bezoekers van je mailbox.
Op de site van Poëzieweek vind je alle mogelijkheden terug. Hier alvast een voorproefje:
afwezigheidsassistent(e)
raak niet in paniek, sla geen alarm.
robotfoto's hoeft u niet te verspreiden,
die flatteren me niet.
en, er is geen misdaad in het spel,
ik verliet het schip zonder slag of stoot.
tot [de datum van mijn terugkeer]
heeft het geen zin mij te zoeken,
ik heb mij in een wekkerloze tijd verstopt.
zodra ik weer tevoorschijn spring,
zit ik zo snel als kan in uw postvak in
met een veelkleurige vakantieherinnering.
in geval van grote nood neemt u contact
met de dichtstbijzijnde hulpdienst, mijn collega
[met de naam, het e-mailadres en het al dan niet
directe telefoonnummer].
met wat geluk slaat de bliksem
tussen u beiden in.
David Troch
De spelregels? Vermeld de naam van de dichter.
De Uitdaging? Verzin zelf een Out of Office gedicht dat je op het lijf geschreven is…