5 lievelingsboeken van een meisje van 5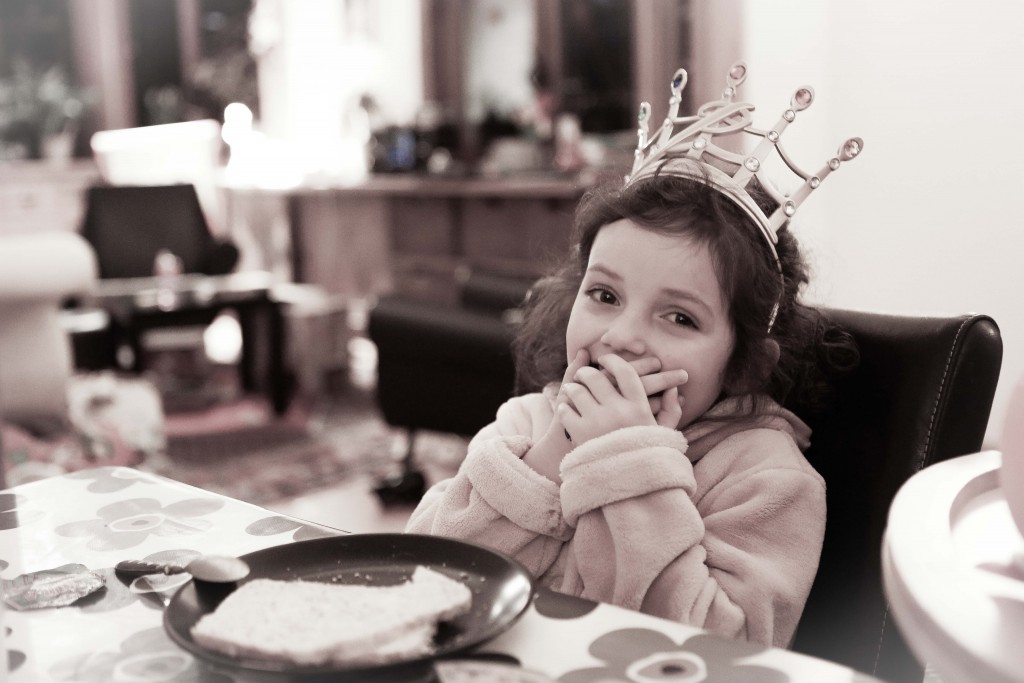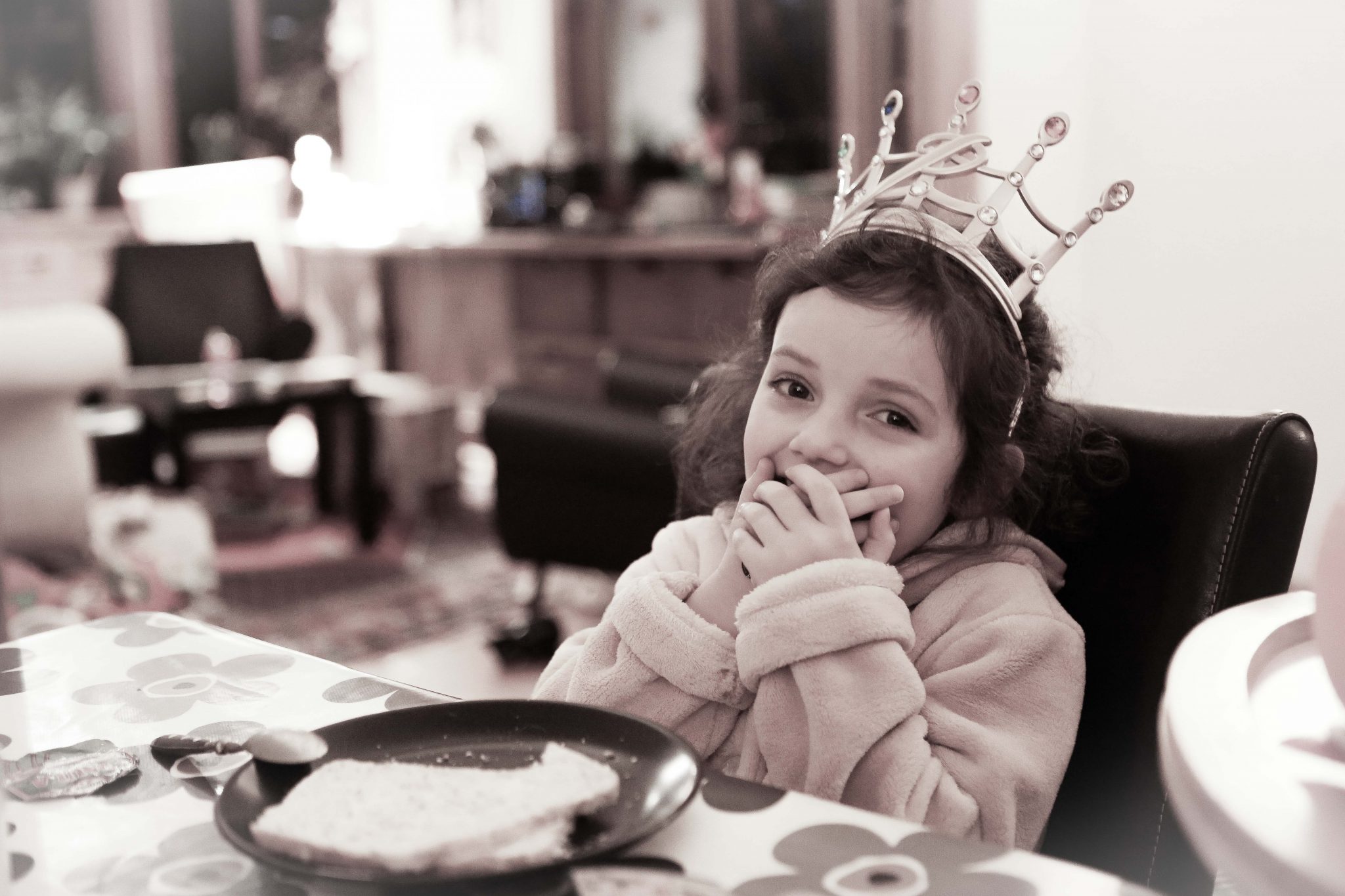 Is Astrid vorige week echt al vijf geworden? Aan de ene kant is dat moeilijk te geloven. Anderzijds merk ik aan honderd kleine dingen dat ze stilaan groot wordt. Ze kan zichzelf een glas melk inschenken. Meestal zonder morsen. Ze smeert 's morgens zelf haar boterham. Dikke pret, vooral omdat ze weet dat ze daarmee een oer-Vlaamse regel overtreedt: Onder-de-zes-geen-mes. En soms doet ze iets waar ik helemaal van smelt. Bij de plaatjes in de boeken van Dikkie Dik verzint Astrid verhaaltjes voor Johanna. Dan mag het zusje op haar schoot zitten en zegt ze bloedserieus: "Ik zal eens een boekje voorlezen!"
En haar eigen literaire voorkeur op haar vijfde verjaardag? Bepaalde kleuterliefdes – zoals die voor Jip en Janneke – blijken onverwoestbaar. Al wordt tegenwoordig ook met boeken voor oudere lezers geflirt. Het taalgebruik in De Griezels van Roald Dahl vraagt nog wat extra uitleg, maar de humor is helemaal raak. Kronkelspaghetti? Kribbebijters? Een ondersteboven apencircus? Allemaal geweldig grappig volgens Astrid, zeker als haar papa voorleest.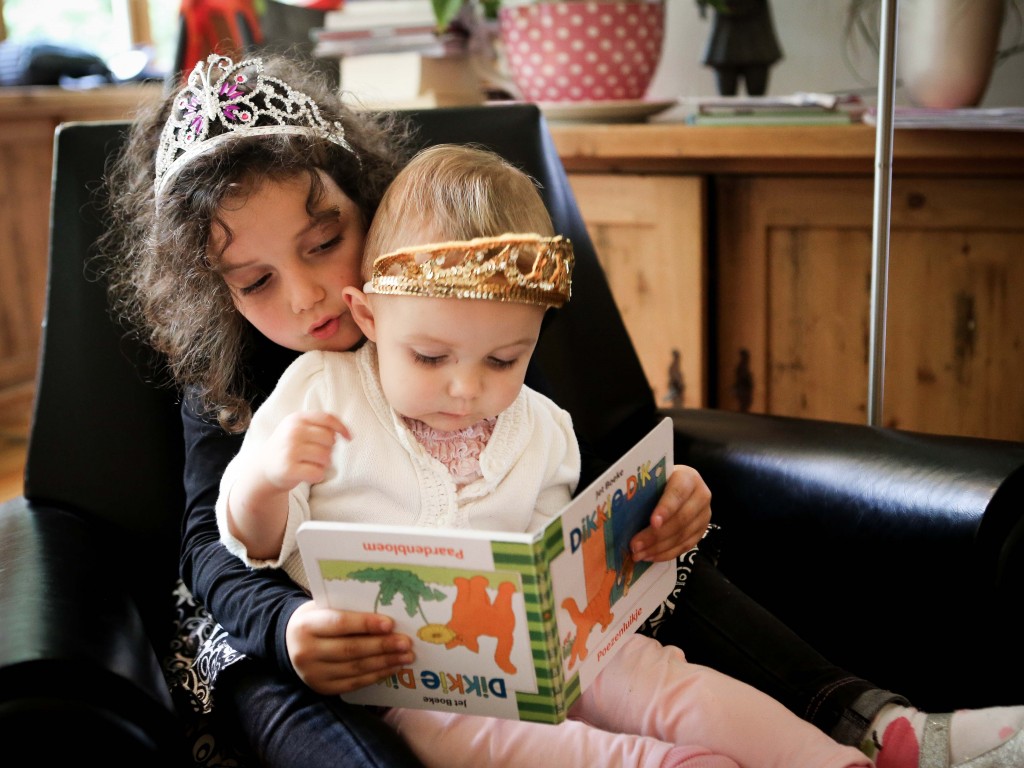 De vijf toppers uit de boekenkast van mijn dochter van vijf:
Belle en het beest (Deltas Disney prinses reeks): Niet meteen mijn favoriet om voor te lezen – het verhaal is nogal stroef geschreven. Maar de tekeningen komen recht uit de Disneyfilm en de waarheid heeft haar rechten. Astrid is dol op dit boek.
Emma en het Beestjesfeest, Alex T. Smith, Van Goor/Unieboek: Een moderne interpretatie van het Assepoestersprookje. Lieveheersbeestje Emma mag van haar stiefzussen Bella en Susie Wesp niet mee naar het bal van schilder Pierre in Parijs. Maar ze gaat natuurlijk toch en verliest er haar glazen muiltje, euh, excuseer – rode bril. Deze vind ik zelf ook leuk, door de aantrekkelijke, moderne prenten en vlotte verteltoon.
De prinses en de erwten, Caryl Hart & Sarah Warburton, Gottmer: Een boek op rijm over 'een lief en welopgevoed meisje, zo'n kind dat nooit zeurt om snoep of een ijsje' (etc.). Maar Marleentje lust geen erwten. Zou ze misschien een prinses zijn? Om dat uit te zoeken gaat ze naar een kasteel, waar het prinsessenleven dan toch niet zo rooskleurig blijkt. Een grappig boek met geweldige tekeningen. En een gezonde moraal: proef eens van alle groenten!
Mevrouw Ja & Meneer Nee, Pieter van Oudheusden & Inge Bogaerts, Lannoo: Volgens de achterflap is dit een 'prentenboek vol levenslust' en voor één keer klopt die typering wel. Voor Mevrouw Ja is het leven een feest en elk glas halfvol. Voor Meneer Nee geldt precies het omgekeerde. Een prima boek om de optimist in je kind wakker te schudden, zonder dat de woorden optimisme en pessimisme vallen.
Mijn leuke reis rond de wereld, Richard Scarry, Deltas: Een klassieker, waar zowel Joris als ik ooit zelf van hebben genoten. Geschreven in 1965 maar vijftig jaar later nog even leuk. De korte verhalen over 'Couscous, de detective uit Algerije', 'Mario, de gondelier uit Venetië' en 'Smokie, de brandweerman uit New York' brengen afgelegen plekken even heel dichtbij.
PS: Ook kinderen van vijf (of zes, of acht, of éénentwintig…) in huis? Wat lezen zij?
PPS: Kleine meisjes – een grote bron van inspiratie. Ter gelegenheid van Astrids vijfde verjaardag haal ik vijf columns waarin zij een rol speelt vanonder het stof:
Valse getuigen – over Boudewijn De Groot, een diepe frons en baby's eerste verjaardag
Iets vergeten? – omdat zwangerschapsdementie nog maar het begin is
Power talk –  luidop een eind weg lullen, mag (van de Sovjetpsycholoog)
Twee mama's – help, mijn dochter is moeder van drie babydekentjes
Danseres – je kind aan 'r haren naar ballet slepen… kan dat?