In de voetsporen van Bent
Afgelopen maandag hoorde ik Bent Van Looy op Radio 1 met heel veel enthousiasme cultuurtips delen. Dit boek moet je lezen, die schilder ontdekken… enneuh bekijk vooral die film. Wat een fantastisch concept, en vooral… Wat een job! Cultuur leven en delen!
Mocht jij het mij vandaag vragen, ik solliciteerde uit het vuistje met deze tips!
The big movie catch up
Dinsdag lieten we op de blog Kurt van filmblog Klakkeboem aan het woord. Hoog tijd om zelf wat films in te halen, realiseerde ik me. Ik werd onlangs alvast helemaal weggeblazen door Manchester by the sea (hoeveel onpeilbaar verdriet kan Casey Affleck verbeelden) en de aanstekelijke soundtrack en dito voice over van La grande bellezza. Tips voor het to watch lijstje zijn altijd welkom.
#verpesteenboekmeteenletter
Het gebeurt maar zelden dat literatuur trending is op Twitter. Maar vorige week gebeurde het dan toch. Literatuurliefhebbers verkrachtten hun favoriete titels met slechts één letter verschil. Ook op onze Facebookpagina deden we mee met 'Kom hier dat ik u kuis', 'A tale of two tities', 'Kruisvocht in spijkerbroek', 'Conga, een geschiedenis' en 'Waterschapseuvel'.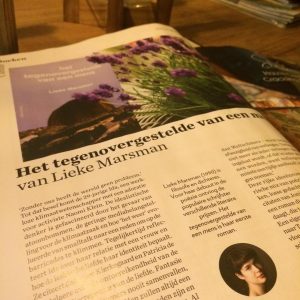 Het tegenovergestelde van een mens
Ik wil er nog niet te veel over kwijt want mijn recensie van dit 'klimaatboek slash romantisch verhaal' staat deze maand in Psychologies, maar dit is een boek dat je moet lezen. Lieke Marsman is een filosofe met zoveel verfrissende ideeën dat ik haar boek integraal onderlijnde. Ze is belezen zonder pedant te zijn. En om mezelf te citeren: "Een nieuwe Copernicaanse stem die de centrale positie van de mens nog eens goed door elkaar schudt".
Lui Ho
Afgelopen week was ik op vakantie in Antibes aan de Côte d'Azur en was kunstenaar Lui Ho onze buurman (en ja, dat mag je letterlijk nemen, want toen we Lui bij het afscheid melden 'on habite ici', stonden we aan 's mans eigen deur te morrelen). Deze creatieveling geeft tekenles op straat, repareert de onvolmaaktheden in de muren van Antibes met kleine kunstwerkjes en kwam vroeger aan de bak als portrettekenaar. Tot hij besefte dat hij zelf in ieder van zijn portretten zit. Reden om aan een zelfportret te beginnen, vond hij, waarin voorbijgangers op hun beurt een stukje van zichzelf kunnen steken. Als passant (en flanneurs die heb je in overvloed in de smalle steegjes van Antibes) krijg je de kans om je naam, land en de datum van vandaag te schrijven op zijn schilderij… Alleen je moet zelf oordelen waar precies, om zo zijn zelfportret af te werken. Ondergetekende was de 6000 en zoveelste deelnemer. Na 10 000 namen zou Lui Ho's werk worden opgenomen in het Centre Pompidou in Parijs. Op de vraag of niemand zijn portret al verpestte, reageert de artiest heel wijs: "Iedereen. Maar tienduizend fouten maken één kunstwerk."
Een extra reden om over enkele maanden nog eens in Pompidou binnen te lopen.
En dan vanavond maar eventjes naar de herhaling van Culture Club kijken om inspiratie voor volgende week op te doen.