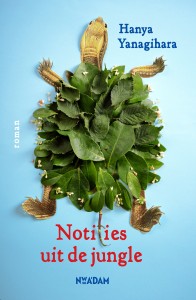 In het kort
Op het Micronesische eiland Ivu'ivu ontdekt A. Norton Perina bij een primitieve stam het geheim van het eeuwige leven: het vlees eten van de Opa'ivu'eke-schildpad. De ontdekking maakt de wetenschapper wereldberoemd. Hij krijgt er zelfs een Nobelprijs voor. Regelmatig reist de onderzoeker naar het eiland en telkens opnieuw keert hij terug met één of meerdere adoptiekinderen. Dan wordt Norton ervan beschuldigd een pedofiel te zijn.
Zijn naaste medewerker Ronald Kubodera vertelt zijn biografie en zet met voetnoten het zogenaamd waarheidsgetrouwe karakter van het verhaal in de verf.

Quotes
Tijdens het lezen kopieerde ik maar liefst vijftig quotes. De Hawaiiaanse journaliste Yanagihara schrijft dan ook dwingend en dramatisch en houdt de climax voor pagina 405. Regelmatig weerkerende thema's zijn het ambigue verlangen naar het eeuwige leven en het cultuurrelativisme.
Nortons ontdekking van het eeuwige leven is bij nader inzien een vloek. Hoewel de dromers – zij die het vlees van de schildpad mochten eten – fysiek niet ouder worden, takelen ze geestelijk af en kruipen ze rond als wilden. Tegelijkertijd lokt deze medische ontdekking de grote pharmabedrijven naar het eiland. Hun komst tast de authenticiteit van de primitieve stam aan. Zo beginnen de altijd naakte primitievelingen zich plots te kleden.
Norton daarentegen, hanteert extreem cultuurrelativistische opvattingen. Zo aanvaardt hij dat seks met kinderen alom tegenwoordig is op het eiland en hoort bij de rituele overgangsceremonieën. Meer nog, hij raakt erdoor gefascineerd.
'Het klinkt misschien heel naïef, maar ik denk dat ik tot dan toe had aangenomen dat er een paar absolute waarheden waren in de wereld – dat bepaalde gedragingen of handelingen, zoals moord, intrinsiek verkeerd waren, en andere intrinsiek goed. Maar in mijn tijd op Ivu'ivu leerde ik dat alle ethische waarden, alle zeden cultureel bepaald zijn.'
 Het effect
Wat Yanagihara – een reisjournaliste voor Condé Nast Traveller – doet, is heel gedurfd, zeker voor een debuut. Je weet dat pedofilie de uitkomst is van de roman en hoewel het al snel duidelijk is dat Norton niet meteen de meest likeable persoonlijkheid heeft, slaagt ze er toch in om je te doen identificeren met Norton. Tijdens de slotscènes voel je je als lezer bijzonder onbehaaglijk, omdat je je op één of andere manier toch aan Nortons kant hebt geschaard.
Yanagihara stelt in Notities uit de jungle noodzakelijke vragen aan onze multiculturele en gekoloniseerde samenleving. Hoe ver kan je gaan in het aanvaarden van andere culturele normen?! Het resultaat is een roman die je manipuleert en verontrust achterlaat met een perverse verteller in Nabokoviaanse traditie.
Waar of niet
De paginalange voetnoten geven het relaas een reëel aanvoelen. Toch schrijft Yanagihara pure fictie. Het verhaal is wel gebaseerd op dat van doctor en Nobelprijswinnaar Carleton Gadjusek die na zijn onderzoek op Papoea New Guinea werd beschuldigd van kindermisbruik. Net als in deze waargebeurde geschiedenis laat Yanagihara het genie en het monster samenvallen in één persoon.
Ook Ivu'ivu bestaat niet, het eiland ontsproot twintig jaar geleden aan Yanagihara's fantasie. Op reisreportage op het Braziliaanse Angra dos Reis in 2007 voelde de schrijfster zich echter alsof ze op het eiland was beland.
Doorspoelen
De website Paper/Plates linkt boeken en recepten en is ervan overtuigd dat je na het lezen van Notities uit de jungle even moet slikken en wellicht nood hebt aan een mondspoeling van pompelmoes om die wrange nasmaak kwijt te spelen. Ik doe het met een glas wijn en vraag me af hoe een roman met een in België zo beladen thema, hier zal worden onthaald.
Hanya Yanagihara, Notities uit de jungle, Nieuw Amsterdam