Leestip: Herfst van Ali Smith
Soms lees je boeken en ben je achteraf niet helemaal zeker wat er net gebeurd is. Dat overkwam me met Herfst (het eerste deel van het seizoenenkwartet) van de Schotse Ali Smith. Ik verwachtte me aan een verhaal over de vriendschap tussen Elisabeth en Daniel, een jonge vrouw en een oude heer op zijn ziektebed. Wat ik kreeg, was veel meer. Herfst gaat immers ook over Elisabeths labiele en sluimerend lesbische moeder, de Profumo-affaire waarin de relatie van de Britse Minister van Defensie met de callgirl Christine Keeler een zaak van nationale veiligheid werd en over de vergeten popartkunstenares Pauline Boty. Daarenboven is Herfst misschien wel de allereerste Brexitroman.
Hoewel de Brexit als een schaduw over de hele roman hangt, raakt Smith helemaal op dreef als ze het concreet over die fatale 23 juni heeft:
"Overal in het land hadden mensen het gevoel dat ze echt verloren hadden. Overal in het land hadden mensen het gevoel dat ze echt gewonnen hadden… Overal in het land veranderde alles in één klap. Overal in het land bleven de rijken en de armen dezelfde mensen… Overal in het land werd het land verdeeld."
Smith schrijft nu eens heel down to earth om het enkele pagina's later over een associatieve boeg te gooien. Zo zijn de fragmenten waarin Elisabeth met de Engelse bureaucratie strijdt om de regels rond haar nieuw paspoort hilarisch: "Niet mooi, zegt de man. Ik ben bang dat het helemaal niet mooi is. Uw gezicht is het verkeerde formaat." In de ijlende stream of conciousness dromen van Daniel lopen tijd en ruimte, echt en onecht, liedjes, herinneringen en oude liefdes dan weer helemaal door elkaar.
Smith stelt de absurditeit van grenzen aan de kaak en maakt van de macht van de willekeur het centrale thema van Herfst, in negatieve en positieve zin. Van hoe de seksistische behandeling van vrouwen de wereld de getalenteerde Pauline Boty deed vergeten, maar ook hoe de schrijver autonoom kan kiezen welk verhaal hij vertelt:
"En als ik de verteller van het verhaal ben kan ik het vertellen precies zoals ik wil."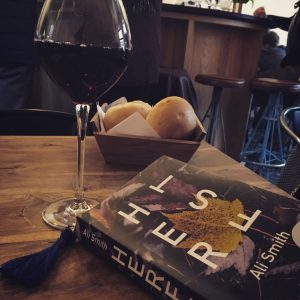 Herfst is poëtische maatschappijkritiek op "de triestheid van de wereld" en op fake nieuws ("Verzin het. Het echte nieuws is hoe dan ook altijd verzonnen."). Het is ook een ode aan de verbeelding en de kunst, die het leven leefbaar moeten maken en de leugen acceptabel. En een collage over het verlangen naar liefde en verbinding, de enige plaats waar echtheid volgens Daniel misschien nog kan bestaan:
"We moeten hopen… dat de mensen die van ons houden en die ons een beetje kennen ons op het eind werkelijk hebben gezien. Op het eind doet niet veel anders er nog toe."
Herfst, Ali Smith, Prometheus
PS. Nog leestips nodig? Misschien is dit of dit boek wel iets voor jou.