Wat is de meerwaarde van fictie? Waarom zou je nog boeken lezen? Als boekenmeisje krijg je deze vragen wel eens te horen. En ja, ik vind het ook belangrijk om de actualiteit te volgen en echt iets te beleven in plaats van altijd met mijn neus in de boeken te zitten, maar zonder literaire bagage zou ik:
maar half zoveel fantasie hebben… zodat ik – als ik niet lees – veel kan dagdromen.
veel onrustiger en minder geconcentreerd zijn. Een boek lezen in een drukke koffiebar? Geen probleem voor mij! Of is dit een kip-of-het-ei-kwestie?!
nooit de vraag krijgen: 'jij bent zeker psychologe?'.
een pak minder diplomatisch zijn.
De Amsterdamse filosoof en schrijver Philip Huff (Dagen van gras, Niemand in de stad) verdiept zich in deze materie nadat hij in zijn late twenties met hartproblemen in het ziekenhuis belandt. Voor Het verdriet van anderen (longlist Fintro Literatuurprijs) beslist hij om de boeken die de meeste indruk achterlieten in zijn jonge leven te herlezen.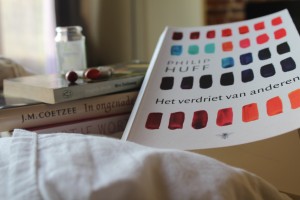 Op vakantie in Australië en Nieuw-Zeeland zet hij zijn project verder. Truman Capote (In cold blood), Silvia Plath (The bell jar), Jon Krakauer (Into the wild) en ook Maartje Wortel (Ijstijd) passeren de revue. In tien hoofdstukken doet Huff met behulp van zijn lievelingsboeken aan introspectie en analyseert hij de voordelen van literatuur en lezen op onze persoonlijkheid.
Met het motto van Jane Didion 'We tell ourselves stories in order to live' geeft Huff onze fictieve wereld evenveel waarde als de echte want 'wat in een verhaal plaatsvindt, gebeurt dus wel degelijk maar buiten de bestaande werkelijkheid'. Check, dan ga ik vanavond met Hemingway op café op de Place Saint Michel in Parijs!
"De waarheid van de geschiedenis kan de waarheid van fictie tegenspreken of ontkrachten, maar het omgekeerde is ook waar: de kracht van de fictieve waarheid is juist dat die haaks kan staan op de historische waarheid en toch iets kan zeggen over de werkelijkheid door haar te betwijfelen, aan te scherpen of zelfs te veranderen."
Als we ons inleven in de boeken die we lezen, worden we empathischer, gaan we de wereld beter begrijpen en stellen we ons open voor andere wereldbeelden. Op die manier kunnen we uit boeken veel sneller leren dan uit het echte leven. Ah daarom zijn lezers zo veel interessanter dan niet-lezers!
Een verhaal is voor Huff 'net zo goed op het leven van de auteur te betrekken als op het leven van de lezer. En het tweede lijkt me voor de lezer interessanter'. Philip Huff vindt lezen dan ook veel socialer dan social media en verheerlijkt de ethische effecten van een roman boven de esthetische. Op die manier transformeert Huff je leeservaring voorgoed in een persoonlijke verbinding tussen het boek en jezelf.
Een verhelderend boek over de fictionalisering van de werkelijkheid en de therapeutische kracht van fictie.
Het verdriet van anderen, Philip Huff, De Bezige Bij
Hoe ervaar jij de voordelen van lezen? Welk effect heeft lezen op je persoonlijkheid? (OK, ik doe het mezelf aan om als een psychologe te klinken)
Stukjes van deze recensie verschenen in februari 2016 in Psychologies.