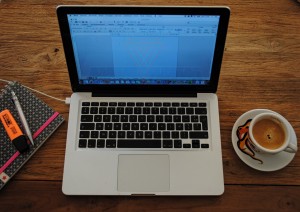 De laatste weken waren razend druk voor de boekenmeisjes… en bij mij lijkt er alvast niet veel beterschap in zicht. Hoe ik er toch in slaag om (meestal) op tijd te zijn met blogposts, verjaardagskado's, boekenpagina's, valiezen in- en uitpakken, songteksten voor pasgetrouwde koppels, dossiers indienen… ? Getting things done van David Allen. Zelfs nog geen tijd gehad om het boek te lezen, maar met behulp van de verhelderende blogposts van Kelly en Prinses is 'sorry vergeten' steeds vaker verleden tijd.
Heb je ook het gevoel dat een week te weinig uren telt? Lees dan de review van 168 hours op Everyday Reading. Dit boek toont hoe een week van zeven dagen genoeg is  'to fit in a robust career, a strong family life, exercise, hobbies, and enough sleep per night.'
Nu je mag nog zo hard plannen als een pro, soms moet je nee zeggen. Zo laat ik morgen met spijt in het hart de Schrijfdag in Oostende aan mij voorbijgaan. Twee jaar geleden was ik er wel bij en woonde ik een memorabele sessie van Jan Eelen bij waarin hij aan de hand van voorbeelden uit Het Eiland scenariotechnieken uit de doeken deed.
Ook geen tijd voor een literaire uitstap dit weekend? Luister dan naar de literaire Podcast van de New Yorker in de wagen of naar dit interview met Michel Faber waarin hij reageert op nooit eerder geziene beelden van zijn overleden vrouw.
Nood aan een dosis nieuwe boeken? Maak dan gebruik van deze actiecode voor de Cosmox site. Nog tot 1 mei krijg je met deze code 5 euro korting op de hele collectie. Ugly Belgian Houses is Cosmox' best verkochte hobby- en cadeauboek. Zou Barbara's recensie hier voor iets tussenzitten?
Waren de boekenmeisjes nog maar twentysomething, dan schreven wij ons in voor het Dasmag Zomerkamp, om in het gezelschap van auteurs Niña Weijers, Marjolijn van Heemstra, Joost de Vries, Maartje Wortel, Thomas Heerma van Voss, Ellen Deckwitz, Lize Spit en Nina Polak te werken aan onze eigen roman.
Gelukkig brengt ons thirtysomething leven ook genoeg vertier en glamour. Zo mochten wij onlangs de gloednieuwe directeur van Passa Porta interviewen en coveren wij binnenkort de uitreiking van de Libris Literatuurprijs in Amsterdam.
Als literair journalistes moeten wij onverbiddelijk en op regelmatige basis onze boekenkasten leegmaken door zwerfboeken ten lande te verspreiden, Kathleen van De Verbeelding maakte van haar ongelezen boeken dan weer een schitterend TBR filmje (een soort van walk of shame langs haar To Be Read boeken).
Geniet van het weekend!