Passa Porta Festival: 'een feest van gelijkgestemden'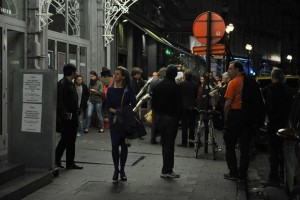 Vanavond start het vierdaagse Passa Porta Festival, de internationale hoogmis van het Brusselse literatuurhuis Passa Porta. Meer dan 100 schrijvers van over de hele wereld zijn te gast in onze hoofdstad voor literaire besprekingen, lezingen en ontmoetingen over de tijd. Ik bezoek het festival zondag maar mocht vorige week alvast programmadirecteur Ilke Froyen interviewen.

Kan je me wat meer vertellen over het festivalthema Now and then?
Ilke Froyen: 'De tijd is een breed thema dat ons toelaat om een ruime literaire selectie te maken. Het thema sluit naadloos aan bij de tiende verjaardag van Passa Porta en de vijfde verjaardag van het festival. Lezen zorgt er voor dat we de tijd vertragen en als je schrijft, kan je spelen met de tijd. We konden de schrijvers die we wilden uitnodigen op diverse manieren linken aan dit thema. Joris Luyendijk schrijft bijvoorbeeld over de actualiteit, terwijl de hoofdpersonages uit Michel Fabers laatste roman op twee verschillende planeten verblijven en zo de tijd heel anders beleven.'

Ik zou graag even meekijken achter de schermen. Hoe zien de voorbereidingen voor zo'n festival eruit?
Ilke Froyen: 'Meestal beginnen we één jaar op voorhand. Dit keer zijn we zelfs iets vroeger begonnen met een seminarie waarop schrijvers achter gesloten deuren over het thema konden nadenken. Zij hebben een voorzet gegeven en gezorgd voor de inhoudelijke backbone van het festivalthema.
Na het seminarie zitten de verschillende partijen – zoals de Nederlandse en Franstalige tak van Passa Porta – rond één tafel om samen de krijtlijnen uit te stippelen op basis van de feedback over de vorige editie. We stellen het dossier samen waarmee we naar de overheid en mogelijke sponsors trekken. Dat is het administratieve luik. Dan zitten we samen met de programmatoren en beginnen we de schrijvers te contacteren. Soms gaat dit via de uitgeverij of de literaire agent en soms gebeurt dit rechtstreeks. Zo benaderden we Michel Faber direct omdat hij tien jaar geleden al eens bij ons te gast was. Dit is een hele fijne periode en dan begint het festival echt vorm te krijgen. Een half jaar op voorhand wordt het vaste team verdubbeld en komen er ook heel wat stagiairs meehelpen. In december is de programmatie rond en worden de programmateksten geschreven en vertaald. Productioneel moet dan alles in orde worden gebracht. Alle theaters moeten technisch worden gecheckt, van de belichting tot de scenografie. Nu zitten we in de laatste fase en worden de details verfijnd.'
Hoe slagen jullie erin om grote namen te strikken?
Ilke Froyen: 'Schrijvers hebben geen rider zoals muzikanten maar ze hebben natuurlijk wel hun wensen. Buitenlandse auteurs overtuigen is niet altijd evident. Ian McEwan stond bijvoorbeeld al langer op onze wishlist. We hebben op verschillende manieren geprobeerd om hem naar hier te halen maar uiteindelijk heb ik hem persoonlijk aangesproken op een festival in Nederland. Hij is natuurlijk ook goed bevriend met Julian Barnes die hier twee jaar geleden was. Misschien heeft dat wel de doorslag gegeven. Naar McEwan kijk ik zelf heel erg uit, maar op zo'n festival doe ik ook altijd enkele ontdekkingen want onze programmatoren hebben elk hun eigen leesachtergrond.'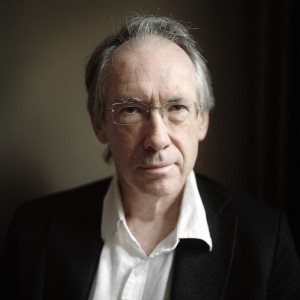 Op welke manier proberen jullie laagdrempelig te zijn?
Ilke Froyen: 'Nieuw zijn de leesgroepen voor aarzelende lezers die op hun eentje niet aan een heel boek zouden beginnen. We werken hiervoor samen met De Dagen. Tijdens zo'n sessie lezen we hardop enkele fragmenten uit de festivalboeken, in de hoop om een bezoek aan het festival te vergemakkelijken. De inhoud van het Passa Porta Festival is best wel straf maar de vorm proberen we lichter te houden. Zo hebben we zelfs sessies in een wassalon.
Vandaag nog was er een enthousiaste groep Franstalige lezers met een anderstalige achtergrond die me bekenden dat ze na twee leessessies verliefd waren geworden op de literatuur.
Dat is mooi want de literatuur gaat in wezen toch over het leven zelf.'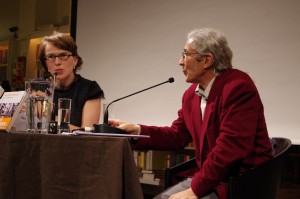 Jullie programma is heel uitgebreid…
Ilke Froyen: 'We willen dat de lezers à la carte kunnen kiezen. We proberen rekening te houden met vele soorten lezers: met gezinnen, met liefhebbers van een bepaalde taal, met experimentele lezers. Zij kunnen allemaal een ander traject volgen op het festival. Dat is spannend voor ons want wij kunnen niet voorspellen hoeveel lezers waar naartoe zullen komen.'
Hoe beleef je zelf die festivaldagen?
Ilke Froyen: 'Dat is heel frustrerend want ik kan de activiteiten zelf niet bijwonen. Alle programmatoren hebben een heel strak schema. We rennen van de ene plek naar de andere waar we alles in gang steken en dan weer moeten vertrekken. Soms worden de lezingen wel eens gefilmd maar dat is helaas niet altijd mogelijk.'
Hoe zie jij de toekomst van het festival?
Ilke Froyen: 'Ik heb veel vertrouwen in de toekomst. Misschien zal de vorm veranderen of de manier waarop we lezen maar de inhoud zal blijven. Zo'n festival is een unieke ervaring. Als het goed gaat, gebeurt er iets en dat raakt je als toeschouwer. Dat contact met het internationale publiek is ook belangrijk voor auteurs die zo lezers van hun roman ontmoeten in verschillende talen.
Het festival is een feest van gelijkgestemden.'
Zie www.passaporta.be voor meer informatie over het festival.