Het wordt nog even niks met die lente. Sneeuw en maar een paar graden om je aan te warmen, je zou als kind voor minder in een prentenboek kruipen. En voor die extra lange zaterdagmiddag zijn er schilderachtig mooie prentenboeken in de voorjaarsaanbiedingen. Met bijhorende tentoonstellingen.
Hoera voor de Jerre! Vijfhonderd jaar geleden blies Jeroen Bosch zijn kaars uit. Reden genoeg om er een heus jubileumjaar van te maken met een grote overzichtstentoonstelling in Nederland. Illustrator Sarike van Wijgerden en schrijfster Sietske Mol plukten enkele figuren uit zijn schilderijen en propten ze in het wervelende Kik is op mik. Een mooi liefdesverhaal vol personages met een ferme hoek af. Voor de leerkrachten onder jullie zijn hier enkele lesideetjes terug te vinden.
Zijn je kadees geïnspireerd geraakt om zelf te gaan tekenen en schilderen? Laat ze alvast oefenen met Speel je mee? Een interactief en vernieuwend prentenboek dat aanzet tot vingervlugge leespret. Na Een boek en Kleuren komt Hervé Tullet weer met een ingenieus kunstwerk op de proppen.
Bon. Aan deze hangt een kleine handleiding, voor dat klein en schattig grut van u. Het koppel uit het boek hangt een gouden lijst aan de muur en laat een schilder komen om er een schilderij in te maken. De schilder heeft echter een eigen willetje (zij die daar een krijsende tweejarige in huis hebben, zitten nu te rollen met hun ogen van herkenbaarheid). Hij beschildert het ganse huis. En laat de lijst leeg. (TIHWR is niet verantwoordelijk voor gebeurlijke ongevallen, acrylverf aan uw gordijnen en lederen fauteuil of kleine en grote meningsverschillen die u uitvecht met uw 125cm lange nageslacht. Just saying)
De gouden lijst, Rindert Kromhout en Gerda Dendooven.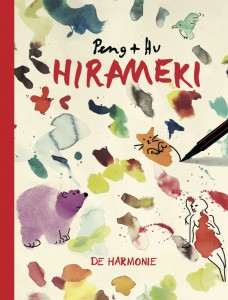 Klodders verf waar hier en daar een streepje aan wordt toegevoegd. Dat is de formule van Hirameki, de kunstvorm die ontdekt werd door twee bekende kunstenaars, Peng + Hu. Nu, zij zijn eigenlijk de eersten die de vloeren en muren van hun atelier eens van naderbij hebben bekeken na het afleveren van het laatste peperduur meesterwerk. Move over, kleurboeken, hier is de nieuwe rage. Duikboten, een flatgebouw of een muizen komen met enkele penstreken piepen.
Nog tot 29 mei kan je in Den Haag gaan kijken naar de tentoonstelling Jan Toorop – Het lied van de tijd. De in Nederlands Indië geboren kunstenaar liet zich inspireren door Khnopff, Ensor en het pointillisme. Zelf wist hij indruk te maken op Klimt met zijn meer symbolistisch werk. Het kunstprentenboek dat bij de tentoonstelling hoort, is bont, uitbundig en licht nostalgisch naar de oude koloniën.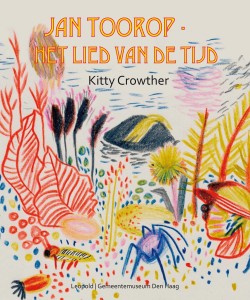 Fijn weekend!