De geruchten dat ik volcontinu met mijn neus in de boeken zit, zijn even vuig als vals. Die zit namelijk een paar keer per jaar ook in de aanbiedingsfolders van de uitgeverijen, die zo vol staan met lekkers dat de Apocalyps -lees: een stapel met 'te lezen' boeken lager dan het plafond- nog wat kan worden afgehouden.
De geruchten dat ik gewoonweg álles uit die folders lees ga ik meteen ook om zeep helpen. Ik laat immers nog liever een Ensor op mijn verhemelte tatoeëren dan dat ik aan de slag ga met kleurboeken voor volwassen. Al heb ik getwijfeld bij Naughty Dots, een cadeauboek met 80 erotische dot-to-dot uitdagingen. Gaat onder de kerstboom als 'de traagste striptease van de Melkweg'. Ook voor onder de kerstboom, of voor in de zak van Sinterklaas: Kattenkastelen, of 'Maak het prrr-fecte huis voor je kat'. Kattenkastelen speelt handig in op de onverklaarbare fascinatie van katten voor kartonnen dozen, en helpt je bij de constructie van pakweg een foodtruck of een piratenschip. Mijn idee voor een kartonnen kattenhuis (dierenartswachtkamer) stond er niet in. Zeer jammer.
Kerstcadeautjes tippen met een nasluimerende zonneslag, het is een unicum. Laat ons maar vlug overschakelen op het echte werk, dat je gewoon voor jezelf mag houden. Zoals De Boekensmokkelaars, van David E. Fishman, over hoe de inwoners van het Wilno getto in Litouwen met gevaar voor eigen leven duizenden boeken hebben gered van de nazi's en de Sovjets. Ik ben ook zeer benieuwd naar Kleihuid van Herien Wensink, waarin een gueule cassée en een getraumatiseerd soldaat een kamer moeten delen tijdens de laatste stuiptrekkingen van de Eerste Wereldoorlog en gaandeweg leren korte metten te maken met hun -en elkaars- demonen.
Sinds Marnix Peeters met De dag dat we Andy zijn arm afzaagden de grote prijs van de Beste Titel Van Mijn Boekenkast won -en hij een nieuwe poging waagde met Kijk niet zo, konijntje– houden wij de drukpersen met spanning in de gaten voor nieuw werk. Die persen staan tegenwoordig bij zijn eigen uitgeverij Pottwal Publishers, waar ze in september zijn In elke vrouw schuilt haar moeder naar uw favoriete dealer sturen. Wij kijken alvast reikhalzend uit naar de exploten van gravin Mercedes Van De Cloot, die zichzelf van het faillissement probeert te redden met het schrijven van een filosofisch-mysogyn meesterwerk.
Uiteraard is het boek beter dan de film, maar in het geval van Andy Weirs The Martian is de film wel een heel waterig afkooksel. Het boek is heerlijk nerdy en een welkome terugkeer naar de harde sciencefiction, een genre dat veel te lang te lijden heeft gehad van allerhande fantasygezwam. Waarom ze voor de film voor Matt Damon kozen is me een raadsel, het is en blijft Jason Bourne in een ruimtepak, inclusief het geheugenverlies. Dit maar om te zeggen dat Weirs tweede boek Artemis in november in de boekhandel ligt, waar ik elke dag ga postvatten totdat ik deze thriller -die zich op de maan afspeelt- in handen heb.
Tijdens het wachten lees ik wel De voorspelling van de adelaar van Simon Scarrow, om mijn guilty pleasures voor alles wat Romeins is te bevredigen. Op Ben Kane's De krijgsbanier van de adelaars, waarin de Romeinen artisanaal op hun lazer krijgen van de Germanen, is het immers nog wachten tot februari.
Groot nieuws! George Saunders heeft een roman geschreven: Lincoln in de bardo. Reden genoeg voor consternatie, want tot dusver was George Saunders een meesterlijke schrijver van kortverhalen. Ik spendeer dagelijks ettelijke uren met me afvragen of zijn Tenth of December nu al dan niet beter is dan zijn Pastoralia, tijd die ik dan weer niet kan spenderen aan twijfelen of ik Saunders nu beter zou durven vinden dan Flannery O'Connor. Zeggen dat ik benieuwd ben naar zijn roman over hoe Abraham Lincoln het graf van zijn zoon bezoekt en daar een meute kleurrijke geesten aantreft, is dan ook een understatement van de categorie 'een bunzing heeft nogal een zwaar parfum'
Nu we toch het woord 'kortverhalen' hebben laten vallen: in november verschijnt Familiestukken, met de mooiste verhalen van Alice Munro, geselecteerd door Marja Pruis en Greta Le Blansch.
Nog een laatste? Na Vaslav gaat Arthur Japin met Kolja weer de Russische toer op, een historische roman over de ongemakkelijke feiten achter de dood van Tsjaikovski. Die zich afspeelt in Sint-Petersburg, Barbara. Sinds Een schitterend gebrek heb ik een abonnement op Japins boeken, dus noem me lichtjes bevooroordeeld. Kolja verschijnt in oktober.
En neen, ik ga helemaal tegen mijn gewoonte in geen jeugdboeken tippen deze keer. Dankzij het fenomeen 'aanpalende achtertuin' heb ik vernomen dat de buren dringend hulp vereisen bij het doen verdwijnen van een paar flessen wijn, dus de jeugdboeken zullen moeten wachten tot deze prangende kwestie is afgehandeld. Schol.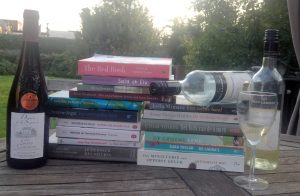 Kleihuid – Herien Wensink (De Arbeiderspers, januari 2018)
Kolja – Arthur Japin (De Arbeiderspers, oktober 2017)
In elke vrouw schuilt haar moeder – Marnix Peeters (Pottwal Publishers, september 2017)
Lincoln in de bardo – George Saunders (De Geus, oktober 2017)
Familiestukken – Alice Munro (De Geus, november 2017)
Artemis – Andy Weir (Karakter Uitgevers, november 2017)
De boekensmokkelaars – David E. Fisherman (BBNC Uitgevers, september 2017)
Krijgsbanier van de adelaars – Ben Kane (Karakter Uitgevers, februari 2018)
De voorspelling van de adelaar – Simon Scarrow (Uitgeverij Q, oktober 2017)
Kattenkastelen – Carin Oliver (BBNC Uitgevers, september 2017)
Naughty Dots (BBNC Uitgevers, oktober 2017)