When a man is tired of London, he is tired of life, for there is in London all that life can afford.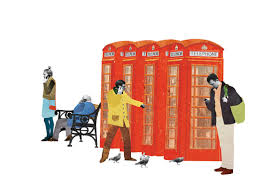 Als 2017 er voorspoedig uit ziet, dan komt dat vooral door alle reisplannen die ik heb. Alleen januari al wordt een mix van skiën in Italië, yoga op Fuerteventura en citytrippen in Madrid. Dit klinkt als een decadente start van het jaar, I know. Maar er viel dan ook nog wat vakantie in te halen.
Een bestemming die de laatste jaren nooit op mijn planning ontbrak, is Londen. En tussen mijn trips naar Londen door… lees ik erover. Ik deelde eerder al deze
vijf boekentips
en doe er vandaag graag drie bij.

Londoners van Craig Taylor – Granta
Ik ben een
sucker
voor toeristische weetjes over Londen. Vandaar dat
Londoners
me in eerste instantie teleurstelde: weinig
facts
en veel aandacht voor de
outsiders.
Toen ik me daarbij had neergelegd, werd
Londoners
een echte eye-opener! Want zoals Shakespeare schreef "
What is the city but the people?
"
Taylor is een ingeweken Canadees die Londen grondig wilde leren kennen en hiervoor gesprekken aanknoopte met bedelaars en bankiers, met prostituees en shopbedienden, met een yeoman warder en een makelaar… Hij heeft een haat-liefdeverhouding met de stad: "It's no use thinking this place loses any sleep over me." Maar het beeld dat hij schetst, is echt. Hij laat de stad zien vanuit alle hoeken: hoe je als dakloze aan onderdak kan geraken, hoe je als taxichauffeur je weg moet vinden, wie de stem is achter 'mind the gap' in de London Underground en hoe je als illegaal de oversteek maakt. Taylor opent je ogen voor het anonieme en het ordinaire en zet de toerist met beide voeten op de grond.

The 500 hidden secrets of London van Tom Greig – Luster
Ik maakte kennis met deze reisboekenreeks in
Kopenhagen
en was onmiddellijk verkocht. Het concept is eenvoudig: 100 lijstjes à la '5 restaurants with a great view', '5 pubs with an amazing interior', 'The 5 best small museums' en '5 quiet places'. Wat de reeks zo sterk maakt, is de kwaliteit van de tips. Je kan er vanop aan dat dit 500 echt goede, hippe,
off the beaten road
adresjes zijn. Ik noteerde alvast deze literaire tips:
Alice through the looking glass: Deze shop is het walhalla voor alle fans van de boeken van Lewis Carroll. Je vindt er prachtige oude uitgaven van Alice in Wonderland, postkaartjes met de Mad Hatter en Humpty Dumpty en zelfs een klein museum.
Lutyens & Rubinstein: Deze Notting Hill boekenwinkel heeft niet alleen een goede boekenselectie maar biedt ook heel wat extra services zoals A year in books, een dienst die je één keer per maand een boek naar jouw persoonlijke smaak toestuurt.
Ye Olde Cheshire Cheese: Deze pub uit de 16e eeuw kreeg heel wat literaire drinkers over de vloer als Dickens, Tennyson en Conan Doyle.
51 Gordon Square: In deze statige rijhuizen woonden de bekende leden van de Bloomsbury Group als Virginia Woolf, Clive Bell en John Keynes.

Louis Vuitton travel book London – van Natsko Seki
Dee prachtige Vuitton reisgidsen leerde ik kennen via Brecht Evens. De Belgische tekenaar had vorig jaar de eer om Parijs in illustraties vast te leggen voor het modehuis. Ik was dan ook benieuwd naar de
Londense versie
van het Travel Book. Hiervoor schakelde Vuitton Natsko Seki in, een Japanse illustratrice die woont en werkt in Londen. Reizen vormt een belangrijk thema in haar werk. Voor deze gids baseerde ze zich eerst op de highlights van Japanse gidsen als Buckingham Palace, Westminster Abbey en de Millennium Bridge. De basis voor haar tekeningen zijn foto's en prenten uit modebladen. Dit geeft haar illustraties een heel natuurlijk aanvoelen. Hét Londense salontafelboek!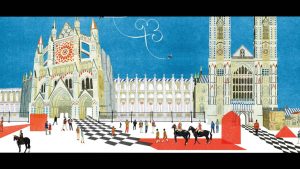 PPPS. Alle afbeeldingen in deze post zijn afkomstig van Natsko Seki.