Waarom is Kopenhagen de meest leefbare stad ter wereld? Waar vind je de vijf beste Food Trucks? Wie zijn de meest inspirerende ontwerpers en wat zijn de leukste BYOB – bring your own beer – plekken? De inspirerende en verrassende reisgids The 500 Hidden Secrets of Copenhagen (Uitgeverij Luster) geeft hierop een antwoord.
Ik testte vijf tips uit. Gelukkig was het een zonovergoten weekend en kon ik lijstjes als The 5 cosiest cafés for a rainy day gewoon achterwege laten.
5 hippest cocktail bars
n° 111 Lidkoeb
Cocktailbar Lidkoeb ligt een beetje verscholen op de hippe Vesterbrogade en is gevestigd in een oude apotheek. Het internationale team – Kopenhagers hebben overal het algemeen weinig cocktailervaring – serveert kwaliteitsdrankjes. Op de eerste en tweede verdieping kan je cocktails drinken in een trendy Scandinavisch interieur. Op het menu staat zelfs een sectie met Nordic drinks als Østersø Cola en Grøn og Hvid met dropsmaak. Op de derde etage nodigen statige Chesterfields, een open haard en veel kaarsen uit om whiskey te degusteren. Zelf ga ik voor een Blomster & Bobler, een drankje op basis van Lillet, gin en champagne met rozensiroop.
5 recognizable places from Nordic Noir TV
n° 314 Øresund Bridge
De Øresund Brug vormt de setting van de eerste reeks van The bridge waarin een half Deens en een half Zweeds lijk op het midden van de brug worden aangetroffen. De brug verbindt Kopenhagen met het Zweedse Malmö. Met de trein reis je in een half uur van de ene naar de andere stad.
Wij steken voor een dagje de grens over en zijn gecharmeerd door het levendige Folkets Park waar altijd wel wat te beleven valt en het bijzonder leuk koffie drinken is in Far i Hatten, een huiskamer in een park.
Via de winkelstraat, enkele mooie pleintjes en het Middeleeuwse Lilla Torg wandelen we langs de kanalen en het strand naar de hypermoderne buurt van de Turning Torso, de 'wolkenkrabber' van Malmö voor het ultieme zicht op The bridge vanop de kade!
The 5 biggest shops for Danish design
n° 166 Illums Bolighus
n° 167 Normann Copenhagen
n° 168 Hay House
n° 170 Bolia
Check, allemaal gedaan. Kopenhagen is het walhalla van Scandinavisch design. Goed dat ik een aan Ryanair aangepaste trolley meehad of dit zou een aanslag op mijn bankrekening zijn geworden. Mijn bescheiden buit zie je op de bovenste foto. Gelukkig is inspiratie opdoen ook leuk en dat doen we niet alleen in de designwinkels maar ook ons Airbnb appartement is een pareltje. Ik wil nu mijn parketvloer wit opschuren, een kleurrijk Marokkaanse tapijtje en elegante bijzettafeltjes.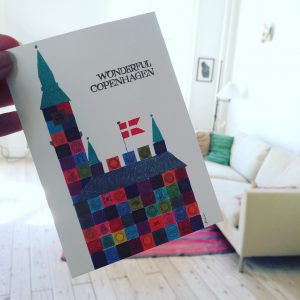 The 5 best reasons to visit freetown Christiana
n° 320 another side of Copenhagen
Christiania is een hippiecommune uit de jaren 70. Christiania begon als een idylle maar de vrijheid werd al snel grenzeloos, zeker voor de kinderen wiens ouders vaker high dan nuchter waren. Wil je meer weten over deze vrijstaat, bekijk dan zeker deze documentaire vanuit het standpunt van de tweede generatie.
Tegenwoordig is Christiania een trekpleister voor toeristen. Het contrast met de rest van de stad kan niet groter zijn. Kopenhagen is heel erg clean, modern en hyper-georganiseerd. Christiania is kleurrijk en alternatief en drugs worden openlijk op straat verhandeld. Dompel je even onder in deze counterculture, volg de regels 'Have fun, no running, no photos' en drink een biertje op de plaza van de stad, Nemoland.
5 classic Danish dishes worth trying
n° 6 Smørrebrød
Smørrebrød is een traditioneel Deens lunchgerecht dat bestaat uit een snee roggebrood en royaal beleg. Zie jij het brood nog? In Kopenhagen vind je ze overal maar liefst verorber je deze gezonde lunch op een sfeervolle locatie zoals de Torvehallerne, een drukke en populaire food market of in het Kulturhuset aan het havenzwembad.
PS. Vier literaire hotspots in Kopenhagen.
PPS. Er bestaan ook Hidden secrets gidsen over Amsterdam, Barcelona, Lissabon, Londen, Parijs en in eigen land over Antwerpen, de Belgische Kust, Brussel en Gent.
PPPS. Foto credits Katrien Elen & Sofie Van Loock.