Cie de KOE speelt seks(e)(n)
Twee mannen, twee vrouwen, vier mensen. Hoe reageren ze op elkaar? Hoeveel botsingen en connecties zijn tussen hen denkbaar, voelbaar? Wie kiest wiens kant en waarom? Goethe onderzocht die vragen in een roman uit 1809, Die Wahlverwandschaften. Compagnie de Koe brengt hen dit najaar op het toneel.
Barbara: Het is een mooie traditie in the making. Van tijd tot tijd trekken Katrien en ik naar een Vlaams cultuurhuis om er een voorstelling met literaire inslag te bekijken. Achteraf pingpongen we op de blog met onze indrukken en ideeën. Zo genoten we begin dit jaar van Anna Karenina en trokken we vorige vrijdag naar de Leuvense Schouwburg voor 'seks(e)(n)', een coproductie van het Antwerpse theatergezelschap Compagnie de Koe (Peter Van den Eede, Natali Broods en Willem de Wolf) en het Amsterdamse De Mug met de Gouden Tand (Lineke Rijxman).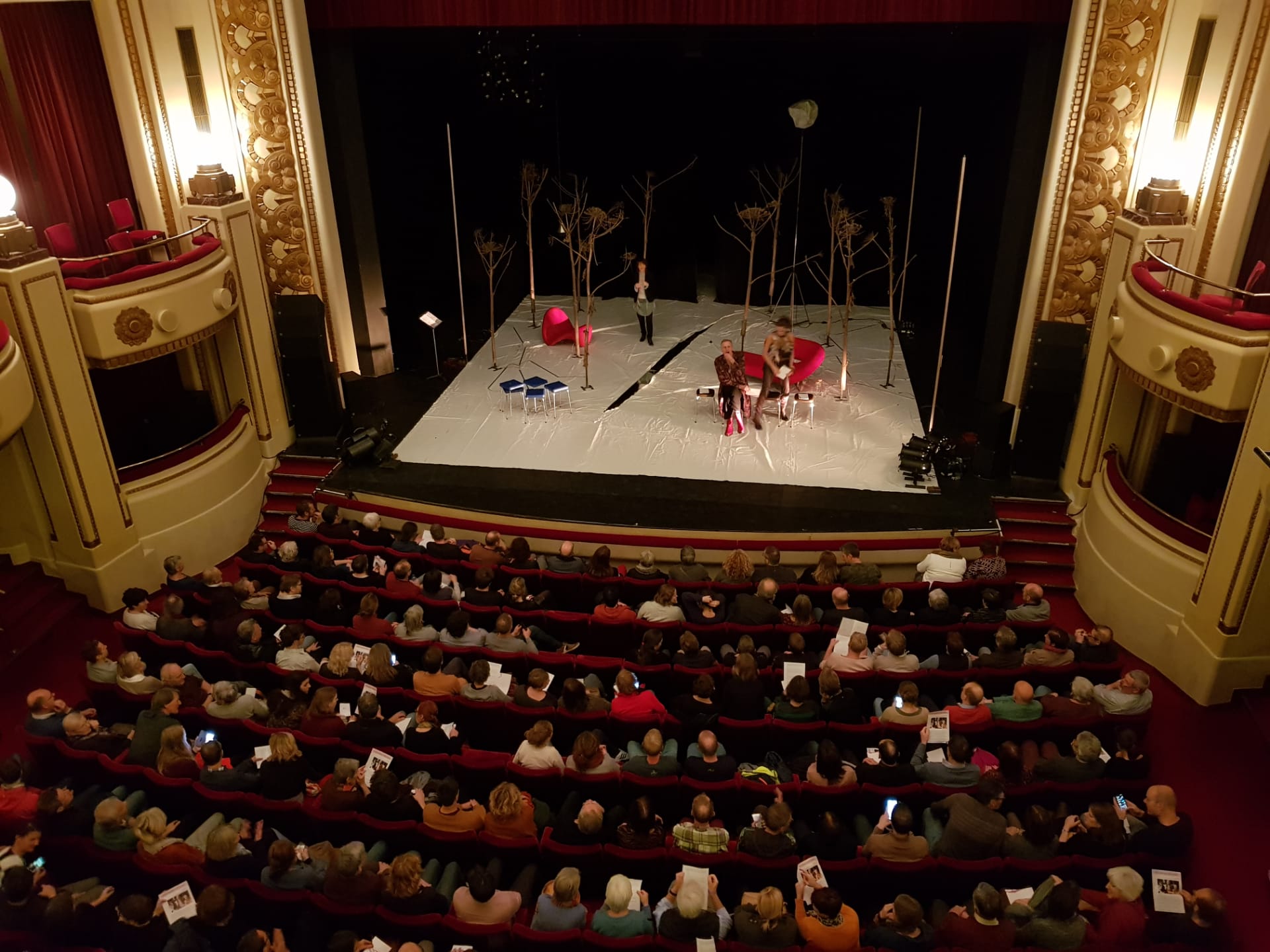 Wie leest er vandaag nog Goethe? Misschien zijn Faust, ja. Of de jonge Werther. Desnoods Wilhelm Meister. Maar wie leest in godsnaam dat minder bekende werk met die onvertaalbare titel (leuk stuk in dat verband lees je hier), Die Wahlverwandschaften? De vier acteurs, ongetwijfeld. En – I kid you not – ondergetekende. Ik deed dat niet eens tijdens mijn master Duitse Literatuur. Ik las Die Wahlverwandschaften op de middelbare school en bewaar dan ook alleen de meest vage, rudimentaire herinneringen aan het boek. Vier mensen die tot elkaar veroordeeld zijn op een landgoed. Intellectuele discussies. Smeulende passies. En buiten hun bubbel: de ontembare natuur. Het is precies met die basisingrediënten dat de vier acteurs in alle vrijheid aan de slag gingen. Zoals altijd is hun vertaalslag genadeloos grappig en radicaal hedendaags.
seks(e)(n) is een stuk over seks, menselijke machtsverhoudingen en de hedendaagse klimaatcrisis. In het voorbijgaan krijgen ook ABBA, Dries Van Noten, de Gele Rivier in China en een boze dino vermelding.
Katrien: Er is weinig beters dan het weekend inzetten in de cinema of het theater. Maar omdat onze Vlaamse regering daar blijkbaar anders over denkt, is er een geest van verzet voelbaar in de Leuvense schouwburg na een week van protesten tegen de bespringen in de cultuursector. Dat wordt niet alleen tastbaar gemaakt wanneer het publiek aan het einde van de voorstelling als steunbetuiging het podium beklimt maar er zit ook wrijving in de ideeën die ter sprake komen. Zo zoeken de vier acteurs naar hyperomzichtige taal om op een al dan niet politiek-correcte manier over de LGBTQI+ gemeenschap te spreken en stellen ze zich vragen als: mag je als blanke heteroman een zwarte andersvalide queer spelen? Of, kan je doen alsof je Gilles de la Tourette hebt – en zoals Lineke Rijxman je medeacteurs voor kunstkut uitschelden – als je zelf geen patiënt bent?
Het doet me meteen denken aan mijn gesprek met Rebecca Makkai in de nasleep van de Boekenbeurs. In Een stralende toekomst vertolkt zij de stem van homoseksuele aidspatiënten uit het Chicago van de jaren 80. Op de vraag of zij wel het recht heeft om in hun naam te spreken, zei zij in De Morgen:
"Ik heb wel getwijfeld of ik erover mocht schrijven. Ik stelde mezelf twee vragen. Ten eerste: kan ik dit goed? Mijn antwoord was: ik denk dat ik het kan als ik maar voldoende onderzoek doe. En mijn tweede vraag was: steel ik hiermee iemands stem die dit verhaal ook wil vertellen, of is dit een mogelijkheid om de stemmen van anderen te versterken? Ik denk dat dit boek, en het succes ervan, de weg vrijmaakt voor meer boeken over dit onderwerp. Zo werkt dat bij uitgeverijen."
In haar antwoord kan ik mij wel vinden. Net als in de vergelijking die acteur Willem De Wolf maakt in het stuk:
"je kan Hamlet toch ook niet alleen maar laten spelen door Deense prinsen."
Toch ligt het gevoelig besef ik, en terwijl ik naar het komische ideeëntheater kijk, neem ik me voor om eindelijk Waarom ik niet meer met witte mensen over racisme spreek van Reni Eddo-Lodge eens te lezen.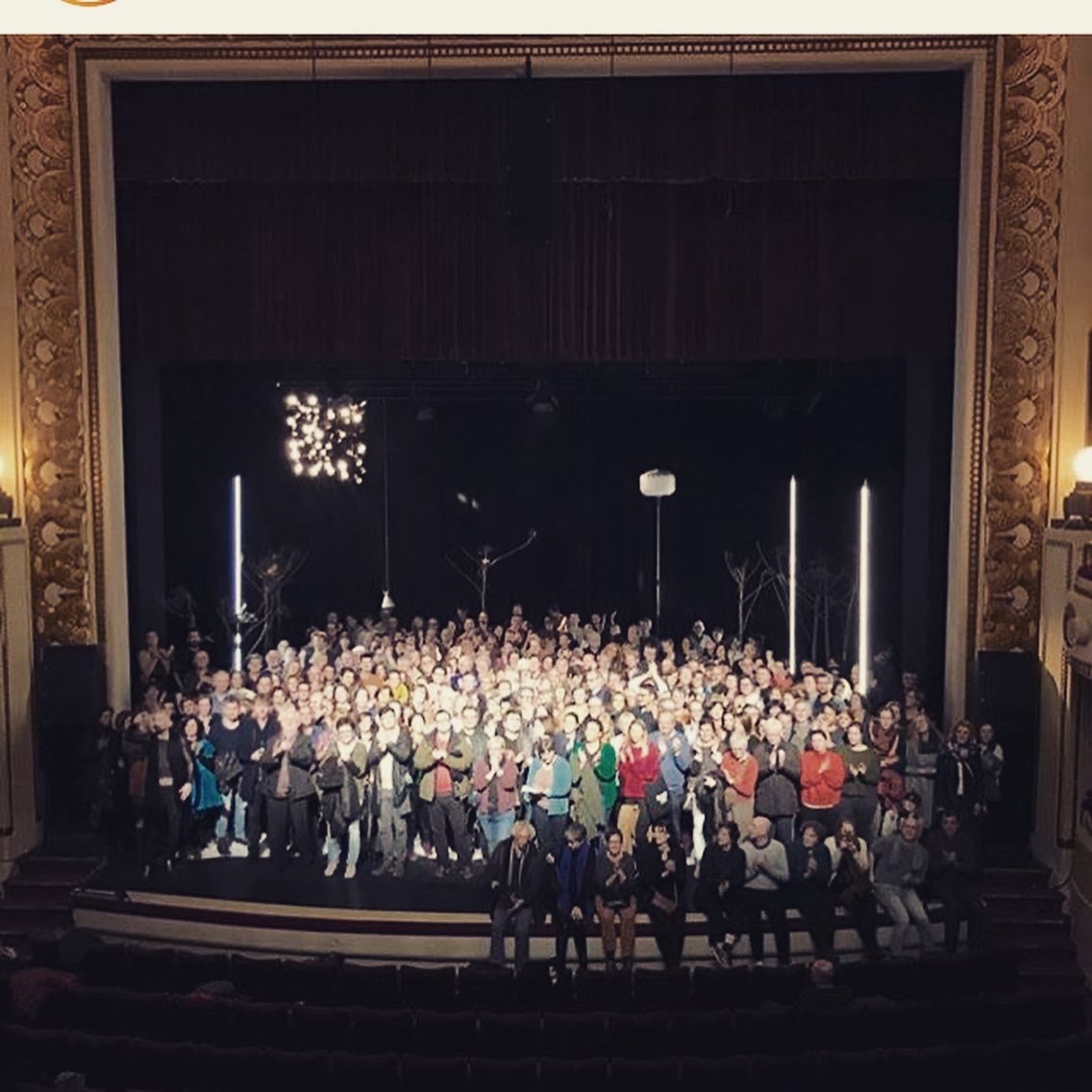 Barbara: seks(e)(n) is een stuk van honderd minuten waarin vier acteurs voornamelijk boompjes opzetten over thema's die hen boeien. Of zo'n onderneming je als toeschouwer bevalt of niet, hangt dus grotendeels af van de vragen: hoe interessant en puntig verwoord zijn de ideeën en hoe sterk presteren de acteurs? Wat mij betreft, zat het op beide vlakken snor. In de ideeënstroom zat de juiste mix van hoogdravende litanieën (Natali Broods over geweld tegen vrouwen, Peter Van den Eede over zijn acteeropleiding) en herkenbaar langs-elkaar-heen geklets (het openingsgesprek over een documentaire over couturier Dries Van Noten).
De vier acteurs waren aan elkaar gewaagd en schitterden om de beurt – mooi om te zien was dat. Niemand speelde niemand naar huis – de doelpunten en assists zaten perfect verdeeld onder het viertal.
In de stukken over seks werd de grens bewust opgezocht en overschreden, dat wel. Misschien moeten acteurs niet letterlijk met hun hand in elkaars broek gaan? Het idee dat mij het sterkst bijbleef van de voorstelling kwam alleszins uit de klimaathoek. Ik parafraseer:
"In de toekomst zal de opdeling man-vrouw niet meer relevant zijn. De enige tegenstelling die ertoe zal doen is of je al dan niet in een gebied woont waar de klimaatcatastrofe zich laat voelen.
Al zal er aan elke kant – bij de klimaatslachtoffers en bij hen die voorlopig gespaard blijven – een tweede breuklijn zijn: was jij iemand die probeerde deel te zijn van de oplossing voor de klimaatcrisis of niet?" Beeld je eens in wat een polarisatie dat gaat geven in de samenleving.
Katrien: Dat ik deze voorstelling meteen aanstipte in het programmaboekje had ongetwijfeld met het duo Peter Van den Eede & Natali Broods (haar rol als psychiater in Tabula Rasa is nog steeds aan het bezinken) te maken. Maar qua gevoel voor fijnzinnige timing moeten – de voor mij onbekende – Willem de Wolf en Lineke Rijxman niet onderdoen. De verwijzingen naar een documentaire over Dries Van Noten – of althans de link naar de teaser van die documentaire – zijn een heerlijke running gag, de absurde discussie tussen Peter en Willem of vrouwen boven de twintig nog 'fuckable' zijn, is hilarisch en de manier waarop Lineke droogjes opmerkt dat sperma over haar gezicht uitsmeren niet meteen op haar bucket list staat, doet iedereen lachen.
Barbara: Wanneer ik na het stuk thuiskom, duik ik in mijn archief. In 2005 – ja, laaaaaaaaang geleden – interviewde ik Natali Broods voor ELLE over de film van Fien Troch 'Een ander zijn geluk'. Ik herinner me dat we toen ook spraken over haar werk bij Compagnie De Koe en het stuk – Edward Albees Who's Afraid of Virginia Woolf' – waarmee het gezelschap toen toerde. Ik kom onderstaande uitspraken tegen, waar de actrice volgens mij – maar ik raad dus maar… – veertien jaar later nog altijd achterstaat. Gelukkig voor ons als toeschouwer, denk ik dan.
"Bij De Koe bewerken we onze theaterteksten zelf. Soms zitten we twee maanden rond de tafel. Pas de laatste dagen voor de voorstelling tekenen we het spelkader uit. Daarvoor lezen en praten we: 'Wat voel jij bij die tekst? Waarom wil je dat zo brengen?' Die gesprekken vind ik soms nog boeiender dan het spelen zelf."
En: "Teksten waarin mensen duwen en trekken aan elkaar, spreken mij het meest aan. Ik word geraakt door onmacht: iets wel willen maar het niet kunnen zeggen; zo met jezelf overhoop liggen dat je een ander moet kwetsen; het toch weer proberen omdat je niet alleen kunt zijn. De menselijke onkunde om lief te hebben, die interesseert mij enorm."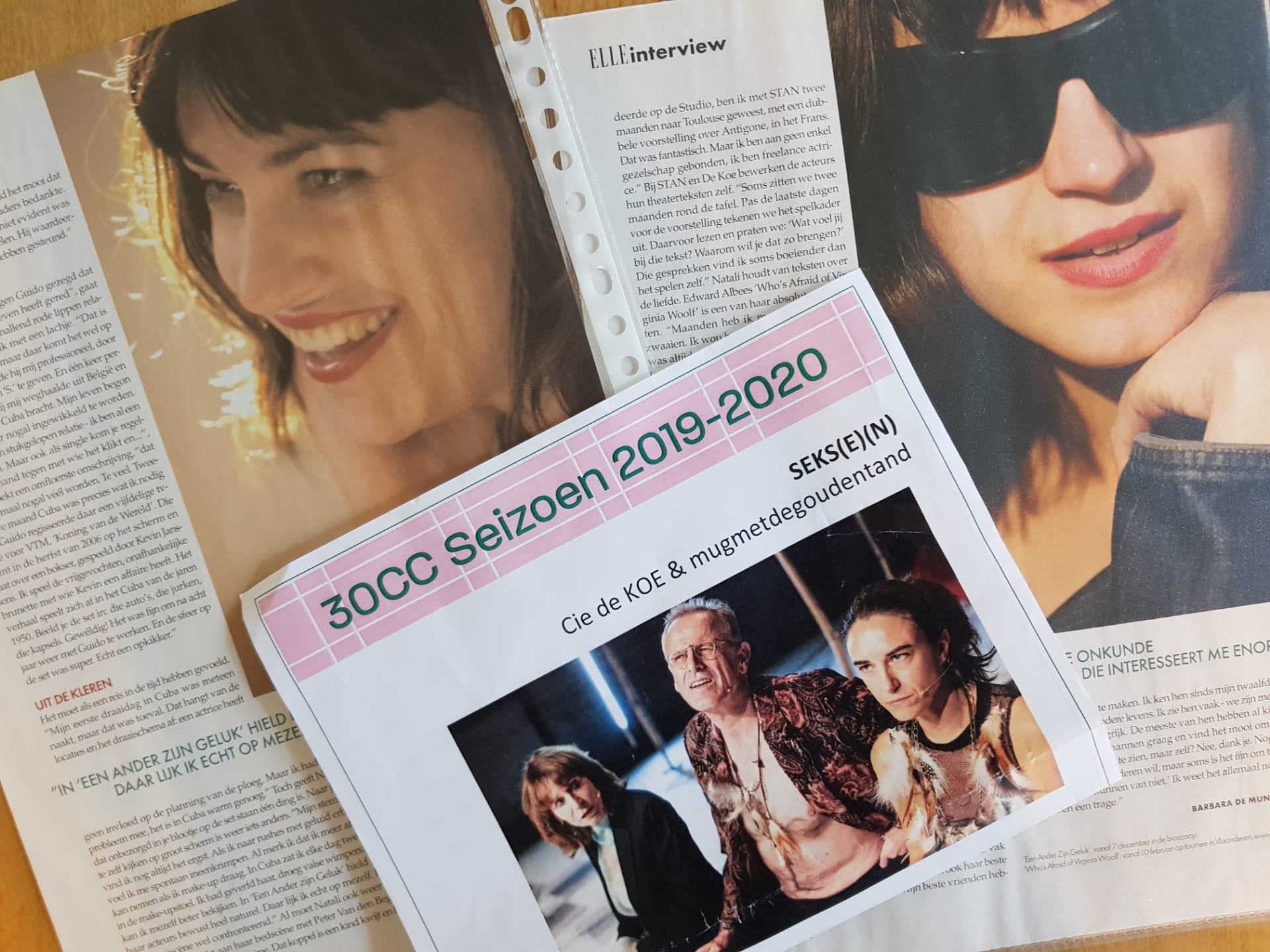 Katrien: Door onder eigen naam te spelen suggereert de 'squad' dat de grenzen tussen fictie en waarheid heel dun zijn, of zoals Lineke in een interview voor Kaaitheater zegt: "Tegelijk gaat de voorstelling vooral over onszelf. Zelfs als we zouden besluiten dat we een scène zouden willen maken over de jongens die op elkaar vallen en de meisjes die op elkaar vallen en alles wat je ertussen kan verzinnen, dan gaat het nog steeds over ons."
De hele voorstelling voelt het dan ook alsof de werkelijkheid maar één stap verwijderd is, dat Goethes Wahlverwandtschaften een trigger is geweest voor een heel persoonlijke improvisatie. Net zoals seks(e)(n) een excuus vormde voor deze breed uitwaaierende reflectie.
Of dat uitwaaieren iets zegt over de kwaliteit van de voorstelling? Nee, integendeel. De verfrissende standpunten op de scène nodigen uit om verbanden te leggen naar de wereld buiten het theater. Seks(e)(n) is #thisisourculture op zijn best, een protest op de Bühne!
PS. Next up in onze culturele agenda: de Dead Ladies Show van Gaia Schoeters.