Fleur Pierets was onlangs te gast op de uitreiking van onze columnwedstrijd, waar ze vertelde over de liefde van haar leven, Julian, en het boek dat ze over haar schreef. Begin augustus mocht ik Fleur al interviewen over 'Julian'. Het was haar allereerste interview over het boek en ze polste voorzichtig wat ik ervan vond, "Want je bent de eerste buiten mijn eigen kring die ik over het boek spreek." Dat ik het een monumentaal boek vond. En dat ik moeilijk weg kon leggen. Fleur en Julian nestelden zich enkele dagen in mijn hersenpan en lieten daar hun stempel achter, geheel in Fleur en Julian stijl.
Fleur zou met Julian trouwen in de 22 landen waar het homohuwelijk legaal is. Ze hoopten dat de naam van het kunstproject, dat ze '22' doopten, snel achterhaald zou zijn. En dat gebeurde ook, want ondertussen staat de teller op 28. Ze gaven elkaar het ja-woord in New York, Amsterdam, Antwerpen en Parijs. Maar dan sloeg het noodlot toe en werd Julian ziek. Heel ziek. Zes weken later hield Fleur haar stervende vrouw in haar armen.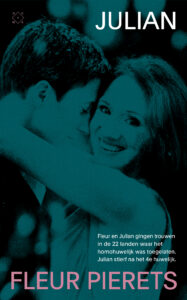 En dan was er het moment waarop ik wist dat ze nog drie keer zou ademen, nog twee keer, nog een keer.
Hoe kwam je op het idee om in 22 landen te trouwen?
'22' kwam er vanuit een gevoel van verantwoordelijkheid. In een wereld waar we in 167 landen niet mochten trouwen, vond ik het belangrijk om het net wel te doen. Trouwen met de liefde van je leven is een mensenrecht, overal. Een kunstproject trekt veel meer bekijks dan op een barricade staan. Tenzij je je bh verbrand, natuurlijk (lacht). En uiteraard is het geweldig leuk, telkens opnieuw zo'n bijzondere dag meemaken.
Hoe gaat dat praktisch, 22 keer ja zeggen?
We wilden op anderhalf jaar tijd het project rond hebben. We verkochten ons huis, al onze spullen en vertrokken met twee koffers. De paperassenberg was enorm. Ik kan me niet herinneren hoe vaak ik uitlegde dat het een symbolisch huwelijk was, omdat we anders telkens opnieuw moesten scheiden. Financieel hadden we budget voor vijf huwelijken, de rest hoopten we bijeen te krijgen via sponsoring van luchtvaartmaatschappijen, ontwerpers en hotels.
En dat bleek te lukken. Jullie kwamen in een mediastorm terecht.
Inderdaad. We kozen New York bewust als eerste locatie en deden een interview met The Huffington Post. Daarmee ging de bal aan het rollen. We werden uitgenodigd voor alle grote talkshows en kregen een hotelovernachting en kledij van o.a. Suit Supply, Tim Van Steenbergen en Leon Klaasen Bos. Dat is New York, hoe zotter, hoe beter. Maar ook ver daarbuiten was er interesse.
Uruguay hing aan de lijn om te vragen wanner we hun land zouden aandoen, dan konden ze zendtijd inplannen. Madrid en Barcelona waren aan het bekvechten om ons te mogen trouwen.
En toen, tijdens jullie vierde huwelijk in Parijs, ging het slechter en slechter met Julian. Hoe kijk je nu terug op jullie huwelijken?
Haar dood legt op alles een andere filter. Ik hou me vast aan hele mooie en intense momenten. We kregen vaak de vraag of we dat trouwen niet beu zouden worden, maar Julian kreeg elke keer tranen in haar ogen. Het blijft evenveel waarde hebben. Je staat op die plek en die woorden worden uitgesproken. Het ging niet om een land, maar om een moment van opnieuw kiezen.
Je keek het meeste uit naar bestemmingen waar veel tegenkanting is tegen het homohuwelijk.
Klopt. In Zuid-Afrika vallen elk jaar nog gewonden bij de Pride. Ook in Brazilië en Uruguay is er veel protest. Homoseksualiteit is in 71 landen illegaal, in 12 landen staat er zelfs de doodstraf op. Julian en ik kregen heel enge mails: "We gaan jullie vinden."
Ga je op één of andere manier verder met '22'?
Werken is voorlopig het enige dat me recht houdt. Heb ik niets te doen, dan loopt het scheef. Momenteel werk ik aan een kinderboek voor een reeks rond diversiteit voor het Moma in New York, over 2 meisjes, Fleur en Julian, die in 28 landen met elkaar gaan trouwen. In het boek gaat Julian niet dood en trouwen ze 28 keer.
Ik sta nog steeds elke dag op met honderden ideeën om iets te maken wat de aandacht vestigt op mensenrechten. Omdat ze op sommige plaatsen reeds zijn verworven, maar dat het verworvene desalniettemin broos blijft en niet als vanzelfsprekend beschouwd moet worden.
Meer lezen? Julian, Fleur Pierets, Das Mag uitgevers
Ik had het genoegen Fleur te bellen in het kader van een interview voor Elle.