The way she dies: Theater naar Anna Karenina
'Theater gebaseerd op Anna Karenina', met die woorden nodigde tg STAN ons vorige week uit in Leuven, voor een Vlaams-Portugese coproductie van STAN en Tiago Rodrigues, geïnspireerd op Tolstojs klassieker en uitgevoerd in drie talen – Nederlands, Portugees plus Frans als bindende taal tussen de anderstalige acteurs. Barbara (een Tolstoj-kenner) en Katrien (een Tolstoj-ketter, althans volgens Barbara) gingen kijken.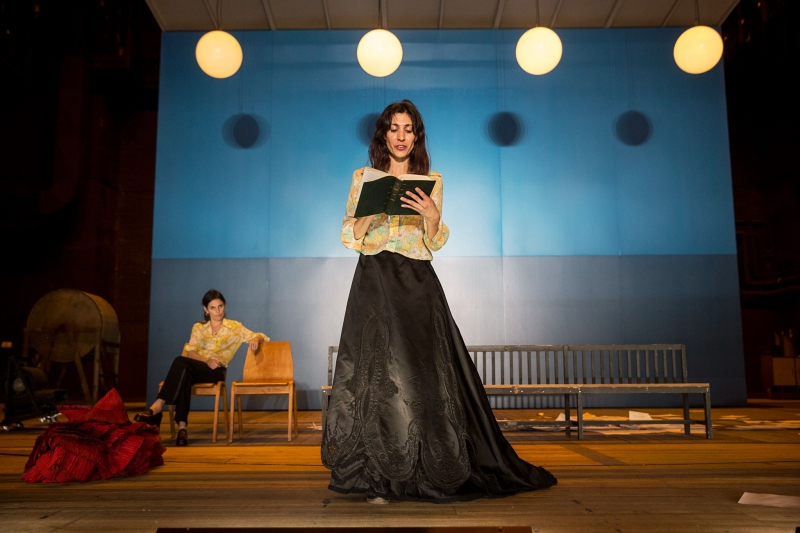 Vooraf
Katrien: "Hoewel Anna Karenina, de klassieker waarvan ik het einde wel eens wilde halen de onmiddellijke trigger was om 'ja' te zeggen tegen deze voorstelling, was ik vooral geïntrigeerd door dit zinnetje uit de perstekst: 'We weten dat een boek ons leven kan veranderen'. Anna Karenina heeft mijn leven nooit veranderd, maar andere boeken deden dat wel. Die vaststelling heeft tg STAN dus gemeen met de TIHWR-redactie. Benieuwd hoe ze van zo'n filosofische gedachte boeiend theater zullen maken."
Barbara: "Als iemand mij een dode Rus toewerpt, dan hap ik toe. Zelfs zonder eerst de perstekst te lezen (punt voor Katrien). Ik ontdek dus pas op de dag van de voorstelling (uiteindelijk maak ik mijn huiswerk wel – het gebeurt gewoon last minute) dat we naar een moderne interpretatie gaan.  Twee koppels, een Vlaams en een Portugees, staan op de rand van overspel. Hoe verandert de lectuur van 'Anna Karenina' hun leven? Lijkt me een uitstekende, zij het wat onverwachte vraag."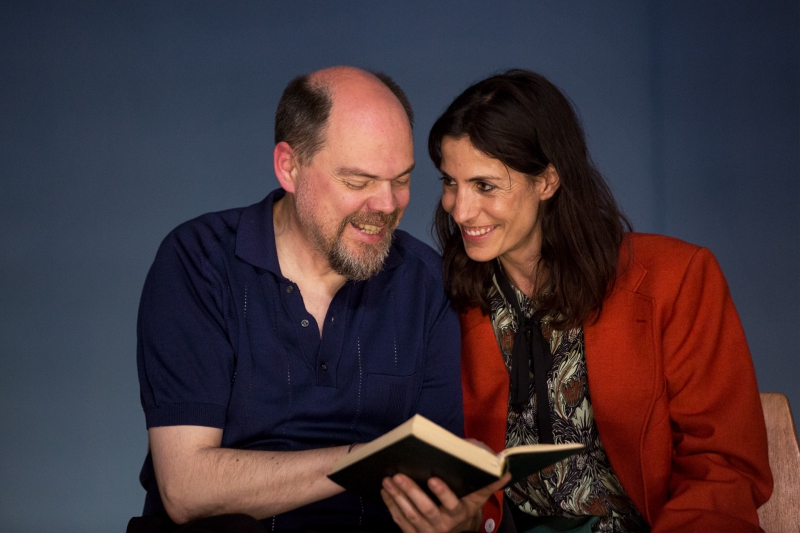 Tijdens
Katrien: "Twee koppels, twee overspelige vrouwen, één boek: de Franse vertaling van Anna Karenina. Binnen het Vlaamse koppel (vertolkt door Jolente De Keersmaeker en Frank Vercruyssen) kreeg de man het van zijn overleden moeder. Binnen het Portugese koppel (rollen van Isabel Abreu en Pedro Gil) krijgt de vrouw het van haar Franstalige minnaar.
Of hoe de gever al bepaalt of (en hoe) je een boek zult lezen.
Het personage van Frank wil niet met zijn overspelige vrouw praten voor hij 'Anna Karenina' nogmaals heeft gelezen. Alsof hij in de lijvige roman de uitweg wil vinden voor zijn impasse, terwijl hij het einde heel goed kent. Het personage van de Portugese Isabel vergroeit tijdens het lezen met Anna Karenina, ze identificeert zich compleet met de tragische heldin maar weet nog niet waar de roman op afstevent.
Of hoe de lezer een boek in de richting stuurt van een bepaalde, eigen betekenis."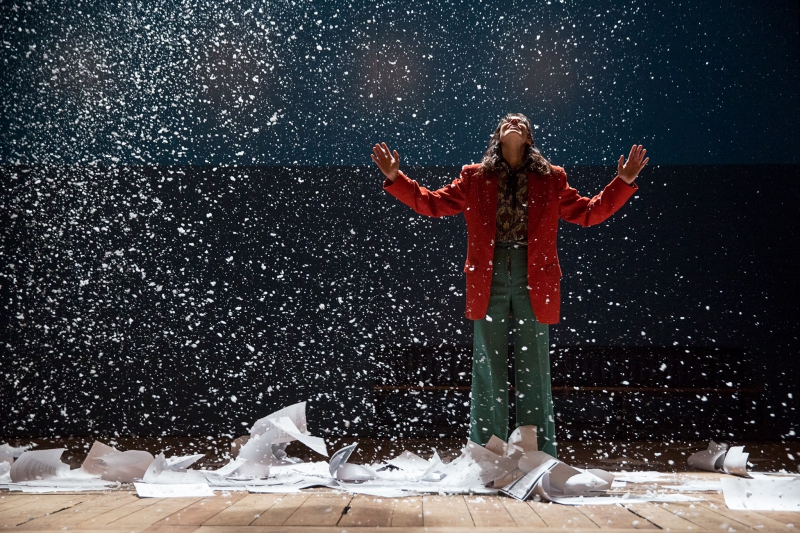 Barbara: "Terwijl de koppels op het toneel hun relatiecrisis beleven, krijgt het publiek in de Leuvense Schouwburg heel wat ideeën over lezen en literatuur geserveerd.
Een lezer onthult meer dan hij beseft, wanneer hij passages in een roman onderstreept.
Het personage van Frank koestert zijn kopie van Anna Karenina, omdat zijn dode moeder tot hem spreekt in de door haar onderlijnde fragmenten. Het personage van Isabel mag zich dan weer verantwoorden bij haar man. Waarom in godsnaam onderstreepte ze: 'Het verwonderde haar hoe gemakkelijk ze tegen haar echtgenoot kon liegen.' Ik moet meteen denken aan de boeken in mijn kast, en dan vooral aan een bepaalde verhalenbundel van Alice Munro, waarin ik veel herkenbare maar ook persoonlijke observaties ontdekte en onderstreepte. Toen mijn moeder vroeg of ze het boek van mij mocht lenen, kocht ik haar een nieuwe kopie.
Opeens hadden al die enthousiaste uitroeptekens in de kantlijn iets beschamends.
Nog een idee uit 'The Way She Dies' dat zich vasthaakt in mijn hoofd: boeken bieden een vluchtroute, een parallelle wereld. Het is duidelijk dat het personage van Frank niet wil dealen met de realiteit. Hij verschanst zich in Tolstojs boek. Hij zet het leven on hold terwijl hij leest. Het personage van Isabel zit met Anna Karenina op de trein, waar ze vaststelt dat de mensen die haar coupé delen, minder echt zijn voor haar dan de mensen over wie ze leest. Mijn dagdroom-button wordt acuut geactiveerd. Ik heb papieren vriend(inn)en die mij meer waard zijn dan bepaalde kennissen van vlees en bloed – dat is geen geheim. Maar wat zegt zoiets over menselijke relaties?"
Katrien: "The way she dies is echt ideeëntheater. Zo wordt ook de Franse vertaling onderwerp van de voorstelling. Dankzij enkele geniale woordspelingen en het drietalige einde ga je je afvragen of de vertalingen van Anna Karenina wel hetzelfde verhaal vertellen. Is elke vertaling een interpretatie, is iedere lezing persoonlijk? Genoeg gespreksstof voor twee boekenmeisjes in de foyer van het theater! Dat de Portugese vertaling veel zinnelijker klinkt dan de Nederlandse, daar zijn we het snel over eens. Verder bespreken we het hoge 'talige' gehalte van de voorstelling, in combinatie met het minimalistische spel."
Achteraf
Barbara: "Ik zou de tekst van de voorstelling graag nog eens nalezen. Juist omdat er zoveel prikkelende ideeën in zaten, hield ik mijn hoofd er niet altijd bij. Wat heb ik gemist terwijl ik over Alice Munro zat te mijmeren? En heb ik wel genoeg gelet op de ideeën over de liefde die werden gedeeld? Ik herinner me een stukje tekst gebracht door de Portugese acteur – ditmaal in de huid van de minnaar – waarin hij overspel met een vrouw gelijkstelt aan oorlog met haar man: "Ik kleed mij niet alleen voor jou, ik kleed mij tegen hem. Ik wil jou behagen en hem overwinnen!" (Citaat uit de losse pols). Mooie observatie. Heb ik wel elke parel gehoord?"
Katrien: "Een nieuwsgierige blik op de speellijst van STAN toont voorstellingen in Genève, Bordeaux, Porto… Fascinerend hoe een kleinschalig Vlaams gezelschap de internationale bühne bespeelt. Of het Portugese en Franse publiek dezelfde voorstelling hebben gezien, vraag ik me nog af. Of is dat net het punt dat deze acteurs willen maken, dat niemand ooit dezelfde opvoering ziet?"
PS: In onze contreien kan je deze unieke voorstelling nog zien op 26 maart in CC Brugge, op 27 maart in Internationaal Theater Amsterdam en op 11 en 12 mei in het Toneelhuis in Antwerpen.
PPS: Dit is al de tweede door een boek geïnspireerde voorstelling dit jaar.
PPPS: Vorig jaar waren we onder de indruk van deze marathonvoorstelling.