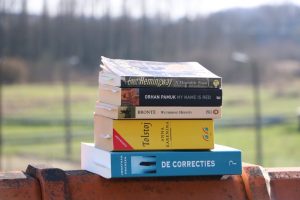 Wat hebben de vijf klassiekers op bovenstaande foto met elkaar gemeen? Juist ja, een lullig papiertje dat aangeeft hoe ver ik ben geraakt. Een reconstructie van vijf gefaalde lezingen.
A moveable feast van Ernest Hemingway
Uiterlijke kenmerken? Gestrand op p. 76, ergens in 2016… aan de beduimelde staat van de pocket te zien, belandde het afgelopen jaar in meer dan één reiskoffer.
Waarom beginnen lezen? Na de aanslagen in Parijs leek iedereen deze ode aan de lichtstad te willen lezen. Ik zag onmiddellijk een rol weggelegd voor dit boek in een tweede editie van Parijs in boeken.
Waarom gestopt? Het gebrek aan plot. Hemingway doolt, drinkt en schrijft zo maar wat doorheen Parijs.
My name is red van Orhan Pamuk
Uiterlijke kenmerken? Gestrand op p. 66, gekocht in 2006. Het Brico kasticketje tussen de pagina's verraadt een verhuis en de aanschaf van extra boekenplanken waar het boek snel stof zou vergaren.
Waarom beginnen lezen? Pamuk won in 2006 de Nobelprijs voor literatuur. Als nog niet zo lang afgestudeerde Germanist zag ik het als mijn plicht om 'mee' te zijn.
Waarom gestopt? Ik knapte af op de dierenpersonages. Nooit een fan geweest van sprekende dieren.
Wuthering heights van Emily Brontë 
Uiterlijke kenmerken? Eveneens gestrand op p. 66 (ik ontwar plots een rode draad). Een boarding kaart voor een vlucht naar Girona uit 2003 doet vrezen dat dit boek heeft teleurgesteld als vakantielectuur.
Waarom beginnen lezen? Kate Bush is de enige schuldige in deze zaak. Ik wilde die Heathcliff waar ze zo naar smachtte wel eens beter leren kennen.
Waarom gestopt? Omdat 19de-eeuwse romantiek soms ook gewoon heel saai kan zijn. En is Heathcliff niet gewoon een jerk? 
Anna Karenina van Tolstoj
Uiterlijke kenmerken? Gestrand op p. 539. Uitgave uit 1995. Geen verdere aanwijzingen.
Waarom beginnen lezen? Als tiener was er een periode dat ik correspondente vanuit Moskou wilde worden. Een hang naar tragiek en ondoorgrondelijkheid zaten daar zeker voor iets tussen. Anna Karenina was mijn eerste object van research.
Waarom gestopt? Ik vrees dat de lengte van het boek in combinatie met die trage 19de-eeuwse liefdesrelaties me hebben genekt. Dat het zo'n pocketeditie met kleine lettertjes was, heeft niet geholpen.
De correcties van Jonathan Franzen
Uiterlijke kenmerken? Gestrand op p. 318. De parkeerboete uit de kerstdagen van 2010 tussen de pagina's is hopelijk wel vereffend en doet vermoeden dat ik voor Kerstmis 2010 een boekenbon heb gekregen.
Waarom beginnen lezen? Franzen was destijds een Amerikaanse hype waar je niet omheen kon.
Waarom gestopt? I was just not that much into him. Ik heb het geprobeerd maar er was geen klik.
Heb jij één van deze vijf boeken gelezen? Heb ik me schromelijk vergist en wordt Wuthering Heights net razend romantisch op p. 67 of zit er in A moveable feest een ingenieus subplot verscholen? Laat het me weten, misschien, heel misschien probeer ik het dan nog wel eens!