Getest: Bologna Children's Book Fair
Na onze passage op de Frankfurter Buchmesse zijn wij helemaal verhangen aan de hectische sfeer – Vibrant! Hot! Happening! – van de literaire beursvloer. Toen we hoorden dat (kinderboeken)auteur/columniste/vriendin Valerie Eyckmans begin april naar Bologna zou afzakken voor de Children's Book Fair, bombardeerden we haar meteen tot This Is How We Read gastredactrice. Bij deze!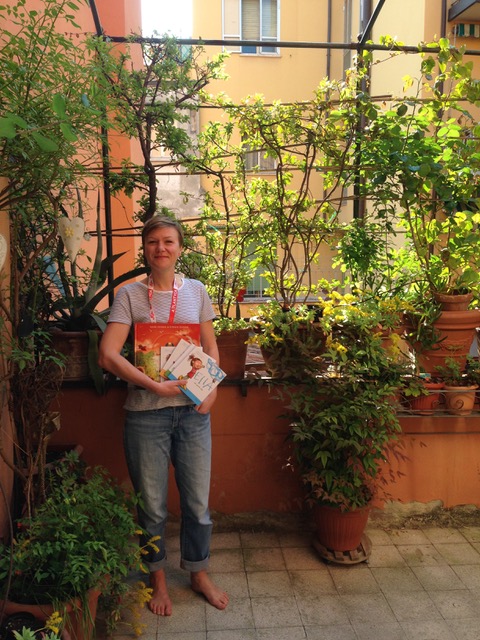 Mijn eerste keer – #BCBF 2017
Als Reizende Oom Roel uit De Freggels, zo voel ik me wanneer ik op een kille maandag om half negen 's ochtends onder de monumentale portici van Bologna loop, met in mijn schoudertas
mijn kostbaarste bezit van dat moment: een toegangsticket voor de Bologna Children's Book Fair, mijn vijf prentenboeken en een busticket
naar de Fiera, het gigantische gebouwencomplex waar de beurs plaatsvindt.
Ik ben gek genoeg lichtjes nerveus, hoewel ik geen idee heb waar ik me aan moet verwachten. Ik weet alleen wat ik gehoord en gelezen heb, en dat is dat de Bologna Children's Book Fair wereldwijd zowat de belangrijkste ontmoetingsplaats is voor uitgevers en makers van jeugd- en kinderboeken, die er vier dagen lang massaal (vertaal)rechten proberen te kopen en verkopen, maar evengoed komen trendspotten en talentscouten.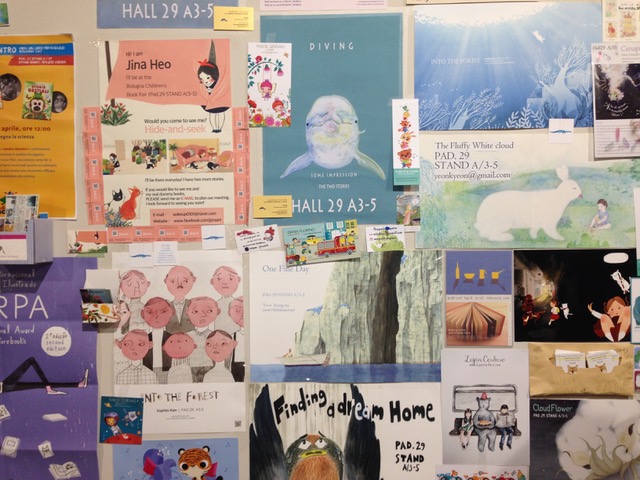 Hoe dichter we bij de Fiera komen, hoe meer figuren er op de bus stappen met hippe outfits en gigantische mappen onder de arm: illustratoren die hopen hun portfolio aan een uitgever te kunnen tonen op een van de open viewings die er georganiseerd worden, of – in het slechtste geval – een plaatsje willen bemachtigen op de befaamde Illustrator's Wall, een cluster van blanco panelen waar jonge leeuwen hun werk kunnen hangen, al moeten ze daarvoor vroeg uit de veren komen: amper een kwartier na openingstijd hangen de muren al quasi vol.
Het niveau is hoog, de concurrentie bijgevolg moordend.
Hoewel ik doorgaans een arm zou willen geven om te kunnen tekenen (liefst de linkse dan), ben ik voor een keertje niet jaloers op het ras der illustratoren.
Hoewel. 'Voor auteurs is het nog moeilijker,' mailt illustrator Kristof Devos me, wanneer ik hem ruim twee maanden voor vertrek mail of hij tips heeft. Hij bezocht de beurs het voorgaande jaar net als ik met steun van deAuteurs. 'Onze tekeningen kunnen in alle talen begrepen worden, maar met woorden ligt dat anders.' Wijze woorden, die kloppen als een bus. Het is me niet gelukt een afspraak te maken. Dan maar veel slenteren, kijken, bladeren en absorberen.
In het Literary Agents Center slaag ik er wél in om –zij het héél kort – enkele contacten te leggen. Ik noteer een paar namen van agents die ik na thuiskomst alsnog mail.
Wordt – hopelijk – vervolgd.
Op de stand van de legendarische uitgeverij HarperCollins spot ik zowaar een echte celebrity: David Walliams, de helft van het duo uit de hilarische sketchreeks Little Britain en gevierd kinderboekenauteur, komt zijn oeuvre in persoon promoten – of pikt een snoepreisje mee. Hij poseert gewillig voor een enorme banner waar de cover van zijn jongste boek op prijkt.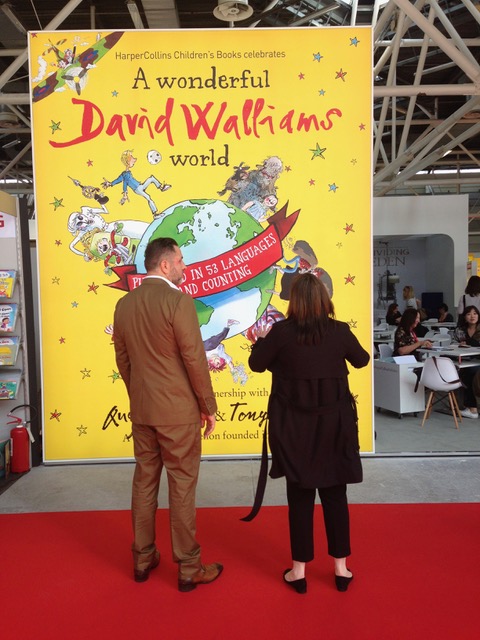 Ik wil net vragen of hij met me op de foto wil (alles voor deze blog!) wanneer ik achter hem mijn eigenste illustrator zie, Stephanie Dehennin, die met een beate glimlach zit te wachten op een viewing van haar portfolio. Bij HarperCollins! Ik steek al mijn duimen in de lucht, met de hoop dat ze genoeg heeft aan een tweetal.
's Avonds verruil ik mijn sneakers voor een paar hakken en trek ik naar de netwerkavond van het Vlaams Fonds voor de Letteren en deAuteurs,
die plaatsvindt in Casa Monica, een alleraardigst restaurant in de universiteitsbuurt. Ik praat bij met mijn eigen uitgever, die de volle vier dagen op de beurs is om te onderhandelen, schud hier en daar wat handen, en probeer me niet als een volstrekte idioot te gedragen als ik sommigen van mijn (kinder)literaire helden uit een taxi zie klimmen.
Hoewel ik als journalist mijn deel Hollywoodsterren heb geïnterviewd, lijk ik uitgerekend hier een beetje starstruck,
tussen toptalenten als Ingrid Godon, Klaas Verplancke, Gerda Dendooven (die een paar dagen later de Woutertje Pieterse Prijs zal wegkapen) en Bart Moeyaert. Gelukkig is er prosecco, verrukkelijk eten, en nog meer prosecco. En blijken mijn helden net zo toegankelijk en sympathiek (en soms prettig gestoord – ik noem geen namen) als hun boeken. Tegen de tijd dat ik weer onder de portici door wandel, is Reizende Oom Roel slechts een vage herinnering, en ben ik al op de eerste zin van mijn nieuwe boek aan het kauwen. Kwestie van nog eens terug te kunnen komen.
P.S. (Van Valerie) Ook als je geen kinderboeken maakt is Bologna een heerlijke stad, letterlijk en figuurlijk. Perfect voor een korte citytrip, of als uitvalsbasis voor een bezoek aan steden als Firenze, Modena en Pisa. Gouden tip: neem loszittende kleding mee en boek op je retourvlucht voor de veiligheid een extra zitje voor de kilo's die je geheid mee naar huis neemt. Ze noemen Bologna, met zijn waanzinnig lekkere keuken, niet voor niks 'la grassa'. Buon appetito!
P.S. (Van ons) Bij 'kinderboekenauteur' stellen mensen zich vriendelijke, aardige types voor. Valerie is dat niet altijd.
P.P.S. Dat las je goed, Kurt. Valerie zag David Walliams! We feel your jealousy, vriend.
P.P.P.S. Valeries jongste kinderboek – De jongen in de zeepbel (Van Halewyck) – kon ons zeker bekoren.