De David Walliams kerstkuur
Er zijn grenzen aan braaf zijn. Voor anders levendige kinderen kan de kattekwaadsperperiode voor Sint en Kerstman leiden tot ontwenningsverschijnselen en blessures. Bij het wekenlang braaf stilzitten raakt er al eens een ribbetje gekneld, of verschuift er soms een werveltje. Er zijn kinderen die in een beleefdheidslus verzeilen en met wazige blik voortdurend 'dagmevrouwdagmeneeralstublieftdankuwel' prevelen. Of ze veranderen in overijverige gevallen, zoals het jongetje dat een oud vrouwtje de straat over hielp. En de volgende, en de volgende, totdat er een politiecombi en een lange rit aan te pas kwamen om het uitgeputte besje weer thuis af te leveren.
Trop is te veel en te braaf is ongezond. Bovendien is deugnieterij erg bevorderlijk voor de algemene ontwikkeling.
Het op het lichtnet aansluiten van Vava's WC-bril levert bijvoorbeeld diepe inzichten in de toegepaste elektriciteit en doet wonderen met de fijne motoriek.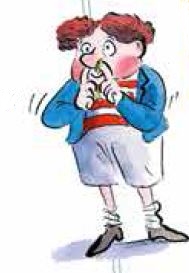 Daarom is het cruciaal dat de jongste generatie weer helemaal vief aan de kerstvakantie begint. De beste remedie is een sloot lekker stoute jeugdboeken, waarin volbloed etters zij aan zij marcheren met gediplomeerde mafketels. En dat is nu net de signature dish van auteur en acteur David Walliams, die de absurde humor van de cultserie Little Britain vlekkeloos -nu ja- in zijn kinderboeken weet te vertalen. Een kuur David Walliams onder de kerstboom en de kinderen zijn weer helemaal de oude.
Onder het motto 'het kan altijd erger' krijgen ze van papa en mama De grootste ettertjes van de wereld. Geen rommelige kamer die kan tippen aan het werk van Groezelige Gertrude, geen snottebel zo perfect als de productie van Peter de Peuteraar, geen zetelpatat zo lui als Sofia Sofa. Wat Luuk de Luizenjongen allemaal uitvreet en wat Winderige Winnie met een tuba aanvangt, laten we om kiese redenen even in het midden. In deze prachtig geïllustreerde ettertjescatalogus krijgen ongegeneerd stoute en vreselijk vieze kinderen hun verdiende loon. Soms.
Van Vava krijgen ze Opa vlucht cadeau. Een lief boek over een pracht van een opa die zich door het gewicht van de jaren weer de oorlogsvlieger waant die hij ooit werkelijk was. Na een akkefietje met een Spitfire in het Imperial War Museum moet Opa naar Huize Schemerlicht (Wij zorgen voor uw hinderlijke oudjes), onder de hoede van een bende boosaardige verpleegsters. Kleinzoon Jack is de enige die de held kan zien achter opa's verwarde façade en snelt hem te hulp. Opa vlucht wordt gedragen door de liefdevolle band tussen de jongste en de oudste generatie. Attente lezers kunnen ook plots vliegen met een Spitfire. Omhoog, hoger en weg!
Moemoe kan natuurlijk niet achterblijven en legt Oma boef onder de kerstboom. Bens oma is nogal doorsnee, vindt hij. Ze ziet eruit zoals dertien oma's in een dozijn. Afgezien van de geurtjes veroorzaakt door haar zelfgemaakte koolcake, dan. Nee, Ben is niet onder de indruk van zijn grootmoeder. Tot… hij ze betrapt bij het overvallen van een juwelier. Samengebracht door misdaad plant het stel de kraak van de eeuw. Oma Boef is een grappig en ontroerend avontuur over de liefde van een jongen voor zijn granny in arms.
De tante komt met Tante Troela over de brug. Vast wel. Stella erft een enorm kasteel. Het gebeurt. Haar tante Alberta haalt alles wat lelijk is uit de kast om haar nichtje te dwingen het kasteel af te staan. Ook dat gebeurt. Dat Alberta een enorme uil als handlanger hanteert, dat de verstrooide butler wel eens een geroosterde haag serveert en dat Stella lugubere vriendjes maakt in de kolenkelder, dat is minder doorsnee. Tante Alberta en Stella staan elkaar op gruwelijke manier naar het leven, totdat een onverwachte alliantie de bordjes doet keren. Naast lessen in het slopen van een Rolls-Royce krijgen jonge lezers solide advies over volwassen worden:
Beloof me da je de wonderlijke dinge om je heen zult blijve zien in je hart.
Euhm… je vindt vast ergens een familielid om Mr. Stink cadeau te laten doen. Nonkel Desiré met zijn stinkende sigaren, bijvoorbeeld. Mr. Stink is een zwerver met een geur die iedereen op de vlucht doet slaan. Behalve dan Chloe, die haar weerzin overwint en hem durft aanspreken. Chloe loopt gebukt onder de dwingelandij van een streber van een zus en een kenau van een moeder. Wanneer ze niet op school gepest wordt, tenminste. Wanneer ze Mr Stink onderbrengt in het tuinhuis gaan de poppen aan het dansen. Schijn bedriegt, in dit geurig verhaal over erbarmen en vriendschap. Mooi meegenomen: neveneffecten van Mr Stink omhelzen een diepere appreciatie van het concept 'zeep'.