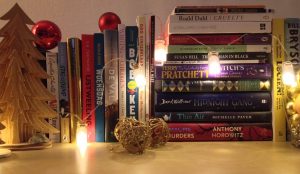 Uit het niets kwam hij naast me rijden. Zijn fietsvest was een felrode vlek op mijn uitzicht op de Schelde. Aan zijn stuur zat een fietscomputer ter grootte van een keukenaanrecht. Hij zag mijn blik en lachte breed.
'Nogal een gerief he? Het nieuwste van het nieuwste!'
Ik bromde wat en hoopte dat hij gauw in mijn wiel ging zitten. Of als een raket zou wegscheuren, voor mijn part.
Als het om het oprotten van opdringerige wielertoeristen gaat, zet ik graag mijn trots opzij.
'Kijk!', zei hij. 'Het heeft ongelofelijk veel mogelijkheden. Alle gewone functies, zoals snelheid en trapfrequentie, en nog veel meer.'
Hij keek achterdochtig naar mijn stuur. Mijn piepkleine fietscomputer was morsdood. Ik was er nooit toe gekomen om de batterij te vervangen. Ik had het aangeschaft omdat ik gelezen had dat boven zestig kilometer per uur meikevers door je fietsbril knallen en niet gewoon braaf uit elkaar spatten. Het bleek een nutteloze aankoop. Er zijn weinig meikevers.
'Het meet op elk moment mijn geleverd vermogen', ging hij verder. 'Hier zie je mijn hartslag en de verbrande calorieën. Kijk! De gps houdt mijn route bij en deelt het in realtime met mijn maten!'
'En met je mama, die met een nieuwe binnenband stand-by in de auto zit en uitrukt wanneer je langer dan tien minuten stilstaat.' Ik dacht het, maar zei het niet.
'Het nieuwste van het nieuwste!', zei hij. 'Kijk! Hier zie je zelfs mijn verzuringsgraad en mijn lichaamstemperatuur!'
Ik vroeg me af waar de thermometer zat en probeerde vooral niet naar zijn zitvlak te staren.
Zijn gadget begon me de keel uit te hangen. Ik schakelde op en begon sneller te trappen. Het ding begon onnozel hard te bliepen.
'Niet… zo… snel…', hijgde hij, 'Kijk! Ik zit… boven… mijn… overslagpols.'
'Vent, bliep het af met je mobiel lunapark!' Ik dacht het, maar zei het niet.
Hoe leg ik die hansworst uit dat je mijn plezier in wielrennen niet kan meten, of uploaden naar de Cloud? Dat ik geniet van het zoemen van banden op asfalt? Van de zon of de kou op mijn gezicht? Dat ik geniet van het armworstelen met Newton in scherpe bochten? Dat ik tig nieuwe routes ontdek tijdens het vreselijk verloren rijden? En dat ik, bovenal, meest van al, in alle rust geniet van de ruimte om te dagdromen?
Dagdromen over de geruststellende gedachte dat fazanten die graag hun kop door een voorwiel steken vanzelf uit de genenpoel verdwijnen, bijvoorbeeld, terwijl ik uitweek voor een koppig exemplaar. Zijn gps had de recentste fazanteninformatie niet gedownload. Misschien kon hij beter gewoon op de weg letten. 'Kijk! Een fazant!', riep ik nog.
Hij gaf geschrokken een ruk aan zijn stuur, miste het beest rakelings en hobbelde de Scheldedijk af, om met een juweeltje van een plons in een eendenvijver te eindigen. Hij kroop proestend weer aan wal, waar hij tot halfweg zijn knieën in de modder zonk. Lange slierten groen eendenkroos lagen over zijn helm en zijn rode fietsvest gedrapeerd.
Ik had nog nooit een kerstboom zo beteuterd zien kijken.
Ik moest lachen. Van krampachtig je lach inhouden kunnen allerlei vliezen scheuren, dat is geweten.
'Nondenondenonde. Nondenondenonde!', zei hij. 'Mijn nieuwe fietscomputer om zeep. En het was nog wel…'
'… het nieuwste van het nieuwste?' Ik dacht het, en ik zei het.
'… een kerstcadeau van mijn dochter', zei hij.
Shit.
Hij nam zijn helm af en wreef het kroos uit zijn ogen. Hij ging langzaam door zijn knieën en liet zich op zijn achterste vallen, kwansuis in de modder. Hij veegde achteloos de brij van zijn helm.
'Hoe ga ik nu thuis geraken, zonder gps? Vanavond vieren we kerstavond. Ik had beloofd op tijd thuis te zijn. Het is de eerste kerstavond met mijn dochter er weer bij, sinds ze… sinds…'
Zijn stem brak. Mijn hart volgde.
Ik banjerde door de modder en sprong in de poel. Jezusmina, wat was dat koud. NV Boekenknecht, frozen nuts. Ik roerde op de tast door de smurrie, haalde zijn fiets tevoorschijn en waadde naar hem toe.
'Kom', zei ik. 'Spring erop. Snel. We rijden naar mijn huis. Ik heb een douche om je buitenkant te verwarmen. Ik heb single malt voor je binnenkant. Daarna breng ik je met de auto naar huis. Kom. Het is niet ver. Ik ken de weg. Ik ben hier al eens verloren gereden.
Vrolijk kerstfeest iedereen!
PS: De kerstvakantie is een uitstekende gelegenheid om columns klaar te stomen voor onze zomerse columnwedstrijd! Dit jaar schoot Tyche de hoofdvogel af, die ze in de vorm van de Grootste Cupcake Van Het Heelal overhandigd kreeg door Katrijn Van Bouwel.