Kinderboeken om naar uit te kijken
Kinderboekenland trakteert de mini-mensjes in Vlaanderen deze lente op heel wat moois. Om de bomen door het (sprookjes)bos nog te zien, spitten wij de aanbiedingsfolders door. We selecteren enkele boeken die het gegarandeerd goed gaan doen in kinderhanden. Ja ok, ook in grote mensenhanden.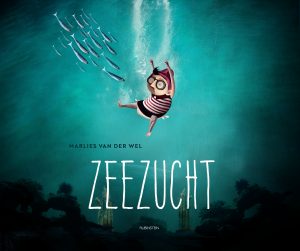 Zeezucht, Marlies van der Wal, Rubinstein
Jonas droomt van de zee. Zijn grote doel is een leven tussen de vissen kunnen leiden. En dus doet hij er alles aan om zijn droom waar te maken. Hij vindt de gekste toestellen uit, die hij maakt uit rommel die hij op het strand vindt. Marlies van der Wal maakt vertederende tekeningen die de lezer meesleuren in Jonas' wereld. Verwacht maart '17.
De jongen in de zeepbel, Valerie Eyckmans en Stephanie Dehennin, Van Halewyck
Terwijl Jonas de zee in wil duiken, is het jongetje uit Valerie Eyckmans prachtboek er in geslaagd een zeepbel te blazen en er in te duiken. Al snel kent iedereen 'De jongen in de zeepbel'. Hij reist de wereld rond, tot hij honger krijgt, een storm de kop opsteekt en een vogel zijn zeepbel wil uitbroeden. Wordt verwacht maart '17.
Verliefd, Stefan Boonen en Jan van Lierde, Van Halewyck
Louis huppelt. Hij is verliefd. Maar op wie, dat wil iedereen weten. Boonen en Van Lierde brengen het thema verliefdheid, met al z'n obstakels, tederheid en kleine en grote geluk. Schattig tot in het oneindige. Verwacht januari '17.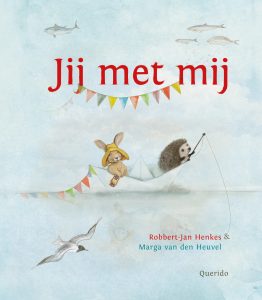 Jij met mij, Robert-Jan Henkes en Marga van den Heuvel, Querido kinderboeken.
Sommige boeken horen niet thuis in een boekenkast, maar worden beter ingekaderd en aan de muur gehangen. Neem Jij met mij: het poëzieprentenboek verwent met paginagrote afbeeldingen vol kleur, een tikje melancholie en bergen verbeelding. Daarbij speelse gedichten vol binnenpretjes. Onze vingers jeuken om niet alle pagina's meteen uit te scheuren en in te kaderen. Wordt verwacht maart '17.
Dagboek van een vlogger, T. Collins, Ploegsma
Stel: je begint als tiener een youtubekanaal en kan al snel rekenen op duizenden vloggers en een berg gratis producten. Perfect, toch? Maar grijze muis Olivia heeft een groot geheim: zij is niet het meisje uit de video's, daarvoor betaalt ze een klasgenootje. De angst om ontmaskerd te worden zit er goed in. (1O+) Wordt verwacht: maart '17.
Made by Indira, Caja Cazemier en Martine Letterie, Ploegsma
2 tienermeisjes, 2 werelden. Terra houdt van mode en nog meer van goedkope kledinggiganten. Indira wil haar bruidsschat bij elkaar krijgen en gaat tegen een hongerloon werken in een spinnerij. Als de moeder van Terra naar India moet voor het werk, gaat Terra mee. De confrontatie met de keerzijde van de medaille van T-shirts aan 4 euro is bikkelhard. Dit dubbelportret sluit naadloos aan bij de heersende vragen rond 'vuile kleding'. (12+) Wordt verwacht mei '17.
In de categorie Young Adult: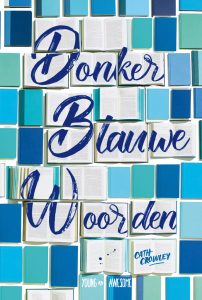 Donker blauwe woorden, Cath Crowmey, Young & awesome
Henry's vader heeft in zijn boekenwinkel een kast met boeken staan waarin iedereen mag schrijven, brieven achterlaten, ezelsoren maken… Rachel is verliefd op Henry. Voordat ze verhuist, laat ze een liefdesbrief achter in de kast. Ze krijgt nooit antwoord. Jaren later keert Rachel terug naar de stad, terug naar de boekenwinkel. (14+) Wordt verwacht april '17.
Kill the boy band, Goldy Moldavsky, Young and awesome
Vier vriendinnen huren een kamer in het hotel waar hun favoriete boysband verblijft. Door een stom toeval ontvoeren ze per ongeluk het minst populaire lid van de band. Moldavsky overgiet het fan zijn, de popindustrie en beroemdheden met een flink gepeperd en satirisch sausje. Beliebers beware! (14+) Wordt verwacht maart '17.
Was u al jaloers, waarde lezer, omdat schrijvers dezes tussen de kinder-en prentenboeken mag snuffelen onder de noemer 'Werk'? Wel, zet u dan schrap: in februari mag Thisishowweread de blogtour van Marc De Bels nieuwe boek Marie aftrappen. Het derde deel, na Ule en Mette, zoemt in op Maries leven in het stille Meenbeek. Tot een Canadese bommenwerper neerstort en de piloot verdwijnt. En, ja, u ziet al groen, hooggeëerde lezer, maar wacht, er komt nog… Bibi mag Marc De Bel interviewen. En ja, iemand moest het doen: z'n kerstvakantie wijden aan het inlezen van Ule en Mette. Maar geen zorgen, u leest er alles over op onze blog.
Ule, Mette, Marie, Marc De Bel, Van Halewyck.