Alta via: reisboekhandel anno 2015
Nog nooit was er zoveel reisinformatie beschikbaar via het internet. Toch opende Dirk Van den Berghe in 2010 reisboekhandel Alta Via in de schaduw van het MAS, op het bruisende Antwerpse Eilandje.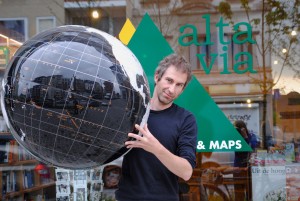 Wat is de huidige meerwaarde van een reisboekhandel?
Dirk Van den Berghe: 'De inrichting van mijn winkel is gericht op ervaringen: een gezellig interieur, een jazzy muziekje en een kopje koffie.
De meerwaarde zit echter in de service. Al het andere is vervangbaar.
Je kan alles kopen op het internet maar ik vraag me af of boekhandels verdwijnen omdat men shopt via internet of zoekt men op internet omdat de reisboekhandels verdwijnen.'
Hoe belangrijk is een goede reisvoorbereiding?
DVdB: 'Mijn motto is 'informeer jezelf'. Als je bijvoorbeeld de Katharenburcht van Montségur bezoekt zonder kennis van de geschiedenis, kan dit indrukwekkend zijn. Maar als je op dezelfde plaats staat en de achtergrond kent, is dit toch veel betekenisvoller dan onbevangen naar een hoop stenen te kijken.'
Welke types reiziger onderscheid je?
DVdB: 'Tegenwoordig heb je veel actieve wandelaars en fietsers. Zij gaan op zoek naar praktische info. Daartussen zitten ook heel wat mensen die naar Santiago of Rome stappen als spirituele ervaring. Dan heb je ook een grote groep die met de auto op streekverkenning gaat. Zij zoeken gidsen genre Michelin.
Exotisme is heel populair. Mensen willen gaan waar ze nooit eerder waren. Ik stel hier vragen bij. Men reist omdat het kan, maar niet altijd vanuit een intrinsieke interesse.'
Is lezen voor jou ook een beetje reizen?
DVdB: 'Klanten zijn vaak verbaasd dat ik nog nooit buiten Europa ben geweest. Ik amuseer me met mijn boeken. Toenmalig stadsdichter en goede vriend Peter Holvoet-Hanssen zei in de openingsrede van de winkel: 'Don't forget. Travelling is in the mind."
Dirk raadt aan:
Looking for Transwonderland, Noo Saro-Wiwa (Granta Publications Ltd): verrassende inzichten over Nigeria van de dochter van een dissidente
100% reisgidsen: populaire, goede gidsen die je niet alleen naar de toeristische trekpleisters brengen
The idle traveller, Dan Kieran (Aa Publishing): over slow travel
Het trieste der tropen, Claude Lévi-Strauss (Atlas Contact): rake observaties van een antropoloog/etnoloog
Dit interview verscheen in 2013 in het zomernummer van Psychologies.
PS: Ik vond In Londen en Ways to walk in Londen bij Altavia.
PPS: Wedden dat Johan Tuyaerts, Dirk Tieleman en Thomas Siffer hier ook te vinden zijn?