Meer lezen, een nobel voornemen, nietwaar? En eentje dat vol te houden is, in tegenstelling tot 'elke ochtend om zes uur uit bed veren', 'zeventien push ups kunnen zonder in te storten' of 'Pi tot 12 cijfers achter de komma leren afratelen'. Nee, doe ons dan maar een stapel boeken. En uiteraard leest u het hier eerst. Thisishowweread duikt in de aanbiedingsfolders voor het nieuwe jaar en selecteert enkele topboeken die op de boekhandels worden losgelaten. En om helemaal goed te beginnen, vallen er boeken te winnen.
Een oplossing voor oma, Hanne Vansteenbrugge en Jan Dircksens, Manteau
'Een goed boek voor slechte ouders' kondigt de folder aan. Want ja, elke avond voorlezen is het mooiste moment van de dag. Maar eerlijk? Je zit stiekem te geeuwen achter je zoveelste 'Drie biggetjes' sessie en kan niet wachten om met een glas wijn verder 'The Crown' te gaan kijken. Een oplossing voor oma brengt soelaas: voor de koters een leuk verhaal over het verkennen van het rusthuis van oma, voor mama en papa onverantwoorde knipogen zoals homofiele giraffen, varkens met een drankprobleem en de technieken van een seriemoordenaar. Briljant! Wordt verwacht februari '17.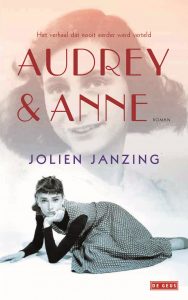 Audrey en Anne, Jolien Janzing, De Geus
2 meisjes, 2 levens. Beiden geboren in hetzelfde jaar. De één mocht leven, met ouders die meeheulden met de vijand, de ander moest onderduiken. Jolien Janzing graaft diep in de archieven en wekt de jonge Audrey en Anne prachtig tot leven. Ontdek hoe Edith verlangt naar erkenning van haar man Otto, hoe Audrey voor het verzet werkt en waarom de naam Hepburn ten tonele verschijnt. Verwacht januari '17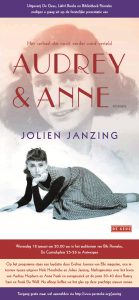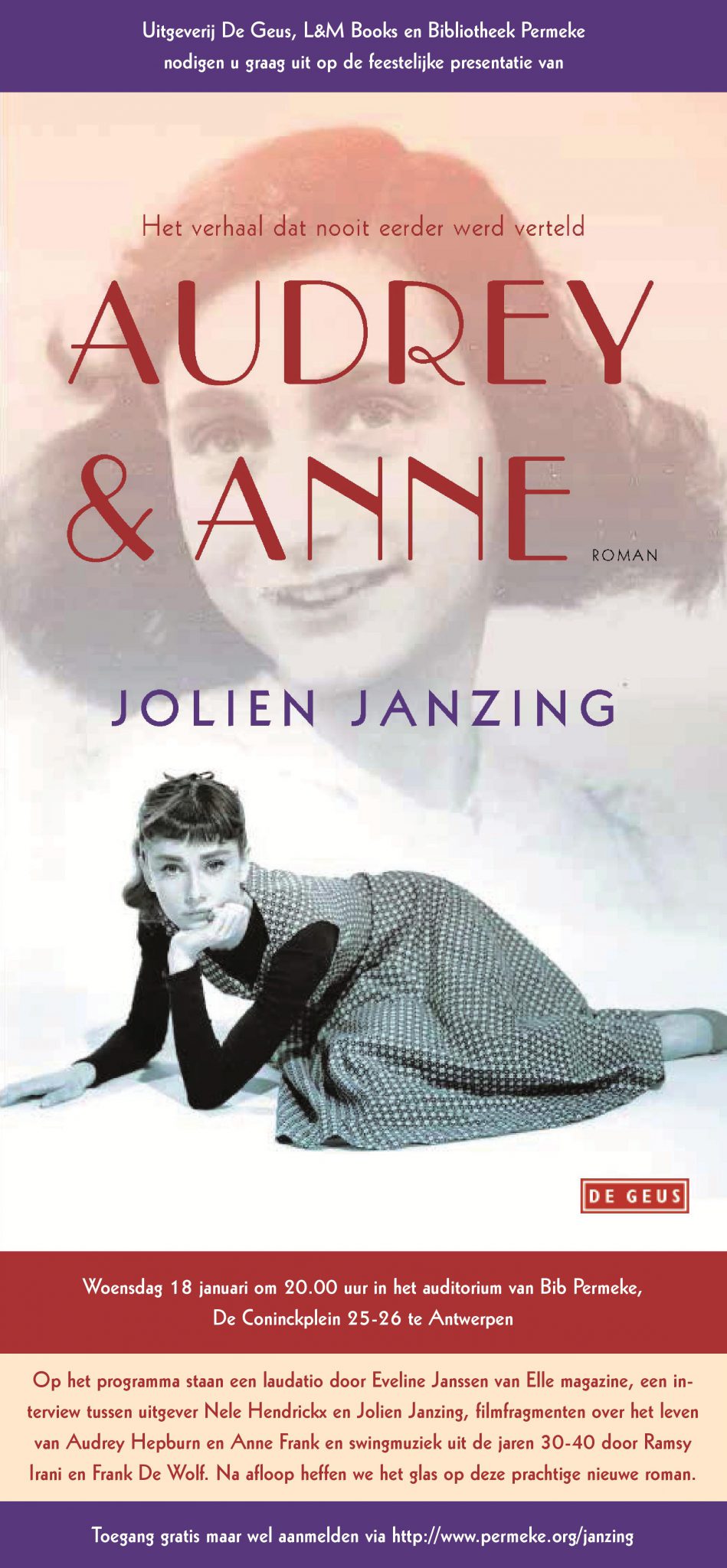 Op 18 januari mag uw boekenmeisje er bij zijn voor de boekpresentatie in Bibliotheek Permeke. Vanaf 20u worden toeschouwers getrakteerd op een interview met Jolien Janzing, swingmuziek uit de jaren 30 en 40 met Ramsy Irani en Frank De Wolf en filmfragmenten uit het leven van Audrey en Anne. Kom gerust meeluisteren naar dit boeiende verhaal en de meeslepende muziek. Ter gelegenheid van de presentatie mogen we drie exemplaren van Audrey en Anne weggeven. Wat moet je doen om kans te maken op jouw exemplaar? Reageer voor maandag 16 januari in de comments hieronder met een antwoord op volgende vraag: waarom bewonder je Anne Frank of Audrey Hepburn?. *1
The People Spotters Guide, vol. 1, Tom Borremans en Sven Van den Eynde, Manteau
Uw boekenteam is er al helemaal klaar voor: met een boek op een terras gaan zitten lezen. Afdwalen. Mensen beginnen kijken. Karikaturen spotten. Proberen niet te lachen. Weer achter het boek kruipen ter berscherming. Tom Borremans en Sven Van den Eynde durven het, een overzicht maken van alle soorten die onze beschaving kent: veiligheidspersoneel dat er zwak uitziet (de homo securitas inferioris), de bouwvakker met de bilspleet, de overjarige bimbo met foute 'botten', … Kom op terrasweer, maak voort! Verwacht maart '17.
Cocaïne, Aleksandr Skorobogatov, Cossee
Aleksandr Skorobogatov verscheen al eerder ten tonele op Thisishowweread. Na Portret van een onbekend meisje en Sergeant Bertrand staat het volgende meesterwerk klaar in de coulissen. Cocaïne is gebaseerd op een verhaald dat Skorobogatov eind jaren tachtig schreef, maar geweigerd werd door de staatsgecontroleerde media. Anno 2017 is het nog steeds spraakmakend: Skorobogatov's facebookpagina 'Cocaïne' werd geweigerd omwille van de subversieve titel. Snel dus naar de facebookpagina… voor meer cocaïne-nieuws. Wordt verwacht maart '17.
Het hedendaagse heldenboek, Rachel van de Pol, Balans
Rachel van de Pol komt in haar positieve boek met 365 manieren om de wereld te redden. Kleine dingen die u en ik elke dag kunnen doen om de wereld iets beter te maken. Registreer je als donor (check), laat een briefje achter in de trein (gaat meteen op de to do lijst), deel zomaar snoepjes uit of geef panty's een tweede leven (ideaal kattenspeeltje, zo blijkt). Rachel nam de proef op de som en verrichte een jaar lang elke dag een goede daad. Op www.ikwildewereldredden.nl houdt ze bij hoe het haar vergaat. Verwacht februari '17
Irena's kinderen, Tilar Mazzeo, Cargo
Van elk kind dat de Poolse verpleegkundige uit het getto van Warschau kon redden, schreef ze de naam en identiteit op. Zo zouden de ouders hen na de oorlog kunnen terugvinden. Tweeduizend kinderen wist deze vrouwelijke Oscar Schindler te redden. Via een geheim ondergronds netwerk in de riolen onder de stad, redt ze Joodse kinderen uit de handen van de Nazi's. Verwacht april '17.
Glutenvrij koken en bakken, Frédérique Jules / Jennifer Lepoutre / Mitsuru Yanase, Manteau
Allez dan, omdat we u graag zien. Een kookboek vol goede voornemens kan inderdaad niet ontbreken in dit lijstje. We pikken er niet zomaar eentje uit. In februari mag je de piekfijne heruitgave van Glutenvrij koken en bakken verwachten. Voor zij die minder gluten willen eten, een gezondere levenstijl nastreven of op zoek zijn naar heerlijke nieuwe receptjes met een bijzondere invalshoek. Quiche met gerookte eendenborst en gekaramelliseerde prei, Californische pizza, gnocchi met salie, een punt polenta-sinaasappeltaart of de ananas-mangocrumble?
Ook bijzonder, en eentje dat we u niet willen onthouden: #LN Fairfood. Ellen Kegels ( van LN Knits) komt met een  nieuwe fairfoodlijn, geteeld door Peruaanse boeren. U krijgt gezonde en oprechte producten op uw bord en de boeren houden er een eerlijke cent aan over. Naast de lijn producten lanceert Ellen ook haar kookboek #LN Fairfood met ongelofelijk pure en lekkere recepten.
*1 Op woensdag 18 januari maken we de winnaars bekend op onze facebookpagina en in de comments hieronder. Ben je de gelukkige winnaar? Mail ons dan voor 31 januari je naam en adres door (info@thisishowweread.be), wij bezorgen je dan zo snel mogelijk jouw exemplaar.