Mammoet: een mastodont van een graphic novel
Er zijn zo van die personages die je na bladzijde 2 wil adopteren. Theo, uit de graphic novel Mammoet van Stefan Boonen en Melvin, is zo'n hartenbreker. Avontuurlijk, boordevol fantasie en een heerlijk open blik op de wereld.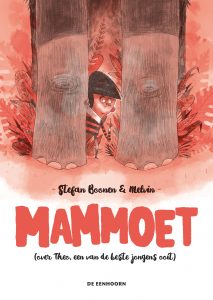 Theodore Albert Bob Prinsel de Eerste woont samen met z'n ouders in een nieuwe buurt. Hoewel, ze blinken uit in afwezigheid. Mama en papa sturen wel filmboodschappen en skypen, maar ze hebben het DRUK met hun HEEL BELANGRIJKE JOB. Theodoor is een BIJZONDER JONGETJE, voorbestemd om GROOTSE DINGEN TE DOEN, en dat wordt weerspiegeld in zijn druk dagprogramma: dansles, wiskunde, judo, yoga, … Hij en Nanny Beenhaar spurten door les na les na les. Tot Nanny Beenhaar tijd neemt voor haar dutje, en Theo op ontdekking kan gaan. Want Theo weet waar hij de oertijd kan vinden. Het is niet ver, net voorbij de struiken in de tuin.
Voor u naar de boekhandel spurt om een exemplaar te kopen van Mamoet, lees eerst even ons interview met Stefan. Dan weet u meteen waarom u voor uw petekind en uw nichtje ook ééntje moet meenemen.
Even in de stijl van Theodores vader: waar heb jij de voorbije jaren zoal uitgehangen, voordat we je tussen de bladzijden van Mammoet tegenkwamen?
Een beetje overal, zoals dat heet. Ik was in bossen en in steden. In bibliotheken en af en toe in het theater, ik heb gelezen en geschreven, ik heb geschreven en gesport, ik heb samen gewerkt en in mijn eentje zitten pennen, verhalen bedacht voor kleuters en voor oudere lezers, zelfs af en toe op AVI-niveau geschreven…. Kortom, de voorbije jaren was ik kinderboekenschrijver.
Theodore krijgt het van alle kanten ingepeperd: hij is het beste jongetje ter wereld en erg bijzonder. Echt een kind van onze tijd, met een moeder en vader die vanop afstand en via multimedia opvoeden. Uit welke kronkels van jouw brein is Theodore ontstaan? Of kwam je hem plots pardoes tegen in het park?
Het is altijd moeilijk te zeggen hoe een boek start. Deze keer was het, denk ik, met een woord: oertijd en meteen hoorde daar een beeld bij. Een jongen die op ontdekking ging in zijn nieuwe buurt. Ik wist meteen dat het een personage moest zijn voor de lijn tussen realiteit en verbeelding niet zo dik was. Wat voor buurt dat was, waarom hij daar in zijn eentje liep, hoe het met zijn ouders zat? Op die vragen heb ik stapje per stapje een helder antwoord gezocht. Daarnaast wilde ik ook iets zeggen over kinderen van wie te veel verwacht wordt, over ouders die ten allen prijze willen dat hun kind bijzonder is. Uiteraard heb ik een beetje overdreven – alhoewel – daar ben ik nu eenmaal goed in.
Ook een geniaal schrijver heeft tekentalent nodig om zijn briljante ideeën vorm te geven. Hoe verloopt de samenwerking met Melvin?
Meestal gaat het als volgt. Ik heb een ruw idee, een thema, iets waarvan ik een eerste versie op papier zet. Die eerste versie mag dan samen met Melvin en mij naar de kust of de Ardennen. Tijdens zo'n weekend denken we na over personages, scherpen we het thema aan, volgen we regelmatig een fout spoor. Er wordt gewandeld, geschrapt, gelachen, geschetst en uiteindelijk gaan we naar huis met een hoop min of meer bruikbare ideeën en verhaallijnen.
Er volgen nieuwe versies van het verhaal en Melvin en ik zitten ook daarna nog vaak samen om van de illustraties en de tekst één geheel te maken. Het is intensief en prettig samenwerken.
Theodore en zijn fantasie voeren ons mee tot in de prehistorie. Van een overbeschermd bestaan naar de gevaren uit de oertijd?
In het geval van Theo gaat het over een verlaten pretpark dat niet alleen de Oertijd heet, maar waar het ook de oertijd is. Het is bovendien een plek die (eigenlijk) alleen toegankelijk is voor kinderen. Een plek waar hij op verkenning kan gaan, voor zichzelf moet zorgen, vriendschap vindt. En vooral, een plek waar niet alles netjes is geregeld door zijn ouders. Kinderen hebben dat soort plaatsen, zowel in tijd als in fysieke ruimte, nodig.
Mocht jij een huismammoet houden, hoe zou deze heten?
Onze huismammoet heet Theo.
Welke dolle projecten staan nog op stapel?
Melvin en ik hebben al de basis gelegd voor een nieuw boek. Het wordt opnieuw een graphic novel. En aan dat verhaal hangt er een tussendoor-projectje vast; een mini-uitgave met tips van Max Halters. Wie hij is, kom je dan weer te weten in dat volgende boek. Daarnaast gaat binnenkort de jeugdboekenmaand van start. Er staan veel lezingen op het programma en ook nog wat voorstellingen van Hier waakt oma.
Is er iets dat je nog graag zou vertellen?
Op zaterdag 18 maart is het weer Kinderboekendag. In een heleboel boekhandels zijn er dan kinderboekenmakers te gast. Er wordt dan voorgelezen en getekend, er zijn workshops en bijzondere samenwerkingen. Alleen daarheen!
Mammoet, Stefan Boonen en Melvin, De Eenhoorn
P.S.: Stefan stelde net zijn nieuwste boek voor, Verliefd, over Lowie, die misschien wel, misschien niet verliefd is.