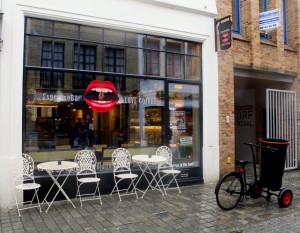 Leesplekjes spotten! Als de boekenmeisjes op stap gaan, houden we regelmatig halt voor een koffie en een goed boek. Op de zowat druilerigste dag van het jaar stoppen Eveline en ik daarom in I love coffee in Brugge, dat zich sinds 2013 profileert als één van de betere koffiezaken van de stad. Het strakke interieur (ontstaan in samenwerking met Dutch Attitude) is een mix van steigerhout en staal en heeft verrassende accenten met lampen van koffielepeltjes en deurklinken van esspressomachinehendels. Overal zie je het catchy logo met een koffieboon tussen knalrode lippen. Zaakvoerder Koenraad Desmet komt even bij onze black coffee en latte date zitten.
Koenraad is een barista met ambitie: "Ik streef naar de perfect gezette koffie. Dat begint al met het water dat via een proces van omgekeerde osmose wordt verrijkt met mineralen. Dan is er natuurlijk de koffiebrander. Vroeger had ik mijn eigen brander maar nu doe ik beroep op Labath in Gent."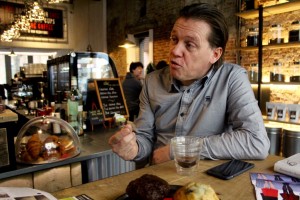 Wat zijn de laatste trends zijn op vlak van koffie?
KD: "België heeft geen koffiecultuur. De horeca besteedt er onvoldoende aandacht aan. Restaurants kiezen voor de leverancier die de koffiemachine komt installeren en die gratis koffietassen bijlevert. Zelf investeerde ik in de Ferrari onder de koffiemachines, een La Marzocco.
De meeste Bruggelingen zijn bovendien heel traditioneel en durven nog wel eens binnenkomen voor 'nen kaffe' of 'nen deca'. Er komen hier dus vooral toeristen over de vloer.
Amerikanen en vooral Australiërs zijn echte koffiekenners. Het gebeurt dan ook vaak dat toeristen ontbijten in hun hotel, maar naar hier komen voor een koffie. Ik volg de Australische koffiecultuur via vrienden op Facebook. Mijn flat white bijvoorbeeld is echt Australisch geïnspireerd."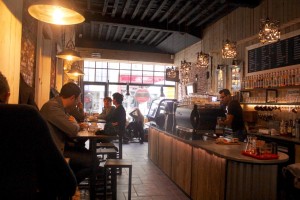 Wat is jouw favoriete koffie?
KD: "Ik verkies de black coffee. Deze koffie heeft een single origin, dat wil zeggen dat hij gemaakt is van één welbepaalde boon van één plantage. De black coffee is een slow coffee want het is een filterkoffie. Hij is minder bitter dan een espresso want gezet op lagere temperatuur. De smaak is heel bijzonder en niet voor iedereen weggelegd. Deze koffie serveer ik altijd zonder melk.
Zomaar melk of suiker toevoegen in je koffie is zonde. Je vraagt toch ook geen peper en zout in een sterrenrestaurant.
Wil je wel melk, dan zijn er de lattes en consoorten die speciaal zijn afgestemd om melk toe te voegen. De koffie in een latte is bijvoorbeeld sterker omdat de melk het geheel verzacht. Ik ben op dat vlak wel een pietje precies. Wist je bijvoorbeeld dat je in een Irish coffee niet mag roeren?! Het is belangrijk dat je de room raakt met je bovenlip en de koffie met je onderlip, pas in je mond mogen die twee zich vermengen."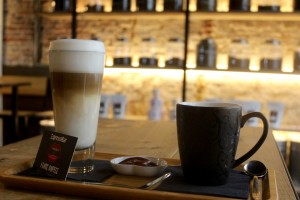 Hoeveel koffie drink jij per dag?
KD: "Ik drink iedere dag zo'n 1 à 2 l. De truc is om geen lungo's te drinken, die nemen meer cafeïne op omdat er meer water door de koffie loopt. Drink beter een Americano, dat is een espresso verdund met water."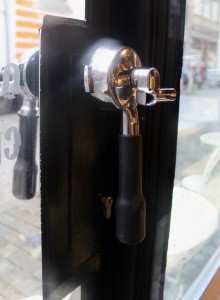 Hoe kan je een goede koffiebar vinden?
KD: "Check Beanhunter, de Tripadvisor van de koffie of lees gespecialiseerde magazines als Caffeine en  Koffie t cacao. Zelf heb ik ook mijn adresjes. In Gent is er natuurlijk Labath, in Leuven ga ik naar Mok, in Antwerpen naar Normo, in Kortrijk naar Viva Sara en in Brussel naar Aksum."
I love coffee, Sint-Jakobsstraat 10, 8000 Brugge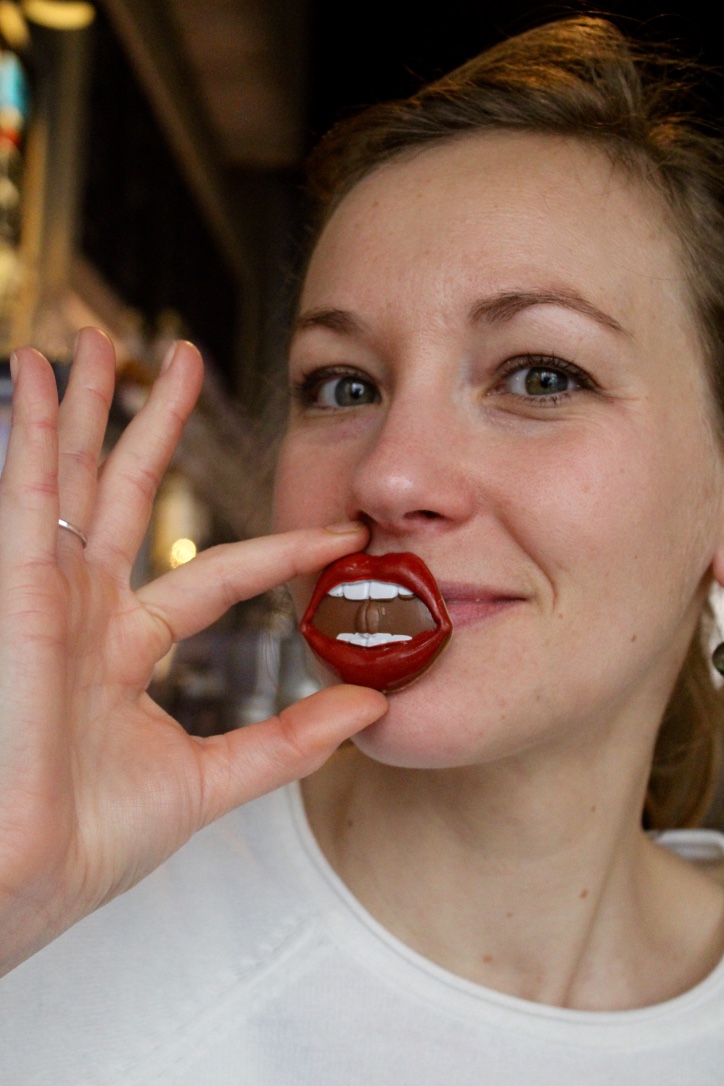 Op zoek naar een goed koffieboek?
Er is tenminste koffie, Ilka De Bisschop, Houtekiet: een heerlijke roman over de combo koffie-kantoor en 4 jonge collega's en hun angst om dertig te worden. Been there, done that!
Puur koffie, Katrien Pauwels, Lannoo: Katrien wijdt je in in de 'correcte' koffie. Voor de liefhebbers van het betere koffiewerk.
I love koffie, Anette Moldvaer, Veltman: Ontdek je innerlijke barista en leef je uit met latte art.