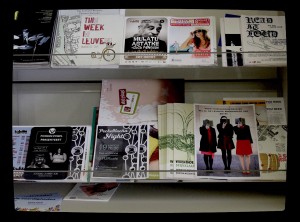 Wat is er leuker dan op zaterdagnamiddag 'het stad' in te trekken en je met een boekje en een koffie te settelen in een koffiebar. Ik trok afgelopen weekend naar Leuven en maakte van de gelegenheid gebruik om de studentenstad PRgewijs te bedelven onder This is how we read flyers.
Wat zijn de leukste Leuvense leesplekjes? Ik stelde de vraag op de Facebookgroep Leuven Leest en kreeg een hele reeks suggesties zoals de Kruidtuin, het Begijnhof, de Abdij van 't Park en het kasteelpark van Arenberg. Nu was het afgelopen weekend wel terrasjesweer maar nog net niet zomers genoeg voor boeken in het park. Gelukkig kon ik op de volgende plekjes wel terecht:
Noir koffiebar, Naamsestraat 49: Deze trendy zaak zou de beste koffie van Leuven serveren. Ik test een lekkere ijsthee van citroenmelisse uit. De sfeer is los, de barista's slaan graag een babbeltje. Opvallend is dat heel veel mensen hier alleen zitten, met een boek of de krant maar vooral toch achter hun Mac. Het is hier dan ook heerlijk rustig om te lezen.
De Dry Coppen, Schrijnmakersstraat 11: In deze boekhandel kan je ook terecht voor een kop koffie aan een grote tafel boordevol tijdschriften of in één van de knusse zetels. De boeken zijn er met zorg geselecteerd en tussen de lezers spotte ik zaterdag ook Rudi Vranckx. Jammer sluit deze zaak binnenkort de boeken (letterlijk en figuurlijk).
Bibliotheek Tweebronnen, Rijschoolstraat 4: Deze bibliotheek in het centrum van de stad heeft zijn eigen café en terras en ook in het bibgedeelte kan je je installeren met een boek in één van de vele fauteuils. De architectuur is licht en ruim, volgens de principes van architect Henry Van de Velde.
Andere leuke plekjes om te lezen zijn het café van Kunstencentrum Stuk, Café Entrepot aan de Vaart of koffiebar Onan. En wil je helemaal out of the box lezen, ga dan voor een boek met gin-tonic in De Baron of met pastis in Les Parisiennes.
Moet je eerst nog een boek kopen? Vergeet dan zeker deze mooie boekhandels niet.
Boekhandel Boekarest, Ladeuzeplein 12: De selectie in deze boekhandel kan je vergelijken met die van De Dry Coppen.  Kwalitatief en kleinschalig!
De Kleine Johannes en Duimelot, Tiensestraat 47: De place to be voor kinderboeken.
De Filoloog, Tiensestraat 6: In deze literaire outlet vind je ook heel veel literaire hebbedingen.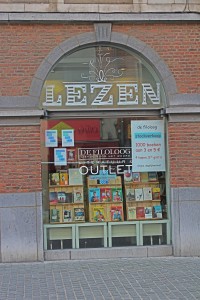 Het Besloten Land, Parijsstraat 16 en 

Gobelijn

, Mechelsestraat 35: Leuven telt maar liefst twee stripspeciaalzaken.
Niet van Leuven, maar wel op zoek naar een onafhankelijke boekenwinkel?! Kijk dan even op Confituur. Deze site bundelt kwaliteitsvolle boekhandels.
En wat zijn jouw favoriete leesadresjes?