Met het weekend als een fata morgana in het vizier laten we nog wat leuke leeslinks op je los…
Je droomt al van een heerlijk leesweekend waarbij de wereld even niet bij je mag komen aankloppen. Le Monde lijst hun 100 beste boeken van de eeuw op zodat je rustig een stapeltje leesvoer kan inslaan.
Heb je een lijstje klaar? Rep je dan naar Boekhandel Salvator in Mechelen… En niet alleen omdat boekhandel-poes Oslo extreem knuffelbaar is en zelfs een eigen facebookpagina heeft…
Wie afwisselend extreem knuffelbaar of duivels gevaarlijk kan zijn, is verhalenvertelster A.G. Marin. Net online met haar nieuwe blog, dus zeker in het oog houden.
Even testen of je verslaafd bent aan lezen? Dat kan… 25 signalen om op te letten.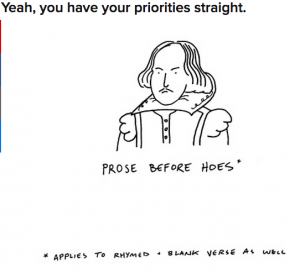 En als die verslaving blijkt te kloppen, serveren we hier meteen je ergste nachtmerrie… of wat er zoal mis kan gaan met een boek.
Is je boek in het bad gevallen of in de soep gedraaid? Willebroeks (bevooroordeeld?) dichter Jürgen Nakielski publiceert regelmatig nieuw werk op zijn blog.
En voor wie dit weekend echt, echt, echt te veel tijd heeft: hier een ideetje om op een andere manier met boeken bezig te zijn.
Tot maandag!