Dubbelinterview Lize Spit en Adeline Dieudonné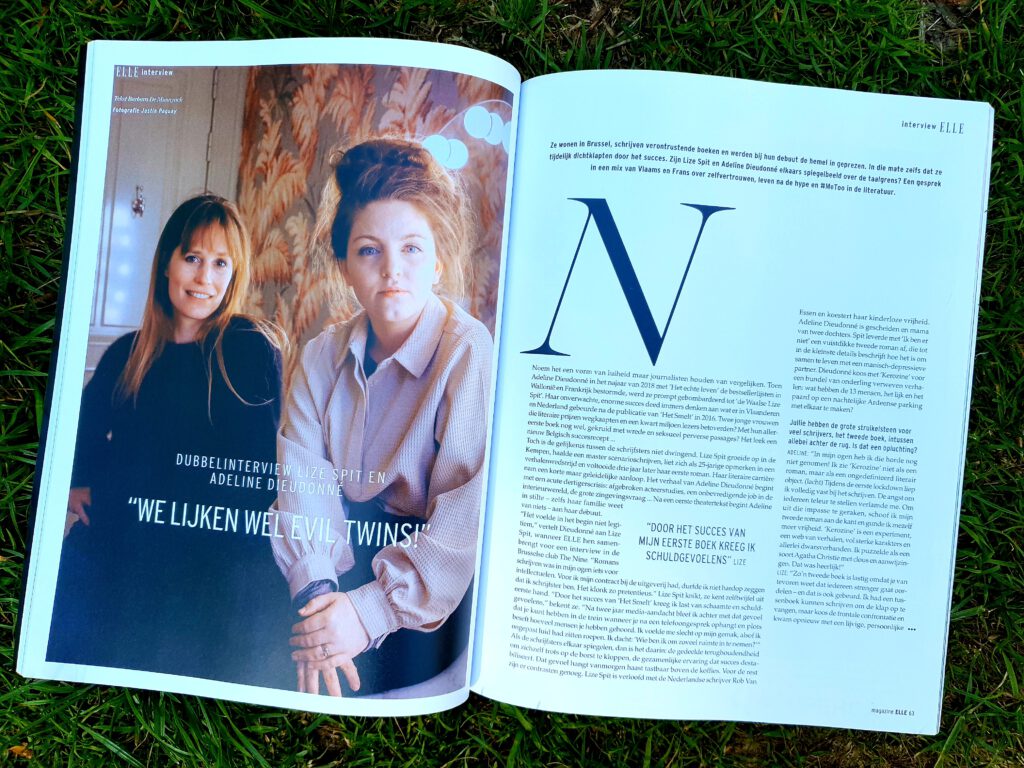 Ze wonen in Brussel, schrijven verontrustende boeken en werden bij hun debuut de hemel in geprezen. In die mate zelfs dat ze tijdelijk dichtklapten door het succes. Zijn Lize Spit en Adeline Dieudonné elkaars spiegelbeeld over de taalgrens? Een gesprek in een mix van Vlaams en Frans over zelfvertrouwen, leven na de hype en #MeToo in de literatuur.
Noem het een vorm van luiheid maar journalisten houden van vergelijken. Toen Adeline Dieudonné in het najaar van 2018 met Het echte leven de bestsellerlijsten in Wallonië en Frankrijk bestormde, werd ze prompt gebombardeerd tot 'de Waalse Lize Spit'. Haar onverwachte, enorme succes deed immers denken aan wat er in Vlaanderen en Nederland gebeurde na de publicatie van Het Smelt in 2016.
Twee jonge vrouwen die literaire prijzen wegkaapten en een kwart miljoen lezers betoverden? Met hun allereerste boek nog wel, gekruid met wrede en seksueel perverse passages? Het leek een nieuw Belgisch succesrecept…
De gelijkenis tussen de schrijfsters is nochtans niet dwingend. Lize Spit groeide op in de Kempen, haalde een master scenarioschrijven, liet zich als 25-jarige opmerken in een verhalenwedstrijd en voltooide drie jaar later haar eerste roman. Haar literaire carrière nam een korte maar geleidelijke aanloop. Het verhaal van Adeline Dieudonné begint met een acute dertigerscrisis: afgebroken acteerstudies, een onbevredigende job in de interieurwereld, de grote zingevingsvraag… Na een eerste theatertekst begint Adeline in stilte – zelfs haar familie weet van niets – aan haar debuut.
"Het voelde in het begin niet legitiem," vertelt Dieudonné aan Lize Spit, wanneer ELLE hen samenbrengt voor een interview in de Brusselse club The Nine. "Romans schrijven was in mijn ogen iets voor intellectuelen.
Voor ik mijn contract bij de uitgeverij had, durfde ik niet hardop zeggen dat ik schrijfster ben. Het klonk zo pretentieus."
Lize Spit knikt, ze kent zelftwijfel uit eerste hand. "Door het succes van Het Smelt kreeg ik last van schaamte en schuldgevoelens," bekent ze. "Na twee jaar media-aandacht bleef ik achter met dat gevoel dat je kunt hebben in de trein wanneer je na een telefoongesprek ophangt en plots beseft hoeveel mensen je hebben gehoord. Ik voelde me ongemakkelijk, alsof ik ongepast luid had zitten roepen. Ik dacht: 'Wie ben ik om zoveel ruimte in te nemen?'"
Als de schrijfsters elkaar spiegelen, dan is het daarin: de gedeelde terughoudendheid om zichzelf trots op de borst te kloppen, de gezamenlijke ervaring dat succes destabiliseert. Dat gevoel hangt vanmorgen haast tastbaar boven de koffies. Voor de rest zijn er contrasten genoeg. Lize Spit is verloofd met de Nederlandse schrijver Rob Van Essen en koestert haar kinderloze vrijheid. Adeline Dieudonné is gescheiden en mama van twee dochters. Spit leverde met Ik ben er niet een vuistdikke tweede roman af, die tot in de kleinste details beschrijft hoe het is om samen te leven met een manisch-depressieve partner. Dieudonné koos met Kerozine voor een bundel van onderling verweven verhalen: wat hebben de 14 mensen, het lijk en het paard op een nachtelijke Ardeense parking met elkaar te maken?
Jullie hebben de grote struikelsteen voor veel schrijvers, het tweede boek, intussen allebei achter de rug. Is dat een opluchting?
Adeline: "In mijn ogen heb ik die horde nog niet genomen! Ik zie Kerozine niet als een roman, maar als een ongedefinieerd literair object (lacht). Tijdens de eerste lockdown liep ik volledig vast bij het schrijven. De angst om iedereen teleur te stellen verlamde me. Om uit die impasse te geraken, schoof ik mijn tweede roman aan de kant en gunde ik mezelf meer vrijheid. Kerozine is een experiment, een web van verhalen, vol sterke karakters en allerlei dwarsverbanden. Ik puzzelde als een soort Agatha Christie met clous en aanwijzingen. Dat was heerlijk!"
Lize: "Zo'n tweede boek is lastig omdat je op voorhand weet dat iedereen strenger gaat oordelen – en dat is ook gebeurd. Ik had een tussenboek kunnen schrijven om de klap op te vangen, maar koos de frontale confrontatie en kwam opnieuw met een lijvige, persoonlijke roman. Nu ben ik er trots op dat ik dat heb gedurfd. Natuurlijk hoopte ik dat alle lezers van mijn debuut me zouden volgen, maar dat gebeurt nooit, hoe hard je ook je best doet. Ik ben teruggevallen op een derde van mijn publiek. Op voorhand was ik daar bang voor en ik moest ook even door een rouwproces. Maar ik ga door voor al wie niet afhaakt. 75.000 lezers is nog altijd veel!"
Adeline: "Wees maar zeker! Met Kerozine bereikte ik een vijfde van het publiek van Het echte leven maar in cijfers blijft dat een mooie oplage. Er zijn trouwens lezers die me enthousiast vertellen dat ze door de verhalenbundel nieuwsgierig werden naar mijn debuut. Dat geeft hoop:
het gaat niet alleen bergaf na een groot succes, elk nieuw werk is ook een nieuwe kans.
Ik werk momenteel mijn tweede, 'echte' roman af en dat lukt. Het plezier in het schrijven is nog niet 100% terug, maar ik ervaar het opnieuw als zinvol en interessant. Ik probeer niet te denken aan de mogelijke reacties."
Lize: "Sommige recensies van Ik ben er niet kwamen hard aan. Ik was tijdens het schrijven al heel kritisch voor mezelf en omdat het boek uitkwam tijdens corona waren er geen warme ontmoetingen met lezers. Begin 2021 zat ik diep, maar op dit moment ben ik gelukkig. Ik kijk uit naar de Franse, Duitse en Deense vertalingen. Ik schrijf columns en gedichten en werk voorzichtig aan een derde roman."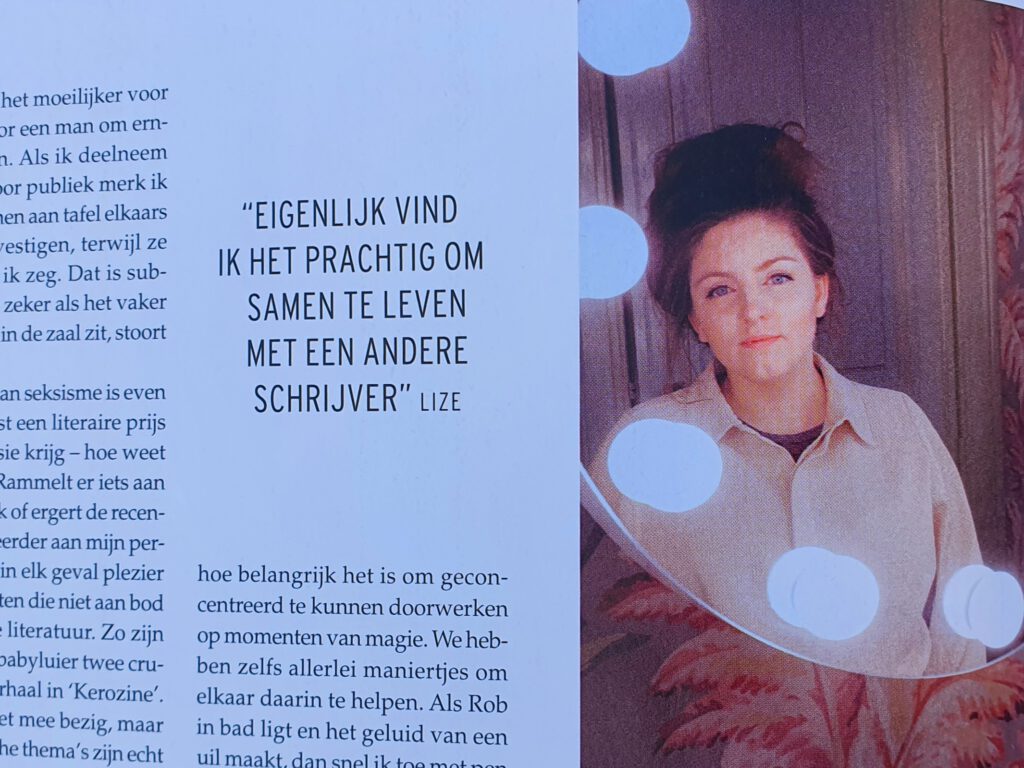 Voelen jullie verwantschap als Belgische schrijfsters? Of hebben jullie meer voeling met de Nederlandse of Franse literatuur?
Adeline: "Toen mijn uitgeefster het manuscript van Kerozine las, beweerde ze dat ze op elke pagina kon voelen dat ik geen Française ben. In België hebben we geen sterk centraal gezag en geen uniforme cultuur. We zijn het land van de creatieve knutseloplossingen. Dat geeft ons een eigen, vrije spreektoon. We gebruiken ook meer Angelsaksische leenwoorden."
Lize: "Mijn woordenschat is heel Vlaams en dat verdedig ik bij mijn Nederlandse uitgever. Ik schrijf over mijn lavabo, niet over de spoelbak (lacht). In mijn beschrijvingen kies ik voor bestaande straten en echte winkel- of merknamen. Ik ben er niet zit stevig verankerd in Brussel."
Adeline: "Het is jammer dat ik weinig Vlaamse auteurs persoonlijk ken. Ik ben bevriend met heel wat Franse schrijvers omdat ik hen voortdurend tegenkom op literaire evenementen. In België zitten we toch met de taalgrens. Er zijn initiatieven om de kloof te dichten, zoals Flirt Flamand op de Brusselse Foire du Livre, maar die hebben tijd nodig."
Lize: "Ik trek me uit de slag in het Frans, maar vertrouw voor literair werk op vertalingen. Zo blijven heel wat Waalse romans voor mij buiten beeld. Ik hou absoluut van de humor in het werk van Thomas Gunzig en van de verhalen van Caroline Lamarche. Maar als we samen op theatertoernee zijn voor Saint Amour, praat ik backstage gemakkelijker met de Nederlandstalige collega's. Een gesprek in een andere taal vraagt teveel inspanning, of toch op het moment dat ik me voorbereid op een optreden."
#MeToo bracht een schok teweeg in de muziek- en filmindustrie. Hoe ervaren jullie de gendergelijkheid in het literaire wereldje?
Adeline: "Ik voelde me nog niet vaak seksistisch behandeld. Al kreeg ik bij mijn beide boeken op een bepaald moment de vraag: 'Zit hier een man achter?' Alsof het ondenkbaar was dat een mooie, jonge vrouw over harde, agressieve thema's zou schrijven. Blijkbaar verwachten sommige mensen nog altijd dat wij vooral aan koekjesrecepten en eenhoorns denken (lacht)."
Lize: "In mijn ervaring is het moeilijker voor een jonge vrouw dan voor een man om ernstig genomen te worden.
Als ik deelneem aan een panelgesprek voor publiek merk ik bijvoorbeeld dat de mannen aan tafel elkaars ideeën meteen gaan bevestigen, terwijl ze amper inpikken op wat ik zeg. Dat is subtiel, maar wel vervelend, zeker als het vaker gebeurt.
Als mijn partner in de zaal zit, stoort het hem ook."
Adeline: "Niet elke vorm van seksisme is even zichtbaar. Stel dat ik naast een literaire prijs grijp of een giftige recensie krijg – hoe weet ik dan waaraan het ligt? Rammelt er iets aan de kwaliteit van mijn boek of ergert de recensent, man of vrouw, zich eerder aan mijn persoonlijkheid? Ik schep er in elk geval plezier in om thema's aan te kaarten die niet aan bod komen in de traditionele literatuur. Zo zijn poedermelk en een volle babyluier twee cruciale elementen in een verhaal in Kerozine. Proust hield zich daar niet mee bezig, maar zo'n alledaagse, praktische thema's zijn echt en interessant. Er zijn nog geen bibliotheekkasten over volgeschreven. Dat geeft me een vrij gevoel tijdens het schrijven."
Lize, je partner, schrijver Rob van Essen, werd op Saint Amour aangekondigd als 'Meneer Lize Spit'. Kan hij daarmee lachen?
Lize: "Als Rob een groot ego had of een toxische vorm van mannelijkheid, dan zouden we niet bij elkaar passen. Ik vond het vroeger wel eens vervelend in zijn plaats dat ik na mijn eerste boek een stuk bekender was dan hij na twaalf lovend besproken romans. Sinds hij in 2019 de Libris Literatuurprijs won, is het beter in balans. Eigenlijk vind ik het prachtig om samen te leven met een andere schrijver. We delen een werkruimte maar kunnen de ander ook perfect met rust laten. We weten hoe belangrijk het is om geconcentreerd te kunnen doorwerken op momenten van magie. We hebben zelfs allerlei maniertjes om elkaar daarin te helpen. Als Rob in bad ligt en het geluid van een uil maakt, dan snel ik toe met pen en papier zodat hij zijn inval kan noteren."
Adeline, je hebt twee dochters. Hoe bewaar jij je artistieke concentratie?
Adeline: "In alle eerlijkheid? Het is moeilijk. Ik zou mijn kinderen graag naar school brengen en dan enkele uren intensief werken – maar dat lukt me niet. Ik kan niet zo snel switchen. Daarom schrijf ik momenteel één week op twee. Als mijn kinderen bij mijn ex zijn, trek ik naar een huisje in de Ardennen. Ik sluit me op, beantwoord geen telefoons en praat met niemand. Schrijven lukt me best als ik ongestoord in mijn verhaal kan kruipen."
Lize: "Ik schuif het krijgen van een baby al een tijdje voor me uit. Ik ben 34 nu, Rob is 59. Misschien ben ik toch iemand die gaat voor haar carrière? Ik ben heel blij dat het me momenteel lukt om mijn werk en mijn vrienden en relatie allemaal een plekje te geven.
Met een kind zou het ongetwijfeld moeilijk worden. Er valt dan zoveel te plannen, terwijl ik geniet van mijn mentale vrijheid."
Adeline: "Ik heb eenzaamheid nodig om te schrijven. Of ik nu mijn kinderen of een partner in de buurt heb, ik stel mij altijd beschikbaar op voor geliefden. Ik luister naar hen, probeer aan te voelen wat ze nodig hebben – maar in die toestand kan ik niet schrijven. Daarom werkt het week-om-week ritme zo goed voor mij. Ik zou ook niet voltijds kunnen leven als de helft van een koppel."
Lize: "Moederschap is een vorm van verliefdheid – dat merk ik bij vriendinnen die net een baby hebben gekregen. Ze moeten niet alleen hun tijd anders indelen, ze gaan ook helemaal op in de ervaring. Tegelijk merk ik schroom bij jonge schrijfsters om over hun kind en moederschap te schrijven, alsof het te voor de hand liggend is. Terwijl het vader- of moederboek, vaak na ouders hun dood geschreven, een gerespecteerd genre is."
Ze zijn duidelijk nog lang niet uitgepraat, maar de tijd tikt meedogenloos weg. Lize wordt verwacht in Brugge en Adeline moet naar Parijs. Fotograaf Justin laat de schrijfsters echter niet vertrekken voor hij hun dubbelportret heeft gemaakt in een spiegel met boudoir-vibe. "We lijken wel evil twins!" lachen Adeline en Lize. Zeg dat ze hun nickname zelf hebben gekozen: de kwaadaardige tweeling van de Belgische literatuur.
WIE IS LIZE SPIT (34)
Wint met haar debuut Het Smelt (Das Mag – Franse vertaling Débâcle bij Actes Sud) o.a. de Bronzen Boekenuil en Hebban-Debuutprijs. De roman krijgt 16 vertalingen en wordt verfilmd door Veerle Baetens.
De Franse vertaling van opvolger Ik ben er niet (Das Mag) verschijnt in september 2022.
WIE IS ADELINE DIEUDONNE (39)
Wint met haar debuut La vraie vie (Editions de l'Iconoclaste – Nederlandse vertaling Het echte leven bij Atlas Contact) o.a. de Prix Première Plume, Prix Rossel en de Prix Goncourt choix de la Belgique. De roman krijgt 20 vertalingen en wordt verfilmd door Marie Monge.
De Nederlandse vertaling van Kerozène (Editions de l'Iconoclaste) is net verschenen bij Atlas Contact.
PS: Dit interview verscheen eerder, in april 2022, in ELLE België. De foto's bij het gesprek werden gemaakt door ELLE huisfotograaf Justin Paquay.
PPS: Kerozine van Adeline Dieudonné was in april ons 'Boek van de Maand', we gingen er uitgebreid over in gesprek op deze blog – Dixit Barbara: "Als lezer krijg je gaandeweg empathie voor personages die je eerst (gemakshalve) als 'weirdo' had weggezet in je hoofd." Dixit Katrien: "Normaal zeg ik: geef me alsjeblief geen roman met pratende dieren in de hoofdrol. Maar het paard in Kerozine deed me mijn mening over dierlijke personages herzien." Heb jij het boek gelezen? Laat je reactie achter onder de duorecensie en maak eind 2022 kans op een boekenpakket van 12 titels.
PPPS: Houdt Lize Spit van zichzelf? En hoe gaat dat eraan toe: een leesclub over Het Smelt? Spoiler alert: er hoort wodka bij.