Houdt Lize Spit van zichzelf?
Lize Spit (28 jaar) debuteerde dit jaar met Het smelt, een onbehaaglijk en van schaamte doordrongen verhaal over Eva, een onzichtbaar tienermeisje dat opgroeit in een disfunctioneel gezin in een Kempens boerendorp. De roman domineert al maandenlang de bestsellerlijsten, staat op de longlist van de ECI Literatuurprijs en ook de verfilming en Engelse vertaling zijn in de maak. Onze boekenknecht schreef de recensie, ik verslond de roman op de terrassen van Parijs en mocht Lize achteraf interviewen over eigenliefde voor Psychologies samen met Ruby Wax en Catherine Lacey. De korte versie van het interview las je deze zomer in het maandblad. Het volledige interview lees je hier.
Eva, het hoofdpersonage uit Het smelt heeft een negatief beeld van zichzelf. Hoe zie jij haar zelfbeeld?
"Eva is er heel erg op uit om gezien te worden maar is zo druk bezig met het observeren van haar omgeving dat ze zichzelf gaat verwaarlozen. Ze helpt de anderen en is daar het slachtoffer van. Ook in het echte leven is het geen garantie dat degenen die het vaakst helpen zelf worden geholpen. Daarnaast is heel het boek doordrongen van schaamte. Eva gedraagt zich als een jongen en is een vreemde eend in de bijt. Ze schaamt zich voor haar lichaam dat voor het eerst ongesteld wordt en voor haar gezin. Op het einde van haar jeugd schaamt ze zich zelfs voor haar vriendschap. Als Eva en haar vader hun laveloze moeder met de kruiwagen naar huis voeren schrijf ik ook letterlijk dat ze niet het gewicht maar de schaamte delen."
Welk advies zou je aan Eva geven?
"Eva zou minder moeten bezig zijn met gezien willen worden, want op termijn wordt dat een selffulfilling prophecy. Als je het gevoel hebt dat je onzichtbaar bent, dan word je ook zo. Eva raakt nooit uit de mal van iemand die gebroken is, ook niet na haar verhuis naar Brussel. Ze kan het niet loslaten en duwt zichzelf opnieuw in dezelfde rol. Ik zou haar willen adviseren: 'zorg dat je door jezelf gezien wil worden.'" 
Hoe graag zie jij jezelf?
"Sinds mijn pubertijd heb ik net als Eva een haat-liefdeverhouding gehad met mijn lichaam. En dat heeft niets te maken met hoe ik eruitzie maar wel hoe ik me voel. Ik heb diabetes en heb mijn lichaam altijd eerder als een beperking beschouwd. Zonder lichaam zou ik veel meer mogelijkheden hebben.
Ik heb een enorme schrik dat mijn lichaam niet gaat blijven functioneren of heb soms irrationele angsten over dat mijn tanden zouden uitvallen op televisie.
Mijn lichaam is iets waar ik geen controle over heb. Het kan me ieder moment in de steek laten en er hangt een waas van schaamte rond."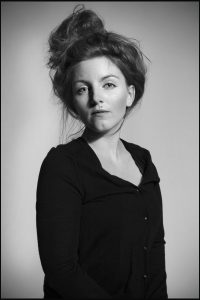 Je lijkt zonder gêne te schrijven over zeer intieme zaken. Klopt dat?
"Enkel als ik schrijf voel ik geen schaamte. Ik offer persoonlijke ervaringen zonder nadenken op voor een goed verhaal. Pas achteraf vraag ik me af soms af of het niet te aanstootgevend is. Dan denk ik aan de bezoekjes aan mijn oma als ze het boek net uitheeft.  Schaamte is een goede emotie als je schrijft. Uit schaamte komt vaak een goed verhaal. Ik kan ook heel open praten maar ik ga nooit lichamelijke details delen in een gesprek. Dat is privé."
Wat heeft het succes gedaan met je eigenliefde?
"Ik heb altijd gevonden dat ik moest 'afzien'. Thuis hebben we vooral geleerd om streng en kritisch te zijn voor onszelf. Mijn uitgever belde me vandaag nog en zei: 'je mag in interviews gerust wat meer blijdschap tonen over je succes hoor.' Natuurlijk ben ik blij maar iedereen denkt nu automatisch dat het supergoed met me gaat.
Mijn boek is niet Lize. Ik ben nu niet gelukkiger met mezelf dan tijdens het schrijven.
Het verlangen naar erkenning was misschien nog leuker dan de realiteit. Ik ben me voortdurend bewust van mezelf. Eva is daar ook heel fel mee bezig, met observeren en zelf gezien worden. Ik heb schrik dat mensen zich aan mij ergeren of me als te veel beschouwen. Zelfs bij vrienden die ik al tien jaar ken, twijfel ik soms nog of ze me wel leuk vinden. Dat is iets waar ik moet aan werken. Niemand vindt zijn vrienden trouwens altijd leuk. Nu ik constant herkend word, is dat nog versterkt. Ik wil bijvoorbeeld heel integer zijn en mezelf niet herhalen maar in interviews kan het soms niet anders. Ik vind dat heel lastig maar na een lezing moet ik wel met mezelf naar huis. Ik ben helemaal niet vol van mezelf. Ik blijf zelfs twijfelen of Het smelt wel een goed boek is en voel me schuldig dat mijn schrijvende vrienden of mijn zus die model stond voor Eva's zusje in het boek niet dezelfde kansen krijgen. Ik heb haar obsessief compulsieve stoornis altijd kunnen observeren maar zij heeft er wel voor afgezien."
Wil je jezelf graag liever zien?
"Eigenlijk wil ik helemaal niet verlost zijn van die onzekerheid. Dat is een deel van mijn karakter. Ik wil nooit gaan zweven. Ik ben over het algemeen tevreden in mijn hoofd en ik ben graag de persoon die ik ben. Ik ben daarom ook liever niet in het gezelschap van mensen die geen zelfinzicht hebben. Tegelijkertijd moet er in mij ook een heel zelfzekere kern verscholen zitten. Zonder dat geloof in mijn kunnen zou ik nooit de discipline hebben gehad om dit boek te schrijven."
Lize Spit, Het smelt, Das Mag Uitgevers
Een deel van dit interview verscheen eerder in het zomernummer 2016 van Psychologies.