Vijf tips voor een weekendje Valencia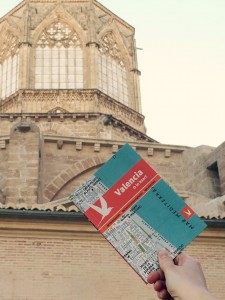 Hoeveel info heb je nodig als je op reis gaat? Stap je gewoon het toeristisch bureau binnen voor een plannetje of verdiep jij je in reisgidsen en reisverhalen? Ik behoor meestal tot de tweede categorie, met een voorkeur voor reisverhalen. Ik herinner me voorbereidingen voor Zuid-Afrika met Regenboog in de nacht (Dominique Lapierre, Spectrum), een geschiedenisboek even toegankelijk als Congo en in Jordanië raakte ik dankzij Arabische dageraad (Jorn De Cock, De Bezige Bij) helemaal in de ban van het Midden-Oosten.
And now, all I got was this lousy book. Naar Valencia vertrekken met een boek van nog geen cm dik, bestaande uit tien uitklapbare kaarten en met maximaal vijf zinnetjes info per highlight, de nachtmerrie voor een informatiejunk. Ik stel me gerust met de gedachte dat ik – indien nodig – ter plaatse nog wel een Rough Guide op de kop kan tikken.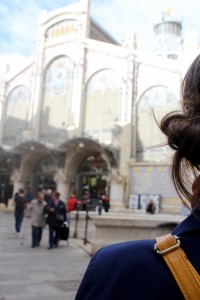 Never happened natuurlijk! De Valencia in kaart gids, onderdeel van de stad-in-kaart gidsen van Dominicus bleek ongelofelijk praktisch. De gids bestaat uit tien kaarten die je kan uitklappen, onderaan iedere kaart vind je enkele bezienswaardigheden met een foto, praktische info en een korte uitleg. Aan de voorkant van elke kaart vind je tips voor tapas, churros en leuke winkeltjes. De gids past in mijn fototas, geeft de info waar ik hem nodig had (niks terugbladeren naar een kaartje om dan te constateren dat het monument dat je wil bezoeken mijlenver uit de richting ligt) en focust evenveel op beleving als op highlights. Slechts één keer zoek ik op mijn iPad wat extra informatie op. Voor herhaling vatbaar.
Zelf zin gekregen in een weekendje Valencia? Lees deze vijf tips!
1.Huur fietsen. In onze formule waren de fietsen inbegrepen en dat was echt een succes. Valencia is heel fietsvriendelijk. Fietsautostrades doorkruisen de stad en het Turiapark (een drooggelegde rivier die door de hele stad loopt) nodigt uit om te fietsen, rolschaatsen of joggen. Bovendien liggen de oude stad, de Ciutat de les Arts i les Ciènces en het strand best wel ver uit elkaar. Met de fiets overbrug je die afstand in no time!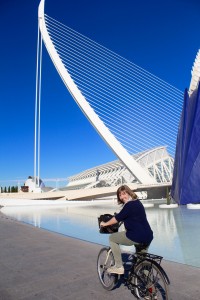 2. Bezoek de Ciutat de les Arts i les Ciènces op verschillende momenten van de dag. Deze avant-garde stad van Calatrava is echt imposant. Hou je van moderne architectuur dan kan je uren kijken naar het Palau des les Arts, L'Hemisfèric, het Museu de les Ciències, de Agora en L'Oceanogràfic. Ons hotel lag vlakbij en telkens als we er voorbij fietsten hielden we halt want het complex ziet er op ieder moment van de dag anders uit.
3. Maak een tapas-kroegentocht in Ruzafa. In deze universitaire buurt vind je het ene leuke tapasbarretje na het andere. Toeristen kwamen we er niet tegen. Voor geen geld krijg je een mini-cerveza en een hapje en zo kan je zonder problemen een hele reeks hippe en artistieke plekjes aan elkaar rijgen! Je kan er wel makkelijk verdwalen. Zorg dus dat je goed weet waar je je fiets hebt geparkeerd (note to self).
4. Relax een middagje in de haven of op het strand. Deze buurt is de laatste jaren enorm opgewaardeerd dankzij de organisatie van de America's Cup. De jetset place to be is het Edificio Veles e Vents, een minimalistisch paviljoen dat fungeert als tribune voor de vip's van zeilwedstrijden. Zet je hippe zonnebril maar op want op de promenade vind je de ene loungebar na de andere.
5. Installeer je met een boek op één van de pleintjes in de oude wijk. Je kan Valencia niet bezoeken zonder de buurt van de kathedraal te verkennen. Je vindt er een overdekte markt à la de Boqueria in Barcelona, vele mooie pleintjes en heel bijzonder: een Watertribunaal bestaande uit acht rechters die iedere week donderdag om 12u in het openbaar recht spreken over 'waterconflicten'.