Houdt Ruby Wax van zichzelf?
Als comédienne Ruby Wax (63 jaar) enkele jaren geleden worstelt met een hevige depressie schrijft ze er een boek over, Tem je geest. Ze wordt het boegbeeld van geestelijke gezondheidscampagnes en vindt via mindfulness eindelijk rust in haar hoofd. Haar nieuwste boek Frazzled, is een praktische gids om mindful te overleven in deze informatiemaatschappij.
In het voorjaar ontmoet ik haar voor Psychologies in Amsterdam. Op een trapje aan de grachten spreek ik de gerenommeerde interviewster – gekend van haar roemruchte interviews met Imelda Marcos en Madonna – over eigenliefde.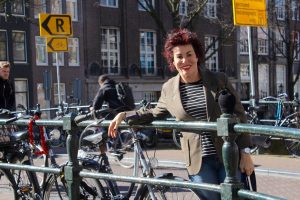 Ruby Wax: "Ik zou het woord zelfliefde nooit gebruiken, het klinkt zo wollig. Ik verkies zelfcompassie. Dat betekent niet dat je heel de tijd medelijden moet hebben met jezelf. Wel dat je eerst zorg moet dragen voor jezelf, alvorens je anderen graag kan gaan zien. Ik heb me daarom geconcentreerd op mijn geest en ben mindfulness gaan studeren in Oxford."
Hoewel ik er een ontspannen dagje Amsterdam van probeer te maken (lees shoppen in de 9 straatjes en aperitieven met bitterballen), gaat mijn hartslag toch de hoogte in als ik in de bibliotheek van het Ambassade hotel op Ruby moet wachten. Haar reputatie is bikkelhard, een blad voor de mond neemt ze nooit. Ik probeer aan haar mindfulness tips te denken en stop alvast met panikeren over het feit dat ik panikeer.
Ruby Wax: "Voor ik in contact kwam met mindfulness, was ik constant aan het layeren. Ik streste over het feit dat ik stress had, ik schaamde me over mijn schaamtegevoel. Daardoor strafte ik mezelf. Met mindfulness heb ik die tweede laag uitgeschakeld. Ik analyseer gewoon wat ik voel zonder te oordelen, alsof ik mijn eigen psycholoog ben. Zo is mijn aan adrenaline en cortisol verslaafde brein weer in balans geraakt.
Ik voel nog steeds vanalles, maar ik ben er me tenminste bewust van. Ik weet nu dat gevoelens en gedachten geen vaststaande feiten of waarheden zijn, maar dingen die in mijn hoofd opkomen. Niet meer of niet minder.
Als ik vroeger op een feestje was, had ik een heel sterke drang om grappig te zijn. Ik wilde dat iedereen me leuk zou vinden en ik leefde constant met de schrik dat ze dat niet vonden. Nu heb ik die behoefte niet meer. Je wordt natuurlijk niet mindful van de ene dag op de andere. Beschouw het als een spier in je hersenen die je moet trainen voor het geval je hem nodig hebt. Onze geest is enorm flexibel en kan zich – als we ons maar concentreren en stoppen met op automatische piloot te leven – veel meer aanpassen dan we wel denken."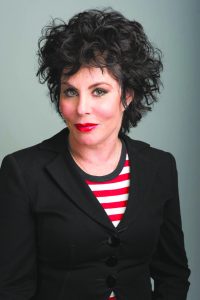 Ruby zit er ontspannen bij, ze heeft net een wandeling gemaakt en nipt van een iced cappuccino. Als haar dochter passeert met haar nogal excentrieke buit (een 'bommaslaapkleed') van een vlooienmarkt in de walletjes, reageert ze gevat maar liefdevol over haar afgrijselijke kledingsmaak. Verder poseert Ruby gewillig met haar landgenoot, Sanjeev Sahota, auteur van het voor de Man Booker Prize genomineerde Het jaar van de gelukszoekers en beoordeelt ze goedkeurend mijn laatste little red dress aankoop. Is Ruby een ander (en zachter) mens geworden?
Ruby Wax: "Uiteraard ben ik dezelfde persoon gebleven. Ik roep nog steeds op mijn echtgenoot, maar ik het realiseer het me terwijl ik hem de huid vol scheld.
Je kan nooit het hele landschap veranderen, maar je kan wel je eigen tuin onder handen nemen.
Ik leef ook niet in een constante staat van mindfulness. Ik kan nog heel erg genieten van ons moderne, snelle leven maar als het moet, kan ik alles even uitschakelen en me weer opladen, alvorens weer in het rumoer te duiken. Het is wel een vreemde gewaarwording dat sommige kennissen met issues me liever ziek zien, alsof dit hen geruststelde dat ik tot hun club behoorde."
En hoe ziet haar toekomst eruit? Haar gevoel voor humor heeft Wax alvast niet verloren. Keert ze terug naar televisie?
Ruby Wax: "Ik wil in Groot-Brittanië starten met walk-in-centres voor mensen die even het spoor bijster zijn.  Ik inspireer me hiervoor op de AA. Het moeten peer-to-peer ontmoetingscentra worden waar mentale problemen uit de taboesfeer geraken."
Een deel van dit interview verscheen eerder in Psychologies.
Ruby Wax, Frazzled, Spectrum